Wu indicted, Chen to come
CORRUPTION Prosecutors yesterday brought charges against Wu Shu-jen and three presidential aides, and said Chen would be charged when he no longer had immunity
Taipei District prosecutors yesterday indicted first lady Wu Shu-jen (吳淑珍) on corruption and forgery charges in connection with the handling of the "state affairs fund."
President Chen Shui-bian (陳水扁) is also suspected of graft and forgery, prosecutors said, but could not be charged because of presidential immunity.
Along with Wu, three top aides were indicted on various charges, including former Presidential Office deputy general-secretary Ma Yung-cheng (馬永成), director of the Presidential Office secretariat Lin Te-hsun (林德訓) and Presidential Office treasurer Chen Cheng-hui (陳鎮慧).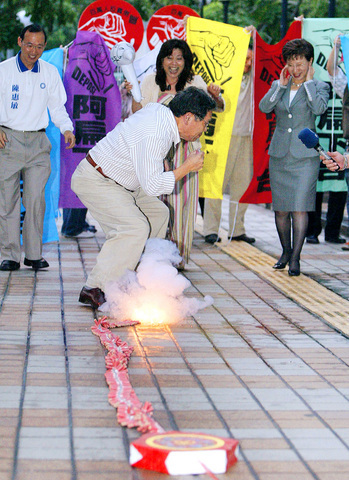 Pan-blue lawmakers yesterday light fireworks outside the Legislative Yuan and chant ``the law isn't dead, Taiwan is saved'' in celebration following first lady Wu Shu-jen's indictment on corruption charges over the illegal use of a discretionary presidential ``state affairs fund.''
PHOTO: CNA
Yesterday's indictment was the first time such senior figures have been charged in a corruption case in Taiwan, and the announcement dropped a bombshell on the country's political scene, adding momentum to opposition parties' calls for Chen Shui-bian to step down.
"Wu has been indicted for corruption and forgery and Chen [Shui-bian] will be charged with the same crimes after he leaves office," Taiwan High Court Prosecutors' Office spokesman Chang Wen-cheng (張文政) said at a press conference yesterday afternoon.
"Wu is suspected of pocketing a total of NT$14,800,408 (US$449,600) from the `state affairs fund' through receipts not used for state affairs," Chang said.
Chang said that Wu is suspected of using receipts from a number of people, including her friends Lee Bi-chun (李碧君) and Tsai Mei-li (蔡美利) and members of the first family to have their personal expenses reimbursed from the fund from July 2002 to March this year.
During two interviews with prosecutors on Aug. 7 and Oct. 27, the president claimed that the receipts used to claim reimbursements were used to conduct six secret diplomatic missions.
But Chang said that prosecutors learned that while two of the diplomatic missions were real, the suspects failed to offer any proof that the other four were real.
Ma was indicted on charges of forgery and Lin was indicted on forgery and perjury charges for allegedly helping Wu use the receipts to pocket the cash. Chen Cheng-hui was indicted on perjury charges.
Presidential aide Tseng Tien-tsu (曾天賜) and Lee Bi-chun are suspected of committing perjury. Prosecutors said they made false statements in an attempt to help Chen Shui-bian and Wu avoid charges.
Saying that Tseng and Lee later confessed, the prosecutors decided to suspend charges against them, meaning that prosecutors would drop charges against them if they committed no more crimes within the next two years.
Prosecutor Eric Chen (陳瑞仁), in charge of the case, held a separate press conference following the initial announcement.
Eric Chen said the president, Wu and the other defendants initially stated that most of the receipts used to claim reimbursements were from "Person A," who they said lived abroad and had been conducting secret diplomatic work for the country, and that it was "Person A" who had submitted the receipts in Taipei and took the money.
But Eric Chen said he found that the times that the receipts had been issued and turned in to the Presidential Office were times that "Person A" was abroad, so it was impossible for "Person A" to have submitted the receipts.
"This was a breakthrough in my investigation. Prosecutors then decided that the defendants' explanations were not believable," Eric Chen said.
Chen said that after the "Person A" story was found to be a lie, some defendants claimed that a man surnamed "Wu" was involved, and had submitted receipts and pocketed the cash. However, they later admitted the "Wu" story was also fake after prosecutors confronted them with further evidence.
Eric Chen said his investigation was not interested in either the pan-green or the pan-blue camps' agenda.
"There was no political meddling in this case. Evidence is the key to my investigation," he said.
Eric Chen said he discovered that Wu had bought a diamond ring worth NT$1.3 million for herself, and then submitted the receipt to claim a cash reimbursement.
He declined to say whether the president should step down.
"Defendants have the right to prove their innocence in court," he said.
also see stories:

President Office in crisis: DPP awaits Chen's response on funds

President Office in crisis: Chinese Internet users laud Chen's indictment as a sign of democracy

President Office in crisis: Prosecutors might be `confused,' Cho Jung-tai says

Editorial: Let the nation be Chen's guide
Comments will be moderated. Keep comments relevant to the article. Remarks containing abusive and obscene language, personal attacks of any kind or promotion will be removed and the user banned. Final decision will be at the discretion of the Taipei Times.