Violent scooter gang injures 12 in attacks
MENACE ON WHEELS Four members of a gang that rolled around Tucheng beating and slashing holiday barbecuers were taken into custody; the others remain at large
A scooter gang viciously attacked and injured 12 teenagers -- three critically -- while on a violent joyride in Taipei County's Tucheng (土城) City early yesterday morning, police said.
The gang of more than 20 scooter-riding thugs, who brandished large knives and baseball bats, went after most of their hapless victims as they were barbecuing for the Mid-Autumn Festival. Four teens have been taken into custody in connection with the attacks.
"Police identified some of the criminals by their scooter plate numbers and arrested four teenagers in the afternoon," said director of Tucheng Police Bureau Chang Fu-chong (張傅宗).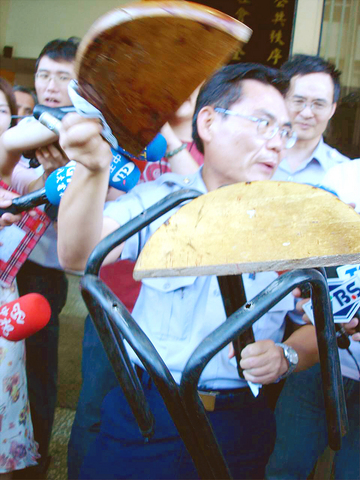 Chang Fu-chong, front, director of Taipei County's Tucheng Police Bureau, holds up a stool used by a violent scooter gang.
PHOTO: LIN CHUN-HUNG, TAIPEI TIMES
Chang said police attempted to find other suspects at their Tucheng City homes, but their families claimed they had not returned home since the time of the attacks.
The attacks occurred around 1am yesterday at parks, a gas station, in front of houses and near schools in Tucheng City as the gang rode around spreading mayhem. The three critically wounded victims suffered serious brain injuries, and others were wounded on their arms, hands and faces.
Family members of victims who gathered at a hospital yesterday condemned the assailant's cruel attacks to reporters. One victim's mother said her son's hand was almost severed by the slashing bullies.
According to victims who were enjoying the holiday by barbecuing in a park, the gang members suddenly stopped their scooters and rushed after them with knives and a baseball bat. The victims heard the criminals say, "We hit the wrong person," before they left.
Another victim told police he and his friends were barbecuing in front of a scooter-repair shop, when the gang rushed in, slashed them with knives and wrecked the shop.
Police said the perpetrators sped their scooters toward Sanshia (三峽) Township, a mountainous area of the county, after their violent spree.
Police patrols were increased for last night's Mid-Autumn Festival.
Scooter gangs have been rampant in Taiwan for years. They are notorious for violently attacking victims at random, instilling such fear that residents in some areas now avoid taking to the streets late at night.
Police have called on parents to pay more attention to their teens' behavior and to intervene if they suspect they might be a part of a scooter gang.
Comments will be moderated. Keep comments relevant to the article. Remarks containing abusive and obscene language, personal attacks of any kind or promotion will be removed and the user banned. Final decision will be at the discretion of the Taipei Times.