N Korea tested missile, Japan says
UNCONFIRMED Although the Japanese media said yesterday that North Korea fired a short-range missile into the Sea of Japan, more facts were not forthcoming
North Korea is believed to have fired a short-range missile yesterday into the Sea of Japan, Japanese news reports said, amid a standoff between the communist state and the outside world over its nuclear ambitions.
Japanese public broadcaster NHK said the missile was fired from the east coast of North Korea and flew about 100km until it fell into the sea.
Jiji Press said the test came at about 8am on Saturday and only consisted of one missile. According to Kyodo News, Japan was informed of the test by the US military and Cabinet members were told to prepare for an emergency.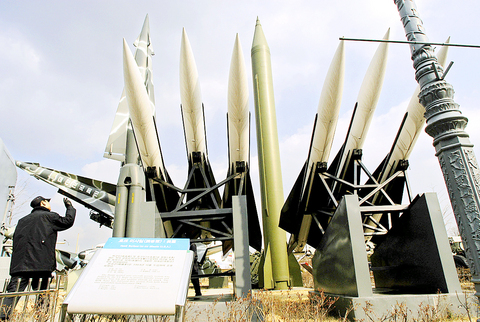 A South Korean police officer looks at North Korea's Scud-B missile, center, and other missiles at the Korea War Memorial Museum in Seoul in this 2003 file photo.
PHOTO: AP
A Japanese foreign ministry official said only that Tokyo had "unconfirmed reports" about a missile.
A South Korean defense ministry official said Seoul had no information and a US military spokeswoman in Japan said the US forces do not discuss intelligence matters.
North Korea shocked the world in August 1998 by firing a long-range Taepodong-1 missile with a range of up to 2,000km over Japan into the Pacific Ocean, claiming it was a satellite launch.
Short-range missile launches have been more routine, but have often been timed to send signals. North Korea's last high-profile launches were in March 2003, when it lobbed two short-range missiles into the Sea of Japan, coinciding with the inauguration of South Korean President Roh Moo-hyun.
Japanese and US media have reported that North Korea is preparing an underground nuclear test, with Kyodo News saying it could come as early as June.
North Korea has in recent months sent out a series of defiant statements to the world including one in March saying it would no longer be bound by a moratorium on testing long-range missiles.
North Korea's official media on Saturday said no resolution on its nuclear ambitions would be possible under the US presidency of George W. Bush, calling him a "hooligan bereft of any personality as a human being, to say nothing of stature as president of a country."
Comments will be moderated. Keep comments relevant to the article. Remarks containing abusive and obscene language, personal attacks of any kind or promotion will be removed and the user banned. Final decision will be at the discretion of the Taipei Times.