Chalabis defiant over arrest warrant
INFIGHTING The former Governing Council member and his nephew have denied the charges -- while a Shiite cleric defied orders to leave the city of Najaf
Ahmad Chalabi and his nephew Salem Chalabi said yesterday that warrants issued for their arrests by Iraq's Central Criminal Court were part of a political conspiracy trumped up by former president Saddam Hussein loyalists. \nAhmad Chalabi, a former Gov-erning Council member with strong US ties, was wanted in Iraq on counterfeiting charges, while Salem Chalabi, head of the special tribunal in charge of trying Saddam, faced an arrest warrant for murder, Iraq's chief investigating judge said on Sunday. \nBoth men, who were abroad, strenuously denied the charges and attacked Judge Zuhair al-Maliky, the man who signed the warrants on Saturday. \n"He has consistently attempted to manipulate the justice system for political purposes," Ahmad Chalabi said in a statement yesterday. \nAl-Maliky, he said, "is not a bona fide Iraqi judge but rather an unqualified person who was put in his position by the American occupation authorities." \nAl-Maliky said on Sunday that the two men should be arrested and questioned. \n"If there is enough evidence they will be sent to trial," he said. \nSalem Chalabi said the murder charge would play into the hands of former Baathist officials, including Saddam, who is facing trial for war crimes before his nephew's tribunal. \n"They can easily make allegations that this whole process is fraud because the director of the tribunal has all these charges against him. Initially I suspected that these charges were trumped up by Baathists," he said by telephone from London. \nIn Washington, the Bush administration had no comment about the charges against the Chalabis. \nThe warrant was the latest blow against the elder Chalabi, who has been pushed from the centers of power. A longtime exile opposition leader, he had been a favorite of many in the Pentagon but fell out with the Americans in the weeks before the US occupation ended. \nMeanwhile, a firebrand Shiite cleric yesterday defied demands from Iraq's interim government that his militia pull out of Najaf, after days of fierce fighting with US Marines who claim to have killed 360 of his fighters. \nHeavily armed Marines backed by aircraft tightened their noose around the holy city in heavy battles yesterday, but a senior US military official denied coalition forces were hunting the young cleric, Moqtada al-Sadr. \nSadr thundered defiance during a news conference at Najaf's holiest shrine, the Imam Ali mosque. \n"The Mehdi Army and I will keep resisting. I will stay in holy Najaf and will never leave," Sadr said. "I will stay here until my last drop of blood." \nThe fresh Shiite uprising poses the most serious test yet for interim Prime Minister Iyad Allawi since he took over from US-led occupiers on June 28. \nThe US military official said Marines had killed at least 360 loyalists from Sadr's Mehdi Army militia since the uprising in Najaf erupted on Thursday. \nFresh clashes broke out in a Shiite district of Baghdad named after Sadr's father yesterday as well. The government imposed a curfew from 4pm until 8am until further notice in the sprawling Sadr City slum, home to 2 million people. \nExplosions and gunfire echoed from the heart of Najaf. Smoke rose from near an ancient cemetery, scene of hand-to-hand combat in recent days, as US aircraft flew overhead. \nAllawi visited the shell-scarred city on Sunday and demanded Sadr's militia back down. Sadr, a hero to Iraq's downtrodden Shiite youth, rejected the order to quit his hometown. \n"In the presence of occupation, there are no politics," he said. "You can't twin democracy and occupation, you can't twin freedom and occupation."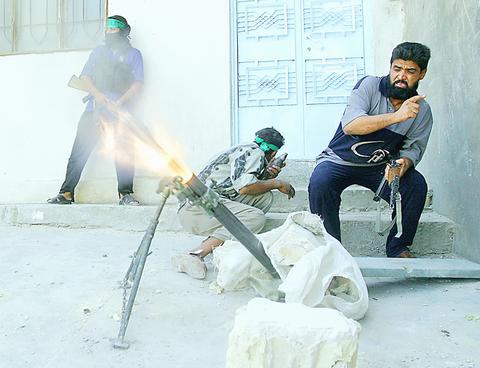 Militiamen allied to Shiite cleric Moqtada al Sadr fire a mortar in Najaf yesterday. Four days of intense fighting in the heart of Najaf have killed or wounded hundreds of Shiite militants, the US military says.
PHOTO: REUTERS
Comments will be moderated. Keep comments relevant to the article. Remarks containing abusive and obscene language, personal attacks of any kind or promotion will be removed and the user banned. Final decision will be at the discretion of the Taipei Times.