Israel defies UN ruling to demolish security barrier
SYMBOLIC DECISION Construction continued despite a General Assembly resolution, adopted by an overwhelming vote, that the wall must be torn down
Israel's construction of its West Bank barrier went ahead full force yesterday, hours after the UN General Assembly overwhelmingly passed a resolution calling for the structure to be torn down in compliance with a world court ruling.
Palestinian Cabinet minister Saeb Erekat said it was "unfortunate" that Israel was ignoring the nonbinding ruling handed down earlier this month by the International Court of Justice in The Hague, Netherlands, as well as Tuesday's UN resolution.
"I hope that the international community will continue to exert every effort to make Israel comply with the UN resolutions," Erekat said.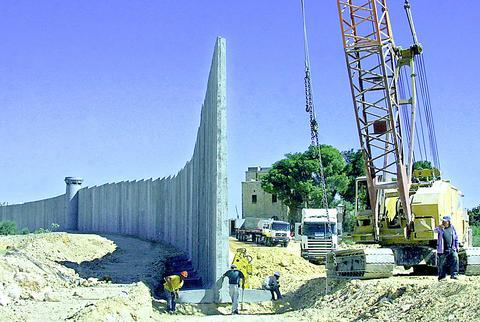 Workers build part of Israel's security barrier near the Aida refugee camp on the edge of the West Bank city of Bethlehem yesterday.
PHOTO: AFP
Bulldozers worked yesterday in Abu Dis, a Palestinian suburb of Jerusalem.
Workers raised 8m-high concrete walls that are rapidly separating the Palestinian area from Jerusalem, a city which Abu Dis is highly dependent on for employment and other services.
The 150-6 vote late Tuesday, with 10 abstentions, reflected the widespread international opposition to the 685km barrier, which Israel says is needed to protect its citizens from suicide bombings.
The UN resolution, like the world court's advisory opinion, is not legally binding. Both have symbolic value as international statements of support for the barrier's destruction.
But Israel has over the years defied, ignored and brushed off UN resolutions, including ones calling for it to end its occupation of the West Bank and Gaza Strip.
Israel's Supreme Court -- in a ruling meant to apply to the entire structure -- has found that the barrier violates international law and human rights in areas where it cuts Palestinians off from their lands, schools and other towns.
The ruling has forced the government to reroute nearly the entire portion of the unbuilt barrier. Officials said most of the structure would be moved closer to the so-called Green Line, the unofficial frontier before Israel captured the West Bank and Gaza in the 1967 Mideast war.
Meanwhile, Palestinian President Yasser Arafat yesterday ordered an investigation into the shooting of a key critic of his unrelenting grip on power as Palestinian officials warned of dire consequences for law and order in their territory.
Nabil Amr, a lawmaker seriously wounded by a sniper's bullets, issued a plea for calm and hinted that someone was trying to silence him.
A sniper shot Amr in the West Bank city of Ramallah late Tuesday. An advocate of reforms for years, Amr had increased his criticism of Arafat in recent days as the leader refused to relax his control over security forces.
Also see story:
Comments will be moderated. Keep comments relevant to the article. Remarks containing abusive and obscene language, personal attacks of any kind or promotion will be removed and the user banned. Final decision will be at the discretion of the Taipei Times.