Restaurant review: Impromptu by Paul Lee
Impromptu — unrehearsed, unscripted, unprepared — such is the spirit of Paul Lee's (李皞) eponymous restaurant. Tucked behind the luxury backdrop of the Regent Taipei Hotel (台北晶華酒店), Impromptu offers a clean swanky aesthetic.
Opened in August 2018, Impromptu quickly picked up one Michelin star. The secret behind its swift success is not only innovative cuisine, but the concept and holistic experience.
Impromptu first attraction is the open kitchen. Upon entering, every guest makes eye contact with the chef team. Without the kitchen-to-table separation, every guest can observe as the dishes come together, or on the rare occasion, fall apart. Whether it be rejoicing together at a perfectly executed dish or face-palming at an overcooked egg, chef and guest are allowed to truly bond. For this reason I highly recommend sitting at the bar.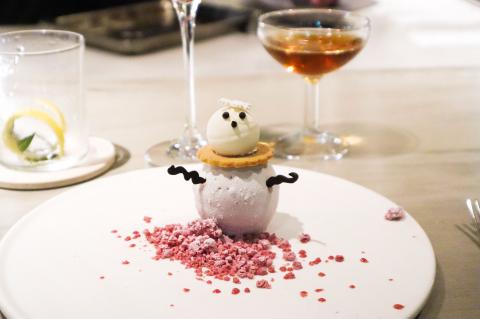 The "snowman" dessert was a work of art.
Photo: George Lee
Borrowed from the Japanese dining concept Omakase, Chef Lee's vision entails a dining experience where guests give chefs complete creative freedom to design their meal. His restaurant has neither a menu, nor a wine list. It is this level of spontaneity that encapsulates the dining experience at Impromptu — you never know what new trick the chef will pull out of his hat.
For the full experience, I went with their Christmas tasting menu and cocktail pairing (prices vary depending on the season). The degustation begins with scallop and crown daisy wrapped in a thin daikon veil, topped with chorizo and altogether lie atop a bed of seashells and rocks. I picked it up with my fingers and ate it like it is a piece of sushi. The briny fragrance of the scallop coupled with the salty chorizo and daikon made the dish a little on the salty side; I would have preferred to eat each constituent ingredient on its own. I laud the effort to marry these salty ingredients though — they whetted my appetite.
Up next were bite-sized glutinous tapioca balls stuffed with porcini and salted pork. I sunk my teeth into its crunchy outer layer without much care, only to be surprised by the soft mochi-like interior. The contrasting textures really stood out to me; I chewed for a few extra seconds, puzzled by the salty and earthy flavors, which usually are not paired with the chewy, gummy dough. At the end of the one-biter I was only partially convinced that the combination worked.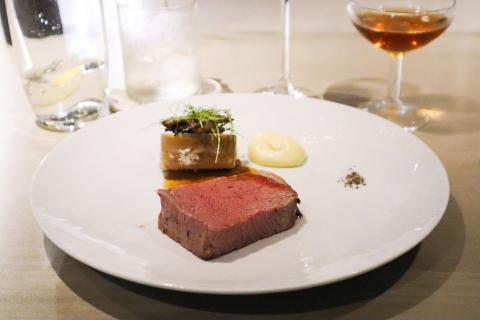 Medium-rare rib-eye steak juxtaposed with melty bone marrow.
Photo: George Lee
Then came "Eric's daily bao tang," a velvety rich broth topped with various herbs. As I sipped the broth, I felt it travel down my throat and warming the rest of my body, making me feel oddly awake in the restaurant's dimly lit ambiance. The silky and creamy broth reminded me of chicken concentrate my grandmother used to drink, almost forgetting that I was sitting in a Michelin-starred restaurant.
Things picked up with the next dish: a cloud of lemon verbena egg-white foam over slices of raw hamachi and strawberry. The consistency of the foam was light and airy; the hints of citrus and spice from magao, a mountain pepper, came together nicely. The bracing acidity and sweetness of the strawberry surprisingly elevated the mild buttery flavor of the fish. Traces of French influence is unambiguous here with the seafood-fruit pairing.
A kind of interlude was the house-made bread and whipped butter. Just the right amount of charring on the outside and delicate, flecked with grains on the inside — perfectly baked, but slightly boring.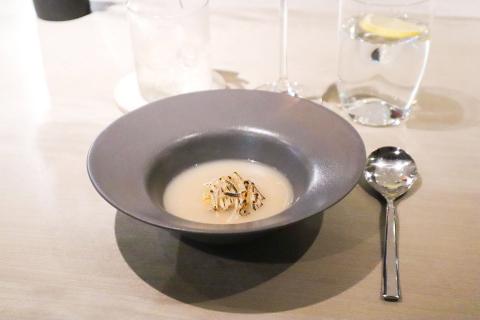 Briny rice broth with abalone, seaweed and enoki mushrooms.
Photo: George Lee
As I imbibed their delicious alcoholic cocktails, I watch the chefs prepare rice broth with seaweed, abalone and torched enoki mushrooms. The viscosity of the broth was similar to the "bao tang" but the piscine abalone and earthy mushroom gave it an extra dimension of flavor.
This was followed by noodles tossed with lobster chunks and burnt scallions in a tangy lobster-bisque reduction, a highlight in terms of creativity and taste. It made me picture myself slurping the same bowl of noodles at a local noodle shop. Then there was the thin-crust cheese pizza with hunan sausage and sliced black truffle, which ran so sinfully cheesy and luscious. Perhaps this is Chef Lee's specialty: his choice of ingredients and techniques is sometimes so incongruous it transports you to different culinary universes.
The main course, too, spun off a fine-dining staple: a slab of medium-rare beef rib-eye, bone marrow topped by sauteed mushrooms and a small helping of puree potatoes. The bone marrow, on the verge of melting at room temperature, exuded a nutty, beefy richness, offsetting the low-fat rib-eye cut. The puree potatoes were flawlessly executed as well; they were appropriately moist and buttery.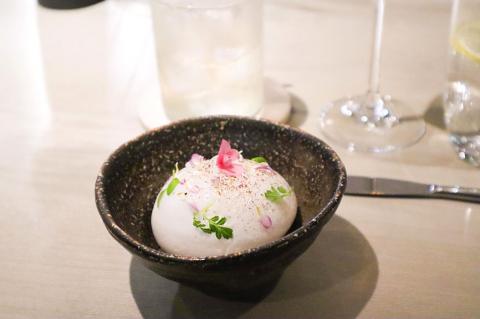 Foamy inflorescence over hamachi and strawberry.
Photo: George Lee
The snowman dessert looked as good as it tasted. As the plate hits the table, the chef ladles liquid nitrogen-infused ruby chocolate and vapors consume the snowman like it is its own microcosm. When you savagely pry open the body of the snowman, you find more ruby chocolate that encases yogurt parfait and a molten peach coulis core. Perfumed by the tart peach, the subtle fruitiness of the ruby chocolate is elevated instead of overpowered. Different layers of the dessert confer different flavors, and different textures dance on my tongue, waltzing to a crescendo.
Such is the spirit of Impromptu: guests are meant to be surprised by Paul Lee's daring spontaneity. His adroit manipulation of both the dining space and the food space deserves recognition.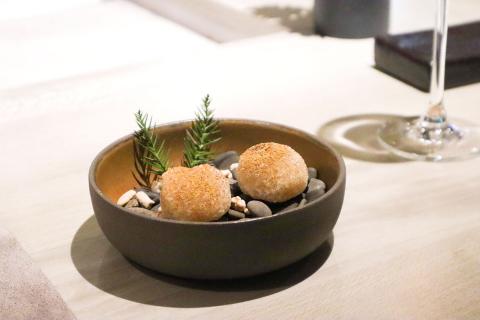 These savory tapioca balls were packed full of porky umami.
Photo: George Lee
Publication Notes
Impromptu by Paul Lee
Address: B1, No. 3, Lane 39, Section 2, Zhongshan North Road, Zhongshan District, Taipei City
(台北市中山區中山北路二段39巷3號B1)
Telephone: (02) 2521-2518
Open: Daily from 5:30pm to 10pm; closed Mondays
Average meal: NT$3000
Details: Reservation recommended; No menu; 10 percent service charge
On the Net: www.impromptu.com.tw
Comments will be moderated. Keep comments relevant to the article. Remarks containing abusive and obscene language, personal attacks of any kind or promotion will be removed and the user banned. Final decision will be at the discretion of the Taipei Times.