The potential of Taiwan's rainbow tourism
After the historic legalization of same-sex marriage, Taiwan is poised to reap the benefits of the LGBT tourism economy, if it can summon the will and imagination
Pew Yawei (俞雅娓) says Taiwan's friendliness toward LGBT people is a "magical vibe" and a big part of the reason why the Singaporean has visited Taipei twice in as many months.
During a visit earlier this month, Pew bought magazines and music albums at GinGin Store, a shop specializing in LGBT lifestyle products, and relaxed with the cats at LGBT-friendly H*ours Cafe a few doors down.
"When you're naturally comfortable, you are drawn to the beauty of the city," says Pew, who identifies as lesbian.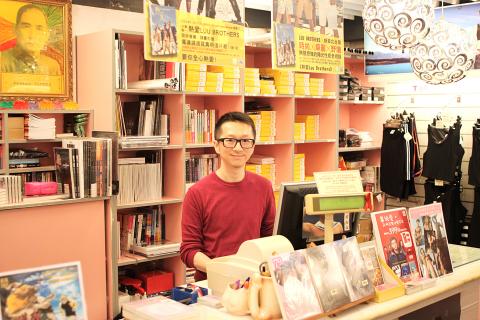 James Yang earlier this month stands at the cash register of GinGin Store, where he serves as spokesperson.
Photo: Davina Tham, Taipei Times
As the first country in Asia to legalize same-sex marriage, Taiwan stands to gain from the signaling effect this will have on LGBT consumers around the world. Even as entrepreneurs here remain cautiously optimistic of growth driven by LGBT tourism, they are confident that Taiwan's vibrant, homegrown LGBT culture has much to offer visitors. Just don't expect the government to help.
A BRANDING OPPORTUNITY
According to a 2017 report on LGBT tourism by the UN World Tourism Organization, marriage equality legislation has become "shorthand for... acceptance of ethnic and sexual minority groups as a whole" and "sends a powerful brand image of tolerance, respect, progress and open-mindedness, resulting in an increase in LGBT visitors, among others."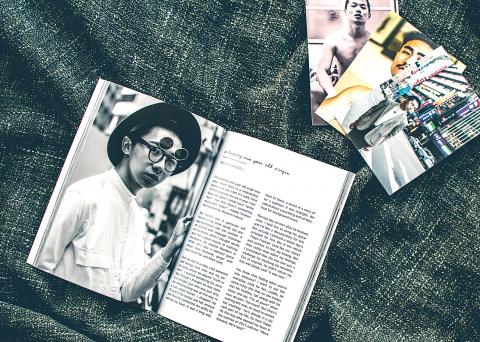 Gay male photography and culture magazine Elska chose Taipei in 2016 as the feature city for its first issue set in Asia. The issue continues to be a top-seller and has been reprinted at least four times.
Photo courtesy of Liam Campbell
Legalizing marriage equality "absolutely" consolidates the image of Taiwan as an LGBT-friendly destination, says Darien Chen (陳宏昌), regional marketing manager at Atlantis Events, a US company that produces gay and lesbian cruise and resort vacations.
GinGin Store spokesperson James Yang (楊平靖) agrees that taking action to legalize marriage equality resolves ambiguity about Taiwan's openness toward sexual minorities.
"We have always said that we are number one in Asia in terms of LGBT friendliness, but anyone can call themselves friendly," Yang says.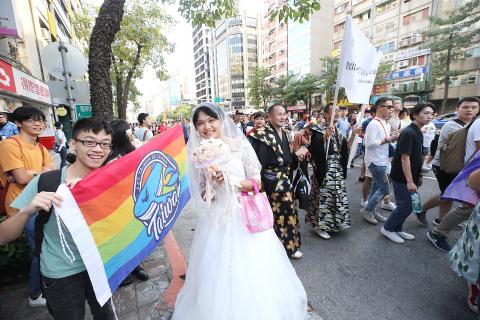 Taipei's pride parade is popular with tourists across Asia, such as the Rainbow Tohoku contingent from Japan, right in black kimonos, who marched last year.
Photo: CNA
Taiwan is already enjoying some of these promotional benefits. When the Legislative Yuan approved marriage equality on May 17, the decision generated positive media coverage on a scale that an expensive public relations campaign would struggle to reproduce. The news made headlines around the world and prompted extensive social media mentions, with the hashtag "Taiwan" trending worldwide on Twitter that day.
The Tourism Bureau has reached out to the LGBT market in the past, supporting Taiwan's parade float at New York's pride parade last year and inviting European and North American LGBT tourism industry players and media to visit Taiwan in 2012. In 2016, director-general Chou Yung-hui (周永暉) told the media that the Tourism Bureau would continue to cultivate the LGBT market.
Yet although the achievement of marriage equality could be a natural launch pad for more LGBT-focused marketing, the Tourism Bureau appears hesitant to seize the opportunity.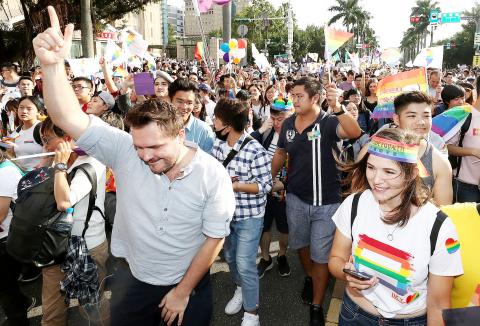 About 140,000 people attended last October's pride parade in Taipei, with many coming from overseas, boosting spending in the hospitality, leisure and retail sectors.
Photo: CNA
When asked ahead of the May 17 legislative session whether marriage equality could untap the economic potential of LGBT tourism, the bureau told the Taipei Times that "across the board, media and industry players whom we have invited in the past have expressed admiration for Taiwan's local customs, tourist attractions and the openness of public opinion."
"As for the future development of LGBT issues, we call for positive and open minds to treat hospitably every traveler who comes to Taiwan," it continued.
The Tourism Bureau also downplayed past outreach to the LGBT market, subsuming its efforts under a general approach to welcome visitors "regardless of race, skin color and sexual orientation."
Chen takes the broad view that Taiwan's official tourism promotion lacks a strategy "to propel Taiwan's story or messages across the world," and is caught in a "local mindset" that emphasizes cross-promotion between the counties.
Given Taipei's LGBT scene, which Chen describes as "the most diverse and complete and real gay scene" in Asia, this lack of ambition is a missed opportunity.
TAIPEI'S QUEER ECO-SYSTEM
Taipei distinguishes itself because "most of the gay eco-system is really homegrown and it's self-sustained," Chen says.
In contrast, other Asian cities regarded as LGBT destinations may give tourists a good time, but are less conducive places for their own LGBT citizens to live, work and advocate for their own rights.
Elska, a magazine focusing on gay male photography and culture, chose Taipei as the setting of its first issue in Asia in 2016. Editor Liam Campbell, who hails from the UK, says that although Bangkok received the most votes from readers, "those who said 'Taipei' also talked about how it was the gayest city in Asia and also the most socially and legally progressive, which really intrigued me."
GinGin Store, for instance, was a pioneering LGBT establishment in Asia when it opened in 1999. It continues to serve as an informal community hub and representative, accepting invitations to brief the Taipei City Government and schools on LGBT issues and experiences.
There are no industry-wide calculations of the size of Taiwan's LGBT tourism economy, although Taipei's pride parade, which drew about 140,000 people last year, offers a glimpse of its potential.
In statements to media after last year's parade on Oct. 27, Airbnb said that bookings in the greater Taipei area increased by 19 percent in the week leading up to the parade, with most visitors coming from China, Hong Kong, Japan and Singapore. Restaurants and bars in the LGBT haven of Ximending (西門町) also reported a 50 percent increase in business over the week.
Increasingly, activities are designed to coincide with the parade. For the past two years, Wang An-i (王安頤), director of lesbian party and lifestyle brand Lez's Meeting, has organized a parade after-party. She estimates that 300 out of a thousand partygoers last year were foreigners, with a third coming from Hong Kong.
This synergy extends from Taipei's pride parade to other LGBT-friendly events in the region. Last month, Atlantis Events' first cruise to Asia in four years docked overnight at Keelung, en route from Hong Kong to Yokohama. The cruise, carrying about 2,100 guests from the US and Canada, was timed to take place between Bangkok's Songkran Festival and Tokyo's pride parade.
And although marriage equality legislation will have no legal effect for non-citizen couples, its mere existence is expected to encourage same-sex couples to hold their commitment ceremonies or honeymoons in Taiwan, bringing business to the local hospitality and wedding industries.
Cities like Sydney and Toronto already host large-scale, weeks-long pride celebrations with various commercial tie-ins, attracting hundreds of thousands of revelers. Even Hong Kong has bid for international exposure, winning the right to host the Gay Games — an LGBT version of the Olympics — in 2022.
With its existing pride parade, abiding and unique LGBT culture, safe and open-minded environment and now marriage equality legislation, Taipei has all the basic elements for the same.
Before last Friday, LGBT activists were in the throes of a struggle for equality. Economic arguments rarely featured in that narrative because of a staunch emphasis on human rights and an aversion to commercialization, which can be a "slippery slope," Chen says.
"If you even bring up the economic rationale of it then does it mean that everything that has economic benefit then can override human rights?" he explains the thinking of many in the community.
With a historic victory achieved, Taiwan's LGBT movement will need to decide on its future direction. The extent to which economic power will have a role remains to be seen.
It's a promising opportunity, but even if encouraging LGBT tourism does not work out, some see a silver lining to staying just under the radar and preserving the qualities that make Taipei liveable.
"Taiwanese people are less economically driven. We're about the small joys in life," Chen says. "And that's the charm."
Comments will be moderated. Keep comments relevant to the article. Remarks containing abusive and obscene language, personal attacks of any kind or promotion will be removed and the user banned. Final decision will be at the discretion of the Taipei Times.