Restaurant review: Serenity (祥和蔬食餐廳)
Sauntering down Taipei's Zhenjiang Street (鎮江街), unsuspecting pedestrians are lured by a seductive scarlet carpet in front of what appears as a humble and rather mundane apartment — an abode that houses the only vegetarian restaurant in Taiwan on Michelin's Bib Gourmand list: Serenity.
Aside from the restaurant's pronounced store sign, its interior is almost entirely pigmentless, perhaps to highlight the vibrant colors of each exquisite dish. The anterior of the restaurant, enclosed in floor-to-ceiling glass panes, allows sunlight to be radiated onto every corner, creating a bright and invigorating atmosphere.
The interior decor consists of pale white walls, polished dark-brown wooden seats, and ordinary rectangular and round tables; though seemingly drab, such arrangement imbues a homey image that possibly leaves some reminiscing about their childhood.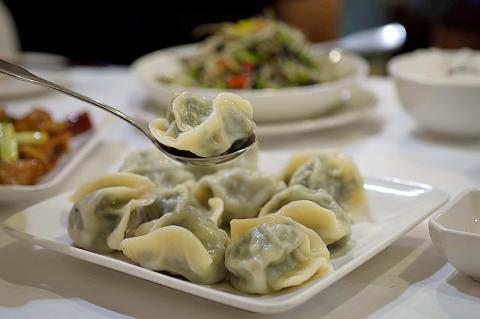 The homemade dumplings showcased the quality and freshness of Serenity's vegetables.
Photo: Vanessa Tsao
As our group of four waited to be seated, we couldn't help but notice a spicy aroma coming from the kitchen. It turns out, this otherworldly scent was merely a byproduct of artwork jointly produced by two expert chefs, one specializing in Sichuan cuisine and the other in vegetarian cooking. With innovative mindsets, the two aim to intermix vegetarian ingredients with traditionally meat-based Sichuan flavors.
The waitress, who momentarily greeted us as we sat down, proudly introduced signature dishes on their 100-item long, full-vegetarian menu. Their menu, however extensive, was unfit for our indecisive minds; we ended up adhering to the waitress's suggestions and ordered five dishes plus four bowls of rice.
The first to arrive was house-made vegetarian dumplings (NT$160). The dumplings are composed of a blend of finely shredded pickled cabbage, translucent vermicelli and diced mushrooms wrapped in a thin sheet of flour dough. The restaurant's generous use of fresh, quality ingredients is evident in every bite; dipping in mild soy sauce adds an extra hint of savoriness. A Taiwanese staple, these boiled dumplings were the perfect preamble to the hearty dishes that follow.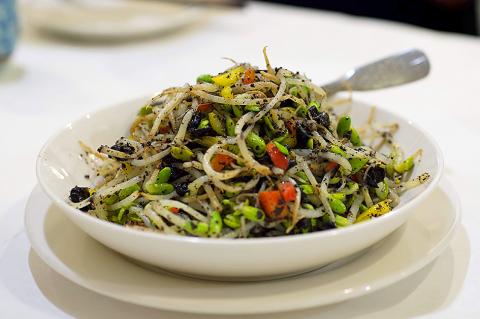 The spicy truffle bean sprouts are not for the faint- hearted.
Photo: Vanessa Tsao
Then came the black bean sprouts in truffle sauce (NT$300), sauteed vermicelli with spicy vegetarian minced meat (NT$220) and vegetarian kungpao chicken (NT$220).
The bean sprouts feature assorted greens: crunchy young green sprouts, black beans, roughly diced yellow and red bell peppers tossed in an earthy truffle pate. To our surprise, the distinct flavors of constituent ingredients were not overshadowed by the truffle, which is usually indicative of the chef's technique and precision.
The vermicelli, commonly known as "Ants climbing up a tree" (螞蟻上樹), is sauteed with bits of shiitake mushrooms, celery, chili peppers, soy-based minced pork in a piquant Sichuan spice blend and topped with aromatic coriander. The fiery vermicelli danced on our tongues. It sure was a tad spicy — though we had been warned. For those not used to firey Sichuan food, a reduction of spice is recommended.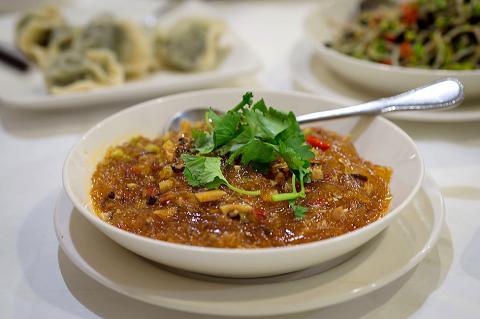 The whimsical dish, "Ants climbing up a tree," was a little on the spicy side.
Photo: Vanessa Tsao
Of the three, the dish that really stood out for me was the soy and wheat infused kungpao "chicken." Stir-fried with hollow Chinese chili, firm spring onions, peanuts and veiled by a tangy fragrant chili sauce, everything on that dish glistened. Juices in the chicken bursted with every bite. Needless to say, white rice harmonized with these Sichuan flavors.
The finale to such a scrumptious vegetarian meal was the impressive squid balls. The mixture of soy, wheat and what seems to have the texture of seitan or tofu is stuffed in cremini mushroom and deep fried to golden-brown perfection. They are seasoned with a dash of pepper salt and lie atop a bed of crispy basil leaves. These plant-based squid balls tasted so similar to actual squid balls that I forgot they were completely vegetarian.
We probably should have ordered their much-lauded steamed stinky tofu. I'll definitely come back, though. The price was unbelievably fair (four overfull stomachs costed NT$1,408); no wonder this restaurant was featured on the Michelin guide's Bib Gourmand section.
The vegetarian kungpao "chicken" was the star of the meal.
Photo: Vanessa Tsao
The texture of Serenity's squid balls strongly resembled meat.
Photo: Vanessa Tsao
Publication Notes
Serenity (祥和蔬食餐廳)
Address: 1, Ln 1, Zhenjiang St, Taipei City
(台北市鎮江街1巷1號)
Telephone: (02) 2357-0377
Open: Daily from 11am to 2pm and 5pm to 9pm
Average meal: NT$500
Details: Reservation recommended; Chinese and English menu; private dining rooms for 12+ people; 10 percent service charge
On the Net: guide.michelin.com/tw/en
/taipei/serenity/restaurant
Comments will be moderated. Keep comments relevant to the article. Remarks containing abusive and obscene language, personal attacks of any kind or promotion will be removed and the user banned. Final decision will be at the discretion of the Taipei Times.