Highlight: Mix and matching US and Taiwanese dancers
Body Expression Dance Theater (BodyEDT, 體相舞蹈劇場) founder Lee Ming-cheng (李名正) spent three months in Ohio in the spring of last year, as the artist-in-residence with Verb Ballets, a 30-year-old contemporary company based in the Cleveland suburb of Shaker Heights.
Lee's residency was underwritten by The Cleveland Foundation's Creative Fusion program. This year the foundation has sponsored a trip to Taipei by Verb Ballets for outreach programs at local schools and four performances at the Experimental Theater this weekend alongside dancers from Lee's 17-year-old troupe.
It is Verb Ballets' first international tour. The company may be small — there are just 10 dancers on its roster, eight of whom are taking part in the tour — but Dance Magazine once named it one of Five Great Tiny Troupes in the US. It also made it onto the magazine's "25 Companies to Watch" list.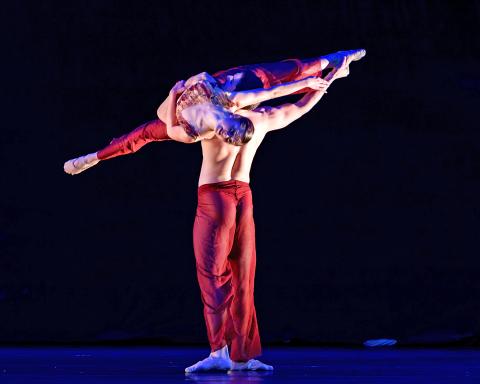 The Ohio-based Verb Ballets will perform Charles Anderson's 2001 work Aposiopesis tonight and tomorrow afternoon at the Experimental Theater in Taipei as part of the Mix+Multi Arts Festival program alongside the Taipei-based Body Expression Dance Theater.
Photo: courtesy of Bill Naimann
There will be two programs as part of the "Mix+Multi Arts Festival in Taiwan" (台灣 × 美國 國際共製), the highlight of which is to be the Taiwan premiere of Lee's The Arrival of Departure, which he created while in Ohio and the premiere of his latest work, Initial — space starting (空間起點).
Both programs include Daniel Precup's 2013 duet, Ne Me Quitte Pas, and the two Lee pieces. The only difference is that Program A, which will be performed tonight and tomorrow, will open with Charles Anderson's 2001 work, Aposiopesis, while Program B, which will be performed tomorrow night and Sunday afternoon, will open with Appropriated Memories, a new work choreographed by Anthony Krutzkamp.
The Verb Ballets dancers arrived in Taiwan on Monday last week, and have been busy giving classes at Fu Hsing and Shuang Yan senior highs and other Taipei-area schools and rehearsing, although from the dancers' blog posts they have managed to squeeze in time to visit to the National Palace Museum, Taipei 101 and brave the hundreds of steps on the Elephant Mountain Hiking Trail (象山步道).
The Verb Ballets members will head home on Monday, which will give them time to recover a bit from jet lag before it is their tour to play host to Lee and his dancers, who will be in Ohio from April 30 to May 14 for an exchange program culminating in DanceWorks 2017 performances at the Cleveland Public Theatre, from May 11 to May 13.
The BodyEDT's trip is also being underwritten by the Cleveland Foundation.
■ Experimental Theater ( 國家戲劇院實驗劇場), 21-1 Zhongshan N Rd, Taipei City (台北市中山南路21-1號) tonight and tomorrow at 7:30pm and tomorrow and Sunday at 2:30pm. Tonight and Sunday's shows are sold out. As of press time last night, there were about 30 seats left for tomorrow's matinee and 15 for the evening show
■ Tickets are NT$600, available at NTCH box offices, online at www.artsticket.com.tw and at convenience store ticketing kiosks
This story has been corrected since it was first published. The name of the ballet company had been inadvertently reversed.
Comments will be moderated. Keep comments relevant to the article. Remarks containing abusive and obscene language, personal attacks of any kind or promotion will be removed and the user banned. Final decision will be at the discretion of the Taipei Times.