Forget friends with benefits
Looking for that one-night stand? Forget it using Tinder in Taiwan, where users seek out expats to learn English
"Tinder is so different here," my Taiwanese friend who is spending a year in the US tells me. "People are so direct, and I'm getting all these [genital] photos too!"
I admit I'm still a bit surprised — of course I know what Tinder really is meant to be used for, but I never had a chance to swipe left or right despite living in the US when the app launched in 2012.
I didn't have a smartphone for starters, but there was absolutely no point in using Tinder, or any dating app for that matter, in an isolated Wild West town of 9,000 people where everyone knew each other. I tried using Match.com, and it was painfully awkward, especially when everyone knows you as the editor of the local newspaper. So you simply wait for new people to move to town, hope they are single and act really, really fast.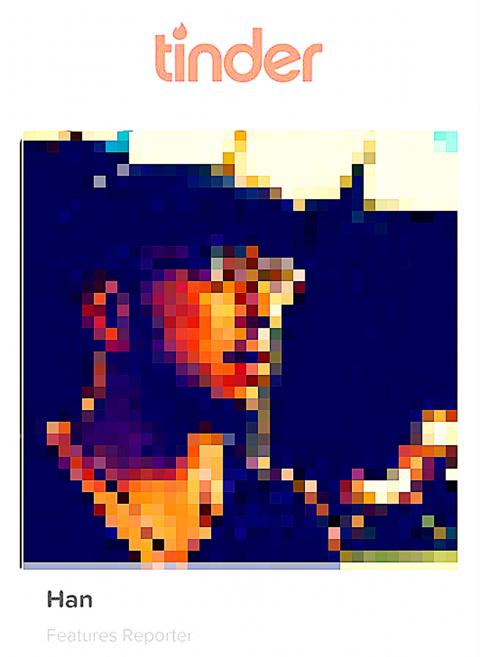 An example of a Tinder profile looking for language exchange partners.
Han Cheung, Taipei Times
Back in Taiwan and not knowing many people besides my childhood friends, I finally caved in to the Tinder craze after a break up.
WHAT'S IN A PROFILE
Expected were the trying-too-hard-to-look-cute girls making duck faces and ridiculous poses, the obviously fake accounts with the sexy poses and revealing clothing, and the ones with no photos of themselves — only clouds, rabbits and in one case, a ruler.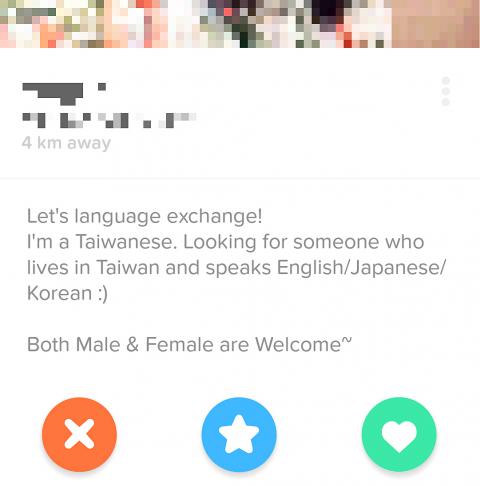 An example of a Tinder profile looking for language exchange partners.
Han Cheung, Taipei Times
There was a lack of female expats or locals with good English skills — as opposed to what I was hearing from my female colleague regarding the male counterparts. My Chinese typing was rusty back then, so things started slowly. I was also thinking too much trying to craft "thoughtful" and "witty" messages, and most conversations went nowhere.
Needless to say, I found little success. I also soon noticed the number of "no FWB [friends with benefits]" and "no ONS [one night stands]" warnings in the profiles. Nothing wrong with that, I thought — this is not America.
Then it got somewhat tedious.
"I'm looking for new friends." "I'm looking for language exchange partners. Male and female both welcome." "I'm in a relationship and I'm only looking for friends." 'I'm not looking for anything romantic. Stay away."
OK — so we understand that it's not that much of a hookup app in Taiwan. But not even romance? It seemed to be the case, as people's responses were usually overly polite or bland. That caused me to become overly aware of saying something inappropriate, and the conversations continued to go nowhere.
My friend tells me that it's all a farce, and I should not play into their game of pretend. But when I later dated someone who continued to insist that she really, really, really downloaded the app to "practice English," I just got more confused. No, you simply do not go to a site where you connect with people based on how hot they are to practice a foreign language. There are other resources for that.
NO CREEPS
Finally, I asked a date who had similar messages on her profile what this no sex, no romance thing is all about.
"Oh, that's to ward off the creepy people who ask for sex right off the bat," she said.
Anyhow, my interest in Tinder soon waned as I started meeting more people in real life, which I found more enjoyable than my pathetic online stint. I still kept the app running and replied to messages occasionally, putting minimal effort into the chatting. Instead of trying to think of the perfect, attention-grabbing opener, I just typed "Hey" and "Sup" without even punctuation marks.
Surprisingly, people actually started messaging me more often — I even got a "go [expletive] yourself" just for taking seven days to reply to a message. One time, after a month of not using Tinder, I messaged "Want to grab a drink?" to my entire match list on a whim to see who would reply.
"Do you send that to everyone?" one woman asked. Most didn't reply, but there were three who said, "Sure!"
And then I finally was convinced that the subtlety is really superficial. And yes, sadly, to a certain degree it's a numbers game and you do not actually need that witty first message.
Comments will be moderated. Keep comments relevant to the article. Remarks containing abusive and obscene language, personal attacks of any kind or promotion will be removed and the user banned. Final decision will be at the discretion of the Taipei Times.