Movie review: Kaili Blues 路邊野餐
Chinese director Bi Gan's arthouse debut is a cinematic poem that has won global acclaim
For his arthouse debut, Kaili Blues (路邊野餐), writer and director Bi Gan (畢贛) shot the film in and around his hometown of Kaili, Guizhou Province in southern China, and cast locals, including his family and friends, as actors.
But the 26-year-old Chinese director does not attempt to represent physical reality or make a work of social realism, as many filmmakers of his generation have.
Instead, Bi's mesmerizing debut defies logic. It explores cinema's ability to hypnotize and entrance, and at the same time, is rooted in the life, land and the community where the director was born and raised.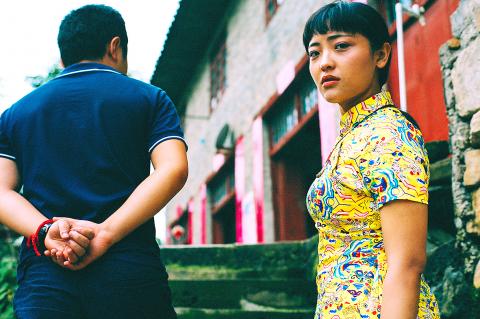 Kaili Blues features a cast of largely non-professional actors.
Photo courtesy of Flash Forward Entertainment
The film centers on Chen Sheng, played by Chen Yongzhong (陳永忠), Bi's uncle, an ex-con who now leads an honest life and runs a small country clinic. Chen is troubled that his half-brother Crazy Horse's (Xie Lixun, 謝理循) has sold off his son Weiwei, and embarks on a journey to find his young nephew.
More cryptic than this synopsis suggests, the film is not driven by a narrative but channels of feeling. It respects the viewer's intelligence and trusts us to understand its characters as we follow them from one mystical scene to another.
Still, much is uncertain. Guided by a sense of freedom and fluidity, the film abounds in otherworldly visions and enigmatic imagery. In one remarkable scene, a projected image of an upside-down train appears to crash through a damp, gloomy hut.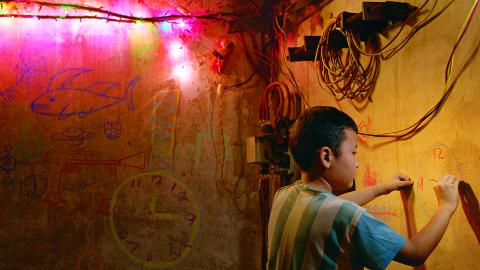 Kaili Blues features a cast of largely non-professional actors.
Photo courtesy of Flash Forward Entertainment
Occasionally, radio newscasts report sightings of a wild man, and every now and then, Chen cites evocative poetry in a monotonous tone as he leads us through his cinematic dream space.
The poems were written by Bi, from a collection entitled Roadside Picnic (路邊野餐).
In this dream, past, present and future intermingle and conflate, astonishingly manifested in a 40 minute-long extended take that follows Chen through rural Guizhou in search of his nephew.
The hand-held camera tracks characters on motorbikes, across narrow pathways, into homes and on a river ferry. Sometimes, it veers off to follow different players who appear and disappear from the frame.
During the journey, the protagonist encounters a variety of characters, notably the future version of Weiwei and a woman who could be Chen's deceased wife.
The normal perceptions of time and space do not apply here. In his daring cinematic experiment, Bi creates a cyclic cosmos where memories, dreams and reality infiltrate and inform on each other.
The personal and the collective also intertwine. Throughout the film, the culture and tradition of the Miao ethnic minority, of whom Bi is a member, are alluded to.
At the same time, the nation's shadowy past quietly emerges when Chen promises his senior medical colleague to deliver a cassette tape to an old lover he had known during the Cultural Revolution.
To be sure, there is a lot to accomplish in a film, but Bi has done it here with self-assurance and sincerity. Not a single moment feels pretentious or forced. It shows the making of a filmmaker in possession of a unique vision of rural China.
Kaili Blues has received numerous of international accolades, including the top award at the Festival of the Three Continents in France as well as the Best New Director prizes at the Locarno International Film Festival and Taiwan's Golden Horse Awards last year.
Publication Notes
Film Notes
Directed by: Bi Gan (畢贛)
Starring: Chen Yongzhong (陳永忠) as Chen Sheng, Xie Lixun (謝理循) as Crazy Face, Guo Yue (郭月) as Yang Yang
Language: in Guizhou dialect with English and Chinese subtitles
Running Time: 110 minutes
Taiwan Release: Today
Comments will be moderated. Keep comments relevant to the article. Remarks containing abusive and obscene language, personal attacks of any kind or promotion will be removed and the user banned. Final decision will be at the discretion of the Taipei Times.