Restaurant review: CYCLO 洛城牛肉粉
I am a firm believer that a piping hot bowl of properly seasoned and spiced pho can cure anything from a hangover to the common cold. Five years ago, Pho Hoa was the only spot I could get my fix. Then Savoy opened up, and now Cyclo, and the first time I walked up Yanji Street (延吉街) towards the Vietnamese-style restaurant, I knew the pho was going to be good because the air was thick with the pungent aroma of pho broth.
If you're a pho novice, here is the rundown. A heady broth is simmered for hours with beef bones, cinnamon, ginger, charred cloves and star anise. It is then poured into a bowl overtop raw meat and rice noodles, which retain the right consistency of firmness, and then brought to your table. The broth is so hot, it cooks the meat in the bowl. After it arrives, you season it further with fresh herbs, lemon, hot peppers and Sriracha, a hot sauce.
Cyclo calls itself an American-style Vietnamese restaurant, but I've had pho in America as well as at roadside stalls in Vietnam, and what it offers tastes as close to the real thing as you can imagine. The quality of pho is measured by its broth, and no two soups ever taste the same.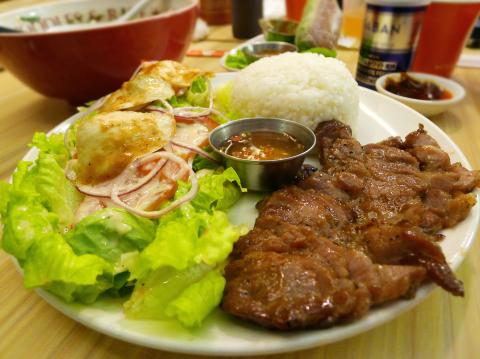 Cyclo claims that pho is god's gift to humans.
Photo: Olivia Wycech
Cyclo is small and furnished with simple tables and stools. The walls are adorned with images that depict the restaurant's mascot, a cow that comically sports a necklace. The kitchen is open concept, so if you're sitting near the back you can see how the broth is made and how the pho is assembled. The servers seemed hesitant to speak English, slowing down the service somewhat and the menu, which attempts to be bilingual, is also missing a lot of information. That being said, I've never had to wait longer than 10 minutes for a table, even though the place is always busy.
For an appetizer, I ordered the golden triangle (NT$25 for one), deep fried phyllo pastry stuffed with sour cream, chicken curry, or creamed spinach. These are somewhat small, but the one or two bites are satisfying. I suggest ordering one of each. The spring rolls (NT$45 for one) are deep-fried and crunchy, and come with fish sauce, exactly as they are served in northern Vietnam. Cyclo does offer healthier options, which includes a variety of summer rolls (NT$65 to NT$190) that are stuffed with anything from seafood to Spam, and come with a side of thick peanut sauce.
For first timers, ordering pho can be confusing because there are so many options. The Cyclo special (NT$290) is a medley of sirloin beef, brisket, brisket point, beef balls, flank, tripe and tendon. You can also create your own pho (NT$230) and choose any three of the above toppings. There is also the option of building your own pho with three toppings of sirloin beef. You can add extra beef to any soup (NT$50 to NT$160).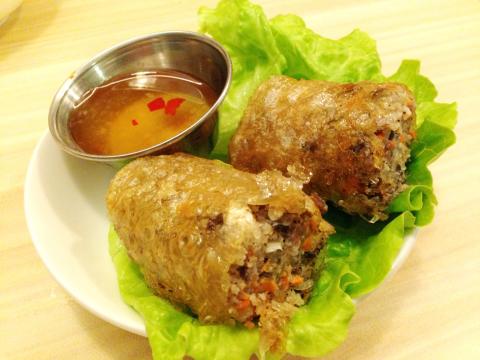 The spring rolls at Cyclo are similar to those served in Hanoi.
Photo: Olivia Wycech
For those watching their waistline, broth can be ordered either full or half fat, but if you want a broth rich with dimension and flavor, go with full fat. The menu also offers add-ons like bean sprouts, onions and herbs (NT$20 to NT$40). You can also choose between rice starch, rice flour lath or thin egg noodles.
The drink menu features cans (NT$60) of Dr. Pepper, A&W Root Beer, Mountain Dew and Cherry Coke, all of which can be made into a float with a scoop of ice cream (NT$30). Vietnamese coffee (NT$95) is always a good choice, as is the honey and lemon tea (NT$75).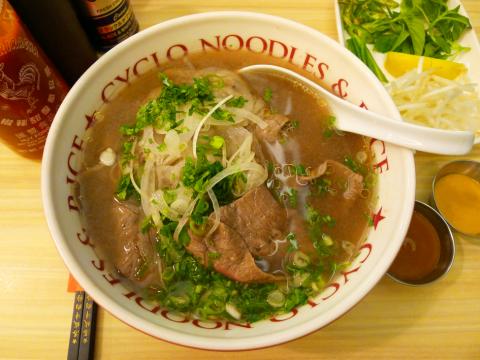 The rice dishes at Cyclo can't compare to their pho, but they are still worth a try.
Photo: Olivia Wycech
Publication Notes
CYCLO 洛城牛肉粉
Address: 377, Renai Road Sect 4, Taipei City (臺北市仁愛路四段377號)
Telephone: (02) 2752-8666
Open: Daily from 11:30am to 9:15pm
Average meal: NT$200 to NT$400
Details: Chinese and English menu, cash only
On the Net: www.cyclopho.com
Comments will be moderated. Keep comments relevant to the article. Remarks containing abusive and obscene language, personal attacks of any kind or promotion will be removed and the user banned. Final decision will be at the discretion of the Taipei Times.