Striking the right chord
The ukulele became fabulously popular after it was featured on a television drama, with some even quitting their job to start up their own business
Ben Lee (李俊逸) was never any good at playing music. Though he took piano, flute, violin and guitar lessons as a child, he gave up due to the rigorous demands of the training.
"It was my parent's idea to learn all these instruments, not mine," the 33-year-old gynecologist said, recalling how frustrated he felt by his lack of progress, even after spending hours practicing.
But having recently proposed to a musician, Lee changed his tune and began learning the ukulele.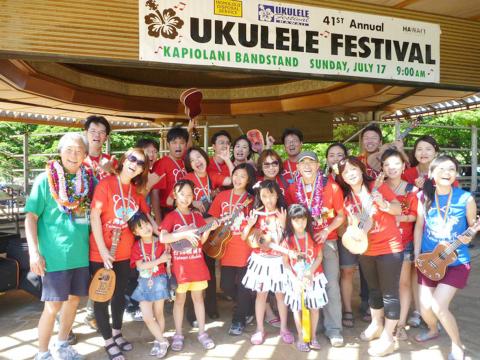 Anyone can learn to play.
Photo Courtesy of Lee Shuenn-ji
"I'd heard how easy it is to learn the ukulele and, most importantly, I wanted to impress [my fiancee] at our wedding," Lee said while strumming a few bars of Ukulele, a song released by Taiwanese pop icon Jay Chou (周杰倫).
"The experience was amazing. I learned how to play the full song in just one lesson," he said. He added: "The best part is, you can't tell that I'm an amateur."
Dubbed the world's easiest musical instrument to learn, the ukulele is a miniature guitar that originated in Hawaii in the 19th century. It became fabulously popular in Taiwan two years ago after it appeared in In Time with You (我可能不會愛上你), a top-rated drama about a boy who is incapable of confessing his love for a high school classmate. Instead, he pours all his passion into playing the ukulele.
Because of the success of In Time with You, the ukulele became an overnight sensation. Cram schools started offering lessons and stores began replacing violins with ukuleles. Men like Lee are also finding that serenading their significant other with a ukulele is an ideal (and cheaper) alternative to a bouquet of flowers.
"People from all walks of life come to us for lessons, more than we first imagined when we opened the specialty store three years ago," said Shao Jian-ming (邵建銘), owner of GoodieMusic in Taipei.
Shao said his music business started with only 10 students. Today, however, his school has 10 times that amount, with students ranging from four to 80 years old. While most come for fun, Shao said, others think that learning the ukulele can help build self-confidence.
"The ukulele is great for beginners because the frustration level is low. It only has four strings so you don't have to know a lot about music to play well," he said.
Although the romance drama did much to spark the craze, Shao said that the ukulele itself has many features unrivaled by other instruments because its light, portable and simple to learn. And with a basic model costing around NT$1,000, it's also easy on the pocketbook.
Noting that schools at different grade levels are placing the ukulele on their curriculum, Shao forecasts that the ukulele, like cycling, will become part of people's everyday life.
As the number of players continues to grow, the musical instrument is bringing along new business opportunities. Ukulele manufacturers from home and abroad have been getting large orders from Taiwanese retailers. Chen Kuo-ming (陳國明), one of the nation's few experts on handmade guitars, said he has made a lot more ukuleles last year than in previous years.
Seeing the market niche, some enthusiasts from Hsinchu Science Park (新竹科學園區) have even quit their jobs to start their own ukulele business.
"The [ukulele] trend really began in Hsinchu, a place full of engineers but without much entertainment… Playing the ukulele soon became a favorite pastime," said Amanda Yao (姚巧玲), who left Hsinchu this year to teach the ukulele in Taipei. She added that the ukulele has become the center of life for many locals, with performances and events being held every other week.
Some of Taiwan's top companies are even getting on board, with Taiwan Semiconductor Manufacturing Company (台積電), United Microelectronics Corporation (聯電) and Industrial Technology Research Institute (ITRI, 工業技術研究院) encouraging ukulele playing amongst their staff.
"Employees not only perform at year-end parties, they also do charity shows for orphanages, retirement homes and students living in remote areas," said Lee Shuenn-ji (李順吉), a senior wireless communications engineer at ITRI.
For Lee Shuenn-ji, teaching the ukulele has become one of his passions because he is able to bring a smile to people's faces. Last year, he and his fellow ukulele aficionados gave three month's free private lessons to 50 disadvantaged elementary school students that enabled them to stand out in a public ensemble performance.
"Many enthusiasts are devoting themselves to long-term ukulele promotion, and, without a doubt, the trend will continue," he said.
Comments will be moderated. Keep comments relevant to the article. Remarks containing abusive and obscene language, personal attacks of any kind or promotion will be removed and the user banned. Final decision will be at the discretion of the Taipei Times.