[RESTAURANT REVIEW] Gordon Biersch Brewery Restaurant
The opening of the Gordon Biersch Brewery Restaurant is something that beer lovers should applaud, as it features a new range of beers to be freshly made at a new brewery in Sindian, Taipei County. These beers will be naturally fermented and will contain only natural ingredients, in full accord with Germany's "beer purity law" of 1516, which stands as the cornerstone of boutique brewing to this day.
"This is the first time we haven't had a brewery right in the restaurant," said Dan Gordon, who was in Taipei to oversee the opening of his first outlet outside the US. The beers tend to be on the light side. The Hefeweizen, a refreshing beer with a hint of yeast, and the Marzen, a dark amber larger with hints of burnt caramel, contrast nicely with what is generally available on the market. The dark Scharzbier may leave Guinness drinkers a tad underwhelmed, but is an excellent stepping-stone to the dark side for those who find stouts a little overpowering. A new seasonal beer will be brewed every quarter, providing variety to the lineup. "It also makes things interesting for the brewers," said Gordon.
As to the food, Gordon described it as "anything that goes well with beer." It's a little more than that, with some good variations on diner favorites. The BBQ ribs (NT$830 for a rack; NT$490 for a half rack) are as good as you'll get elsewhere, especially as they come with the joint's signature garlic fries and a Thai-style salad. Not everything is as successful: the pulled pork sandwich (NT$350) is a bit of a disappointment for the price, even if you can handle the over-refined American fast-food style bun. But the warm apple bread pudding (NT$250) is gloriously stodgy, the perfect comfort food for late evenings when the munchies hit.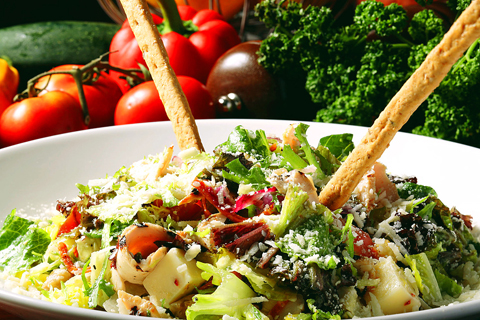 There is more to Gordon Biersch than just beer.
PHOTO COURTESY OF GORDON BIERSCH BREWERY RESTAURANT
Despite the beer, beef and fries atmosphere, there are plenty of dishes on the menu to tempt more delicate palates. The hummus and goat cheese salad (NT$360, and an extra NT$90 if you want it topped with char-grilled salmon) was highly praised by a vegetarian diner.
The food, while it has its own twist with hints of Asia and the American South West, is too similar to locations such as Dan Ryan's, Outback Steakhouse or TGI Fridays to really get anyone too excited. Gordon Biersch will live or die by how well its beer is received. At NT$210 for a standard glass, it is reasonably priced, and if you are worried about finding yourself under the table before the end of the evening, a beer sampler (NT$230) is available to get you through the whole range of draft beers without ill effects.
Publication Notes
Gordon Biersch Brewery Restaurant
Address: Shin Kong Mitsukoshi A11, 2F, 11 Songren Rd, Taipei City (新光三越信義新天地A11館2樓)
Telephone: (02) 8786-7588
Open: 11am to midnight
Average meal: NT$600
Details: English menu; credit cards accepted
Comments will be moderated. Keep comments relevant to the article. Remarks containing abusive and obscene language, personal attacks of any kind or promotion will be removed and the user banned. Final decision will be at the discretion of the Taipei Times.