[ SOCIETY ] South Koreans give their deaths a trial run
'Well-dying' - having a mock funeral after a set of seminars - is touted as a tool to promote well-being
After solemnly reading their wills, seven perfectly healthy university students climb into caskets in a dimly lit hall.
"I want to give all of you one more day to live, but it's time to be placed into coffins," a man in a black suit says in a resounding voice. "I hope your tired flesh and bodies will be peacefully put to rest." Workers nail the coffins shut, then sprinkle dirt on top as the lights are switched off and a dirge is played. Muffled sobs can be heard from some of the coffins. About 15 minutes later, they are opened and the five men and two women are "reborn." The mock funeral, which aims to get participants to map out a better future by reflecting on their past, is part of a new trend in South Korea called "well-dying." The fad is an extension of well-being, an English phrase adopted into Korean to describe a growing interest in leading healthier, happier lives.
"I felt really, really scared inside the coffin and also thought a lot about my mom," said Lee Hye-jung, a 23-year-old woman studying engineering. "I'll live differently from now on so as not to have any regrets about my life." Other well-dying activities focus on death itself. Web sites store wills to be conveyed to relatives after death. Death coordinators help plan funerals in advance in case of unexpected death.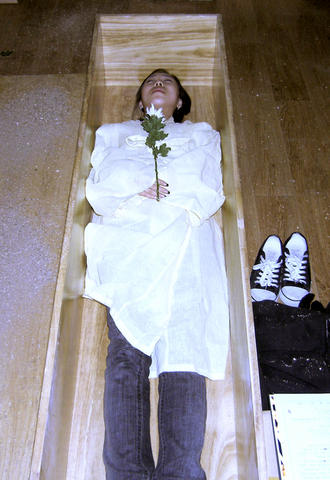 A participant in Korea Life Consulting Co's 'well-dying' classes, Hwang Yun-jin is one of over 50,000 people who have had fake funerals.
Experts see the well-being and well-dying trend as a sign that South Koreans have grown affluent enough to be able to consider quality-of-life issues. But some dismiss services such as the fake funerals as moneymaking ventures.
Korea Life Consulting Co, which staged the mock funeral for the students, charges up to US$325 per customer.
"Real death is totally different than this," said Chung Jae-hyun, a board director at the Korea Association of Thanatology, a Seoul-based group of academics who study death-related issues.
Some companies see the service as a way of improving job performance. Samsung Electronics Co sent 900 workers in 2006 from its factory in Gumi to the southeast of Seoul for sessions.
The experience makes workers more efficient, said Kim Hee-jin, a personnel manager at the Gumi plant, which makes mobile phones, computer printers and fax machines.
Korea Life Consulting held the students' funeral at a mountain resort in Chungju, 150km south of Seoul. Photos of celebrities who died prematurely, including Princess Diana and former US president John F. Kennedy, were hung on the walls.
The students donned a traditional garment for the dead, made from hemp. One worker wore a black robe and a wide-brimmed cylindrical hat, the outfit of a death messenger in Korean folklore.
Participants take a class on the meaning of life, pose for portrait photos to be used at the service and write wills as if they have three days to live.
"Mom and Dad! Everything I have now is from you, your teaching and your love. I'm so sorry that I have to leave you behind," said Hwang Yun-jin, a 29-year-old mechanical engineering major, crying as she read her will aloud.
Ko Min-su, who hosted the ceremony and heads Korea Life Consulting, said about 50,000 people have taken part in his fake funerals since they began in 2004. Most are in their 30s and 40s.
His company has eight offices around the country, and copycats have sprung up.
"To die well, we should live well," he said. "Many participants cried while reading their wills, which means they felt they had much to regret." Ko, a 40-year-old former insurance agent, launched the business after realizing the fragility of life following the deaths of his two older brothers in a plane and a car accident.
"Everyone can die unexpectedly," he said.
Comments will be moderated. Keep comments relevant to the article. Remarks containing abusive and obscene language, personal attacks of any kind or promotion will be removed and the user banned. Final decision will be at the discretion of the Taipei Times.