For Nikki Blonsky, big is beautiful
The young actress stars as the 'pleasantly plump' Tracy Turnblad in the new version of the film 'Hairspray'
Nikki Blonsky tells me that an agent once advised her: "'The best thing would be, first step, to lose a good amount of weight and start going out for conventional roles.'" Blonsky pauses. "I looked at her and said, 'Thank you so much for your time. Thank you for your advice. I will think about it and ... probably never use it.'"
And her confidence seems to have paid off. With just a few high-school musical parts to her name, Blonsky has landed one of Hollywood's most eye-catching lead roles in years, as the "pleasantly plump" Tracy Turnblad in the new film Hairspray (a musical remake of John Waters' 1988 film). In this role, Blonsky's body is not just an advantage but an imperative. Tracy is a girl with a dream: to appear on the Corny Collins Show, a local TV dance program, and, despite some snide opposition on the grounds of her weight, she's soon a star - in Baltimore, at least. The film's cheerful instructions to be true to yourself may not be original, but it is refreshing to see how Tracy's weight is an issue for everybody but herself. Her mother, Edna (played by John Travolta - yes, you read that right), is also large, but is on a constant diet and refuses to leave the house for fear of being seen. Tracy dismisses Edna's concerns with kind-hearted impatience. "Tracy doesn't really see herself as different," says Blonsky. "She knows she is because people tell her she is, but what does that mean? She just is who she is and she's proud of it."
Blonsky herself is equally straightforward about her size - she says the only opinion that has ever mattered to her is that of her parents, and they have always told her she's beautiful. And she is. In person, her face is quite serious and far lovelier than it appears on screen.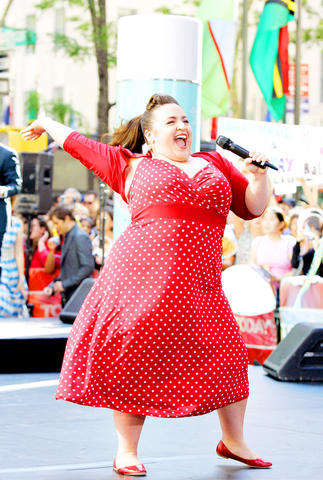 Like Tracy, Blonsky, who is just 18, enjoyed a secure suburban upbringing. She describes her home town of Great Neck, New York, as "small" and "sweet," before singling out the school system for particular praise. It doesn't seem like the first thing most teenagers would mention when describing their home town, but it's typical of Blonsky. Her responses are delivered in pure American teen talk - she is blessed, she thanks the Lord every day, and a lot of her statements? Are delivered as questions? - but they are considered, eloquent and strangely intense. Even when enthusing about something it sounds like recitation, rather than rapture. She mentions that "John Travolta has graciously shared his agent with me" and stumbles over the word "graciously" a few times. But rather than abandoning her curiously formal sentence, she says, "Excuse me. I'm so sorry," corrects herself and continues. It's as if she has just fluffed a line from a script. She is jetlagged, of course, and has spent the past two days doing press interviews. But I suspect that at least some of her eerie professionalism is down to the fact that she has been preparing herself for the job of dignified interviewee for many years.
As Blonsky says, before landing the role of Tracy she "was totally an unknown. I had done nothing." This wasn't for lack of ambition. "I grew up singing since the age of three," she says. "Vocally trained since the age of eight. Fascinated by Mary Poppins and all those musical movies and really knew that I wanted to be a performer." And this was no simple hobby. "No. No. Absolutely not. I knew it in my heart. I had made it a distinct goal for myself that I wanted to be doing this professionally.'"
While attending high school and working part-time at an ice-cream parlor, she also secured a manager and become a regular on the audition circuit. When the time came, she was ready for it. "Of course I was a little nervous," she says of her first day on set, sounding anything but. And since she names Angela Lansbury and Julie Andrews as her favorite actors, it's no surprise that she was most excited about working with the character actors in the cast, rather than the toothy, tanned representatives of young Hollywood. "Christopher Walken," she sighs. "He's such a legend." She also leaps to the defense of Travolta in his cross-dressing role as her mother. "Seeing him dressed as Edna, it wasn't funny to me. There was my mother, you know? A lot of people say it's a drag queen or a transvestite or whatever. No. It's really a man acting as a woman. John is really acting in this." And then, adorably, she praises his courage for taking the role when "he's one of the biggest heartthrobs going." Not in your lifetime, Nikki, I want to say.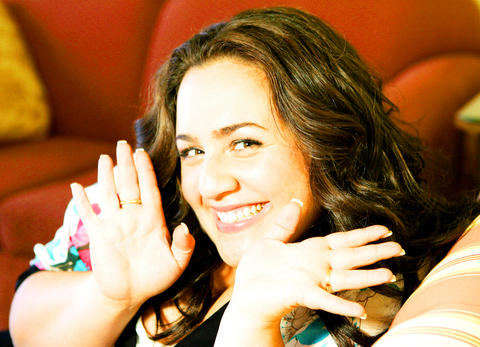 Eighteen-year-old Nikki Blonsky shot to fame after landing a leading role alongside John Travolta, Michelle Pfeiffer, Queen Latifah and Christopher Walken in the film Hairspray.
PHOTOS: AP
What Blonsky brings to the screen in Hairspray is sheer, effervescent delight. She holds the center of this noisy whirligig film with apparently effortless assurance and warmth. She is so good, it's hard to believe that her first leading role could also be her last. But it's equally hard to imagine Hollywood bending its rigid aesthetic standards to make room for someone so different among the spiky ranks of size zero wannabes.
Blonsky is perplexed by Hollywood's homogeneity. "Why do you want a million actresses who all look the same?" she demands. But she is undaunted. "I'm thrilled beyond belief to be different in this business. I pray that there will be more roles for bigger girls. I pray that the role of the love interest, the beautiful, sexy girl, will be played by a plus-size woman." One suspects her prayers are because she's eyeing those roles for herself, rather than the sisterhood as a whole, but she's so fervent in her ambition that you can't help crossing your fingers and hoping she gets exactly what she wants.
Comments will be moderated. Keep comments relevant to the article. Remarks containing abusive and obscene language, personal attacks of any kind or promotion will be removed and the user banned. Final decision will be at the discretion of the Taipei Times.