Citizenship for sale: How tycoons can go shopping for a new passport
Citizenship-by-investment programs offer the super-rich an opportunity to acquire a new nationality
It is the must-have accessory for every self-respecting 21st-century oligarch, and a good many mere multimillionaires: a second — and sometimes a third or even a fourth — passport.
Israel, which helped Russian billionaire Roman Abramovich out of a spot of bother last week by granting him citizenship after delays in renewing his expired UK visa, offers free nationality to any Jewish person wishing to move there.
However, there are as many as two dozen other countries, including several in the EU, where someone with the financial resources of the Chelsea soccer club owner could acquire a new nationality for a price: the global market in citizenship-by-investment programs — or CIPs as they are commonly known — is booming.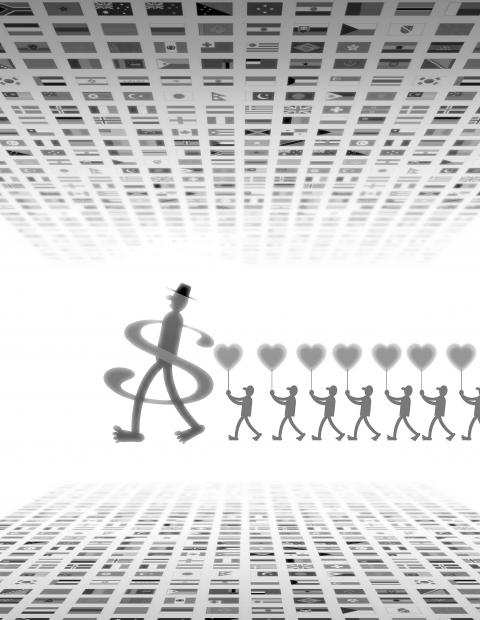 Illustration: Yusha
The schemes' specifics — and costs, ranging from as little as US$100,000 to as much as 2.5 million euros (US$2.93 million) — might vary, but not the principle: In essence, wealthy people invest money in property or businesses, buy government bonds or simply donate cash directly in exchange for citizenship and a passport.
Some do not offer citizenship for sale outright, but run schemes usually known as "golden visas" that reward investors with residence permits that can eventually lead — typically after a period of five years — to citizenship.
The programs are not new, but are growing exponentially, driven by wealthy private investors from emerging market economies including China, Russia, India, Vietnam, Mexico and Brazil, as well as the Middle East and more recently Turkey.
The first launched in 1984, a year after young, cash-strapped Saint Kitts and Nevis won independence from the UK. Slow to take off, it accelerated fast after 2009 when passport-holders from the Caribbean island nation were granted visa-free travel to the 26-nation Schengen Area.
For poorer countries, such schemes can be a boon, lifting them out of debt and even becoming their biggest export. The IMF reckons that Saint Kitts and Nevis earned 14 percent of its GDP from its CIP in 2014, and other estimates put the figure as high as 30 percent of state revenue.
Wealthier countries such as Canada, the UK and New Zealand have also seen the potential of CIPs (the US EB-5 program is worth about US$4 billion a year to the economy), but sell their schemes more around the attractions of a stable economy and safe investment environment than on freedom of movement.
Experts from the many companies, such as Henley and Partners, CS Global and Apex, now specializing in CIPs and advertising their services online and in inflight magazines, say that unlike Abramovich, relatively few of their clients buy citizenship to move immediately to the country concerned.
For most, the acquisition represents an insurance policy. With nationalism, protectionism, isolationism and fears of financial instability on the rise around the world, the state of the industry serves as an effective barometer of global political and economic uncertainty.
However, CIPs are not without their critics. For example, Malta has come under sustained fire from Brussels and other EU capitals for its program run by Henley and Partners, which saw more than 800 wealthy individuals gain citizenship in the three years following its launch in 2014, according to the IMF.
Critics said the scheme was undermining the concept of EU citizenship, posing potential major security risks and providing a possible route for wealthy individuals — for example from Russia — with opaque income streams to dodge sanctions in their own countries.
Several other CIPs have come under investigation for fraud, while equality campaigners increasingly argue the moral case that it is simply wrong to grant automatic citizenship to ultra-high net worth individuals when the less privileged must wait their turn — and, in many cases, be rejected.
THE CARIBBEAN
The best-known — and cheapest — CIP schemes are in the Caribbean, where the warm climate, low investment requirements and undemanding residency obligations have long proved popular.
Five countries currently offer CIPs, often giving visa-free travel to the EU, and have cut their prices to attract investors as they seek funds to help them rebuild after last year's hurricanes. In Saint Kitts and Nevis, a passport can be had for a US$150,000 donation to the hurricane relief fund, while Antigua, Barbuda and Granada have cut their fees to US$100,000, the same level as St Lucia and Dominica.
EUROPE
Almost half of the EU's member states offer some kind of investment residency or citizenship program leading to a highly prized EU passport, which typically allows visa-free travel to between 150 and 170 countries.
Malta's citizenship-for-sale scheme requires a 675,000 euro donation to the national development fund and a 350,000 euro property purchase. In Cyprus, the cost is a 2 million euro investment in real estate, stocks, government bonds or Cypriot businesses (although the number of new passports is to be capped at 700 a year following criticism). In Bulgaria, 500,000 euros gets you residency, and about 1 million euros over two years plus a year's residency gets you fast-track citizenship.
Investors can get residency rights leading longer-term to citizenship — usually after five years, and subject to passing relevant language and other tests — for 65,000 euros in Latvia (equities), 250,000 euros in Greece (property), 350,000 euros or 500,000 euros (property or a small business investment fund) or 500,000 euros in Spain (property, and you have to wait 10 years to apply for citizenship).
REST OF THE WORLD
Thailand offers several "elite residency" packages costing US$3,000 to $4,000 a year for up to 20 years residency, some including health checkups, spa treatments and VIP handling from government agencies.
The US' EB-5 visa — particularly popular with Chinese investors — costs between US$500,000 and US$1 million depending on the type of investment and gives green card residency that can eventually lead to a passport.
Canada closed its C$800,000 (US$619,157) federal investment immigration program in 2014, but now has a similar residency scheme, costing about C$1 million, for "innovative start-ups," as well as regional schemes in, for example, Quebec.
Australia requires an investment of A$1.5 million (US$1.14 million) and a net worth of A$2.5m for residency that could, eventually, lead to citizenship, and New Zealand — popular with Silicon Valley types — an investment of up to NZ$10 million (US$7.02 million).
Comments will be moderated. Keep comments relevant to the article. Remarks containing abusive and obscene language, personal attacks of any kind or promotion will be removed and the user banned. Final decision will be at the discretion of the Taipei Times.