Stephen M. Young On Taiwan: A 21st Century Office Building for a 21st Century Relationship
News reports indicate the American Institute in Taiwan (AIT) will formally inaugurate its New Office Building (NOB) on June 12. As the unofficial "godfather" of this project, I want to share some personal reflections on the long and winding road this project has taken over the past two decades.
I worked as a junior officer in AIT from 1981-82, in the then already decrepit building on Hsin Yi Road. Built in the 1950s for the MAAG (Military Army Advisory Group), it was hastily converted into the offices of AIT in early 1979, following evacuation of the US Embassy in Taipei after the break in diplomatic relations in December 1978. The embassy staff, headed by former Deputy Chief of Mission Bill Brown, initially met in his residence on Yangmingshan, while determining next steps. As US military officials were departing the island, the decision was made to convert the space into the new unofficial mission's headquarters.
When I first worked on Hsin Yi Road there were roughly 55 American employees, and the place already felt crowded. When I returned in the late 1990s to serve as AIT's Deputy Director, we had 100 Americans and perhaps 300-plus local employees. The building, despite some window dressing, was run down and overcrowded. Our Commercial and Public Affairs Sections, as well as the Agricultural Section — enjoying their own home office funding — had found separate accommodations in other locations around Taipei. Yet the building was still too small for our purposes.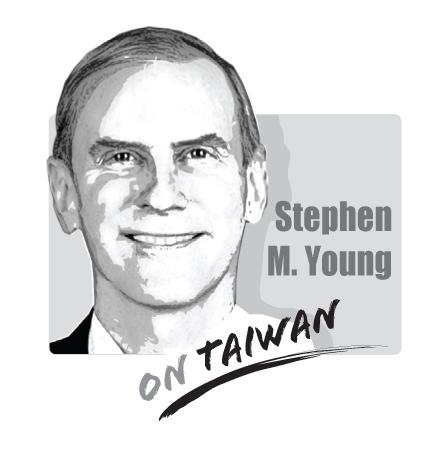 My boss, then Director Darryl Johnson, early on assigned me the task of scouting out a new site for our AIT building. The old one was too small, in disrepair, and the land it was located on was in high demand from several Taiwan Government entities who advanced longstanding claims to the site.
I worked with friends in Ministry of Foreign Affairs, the President's Office, the Premier's Office and the Taipei Mayor's Office. We looked at the old TAS site in Tien Mu, but it was too small and was flood-prone. I visited potential sites in the Taipei suburbs, but they didn't fit the bill: either too small, too expensive or too far from the city center, where most of our clients lived. Eventually, I was told there was an old driving school in suburban Neihu that might be available.
I went out to check it out personally. It seemed a bit far from town, and I was concerned about the impact on our loyal local employees in adjusting to a site so far from the Hsin Yi location they were so used to. I then learned that a new line of the Taipei Metro was planned running out to Neihu, which would ease the commute for both employees and visa applicants from the city. I also explored the possibility of expanding the site to place a new Director's residence nearby. Finally, I wanted to make sure we had space for our advanced Chinese Language School, which would be relocating from its site up on bucolic Yangmingshan. All of this checked out, though I would have preferred that the language school — like the Marines — have a separate building from the main office on the five acre lot.
At the same time, I was working with senior administrative people in the State Department on financing the new project. Then Assistant Secretary for Administration Pat Kennedy told me this should be an easy project to fund, because some of the money for it could come from the visa fees collected by AIT. This was money gathering interest in a bank account because it could not be deposited in the US Treasury, given AIT's peculiar status as a non-government entity.
I left AIT as Deputy in summer 2001, convinced we were on the right path to securing the new site. When I returned five years later as Director, I was stunned to find little progress had been made to move the project forward. By then we had 140 Americans and over 400 local employees, most of them crammed into the tiny Hsin Yi space.
I went back to Pat Kennedy, now Under Secretary for Management at State, and forcefully advocated for moving forward. With his help we secured a deal turning the Neihu site over to AIT. With additional funds in our building account, I was confident we were on a fast track at last. But due to parochial State Department bureaucratics, three years later I found myself leaving town without demonstrable progress at nailing down a contractor to build the place.
So I made an executive decision to draw attention to the project by hosting a "ground breaking" ceremony on June 22, 2009. Taipei Mayor Hao Lung-bin (郝龍斌), Legislative Yuan Speaker Wang Jin-pyng (王金平), Vice Premier Paul Chiu (邱正雄), Presidential Advisor Su Chi (蘇起), former Foreign Minister Fred Chien (錢復) and other notables attended. We attracted local media, and the Asian Wall Street Journal in Hong Kong actually put a picture from the ceremony on their front page the next day.
So again I naively thought we were on the home stretch. It seems building an office building for an odd creature like AIT proved a near impossible task for the bureaucrats in the State Department. But when I returned on a visit to Taipei last summer, I was pleased to learn from friends in AIT that the project was on the home stretch. They told me the formal opening ceremony was scheduled for June. A recent article in the Hong Kong SCMP suggested the event will take place on June 12, 2018.
I am pleased to have been a part of this process — however lengthy — to introduce a state of the art building to represent the essential relationship the United States enjoys with Taiwan, so many years after the embassy closed in 1978. It will send a clear message, to friends and foes alike, that America's close ties to Taiwan and its intrepid 23 million citizens, are enduring and will continue well into the future. As I like to put it, "a 21st century building for a 21st century relationship!"
Note on the Marine House in the NOB: From the very start, I was determined to ensure that the mission would be guarded by a Marine Corps Guard (MSG) detachment. I had a powerful ally in my effort. I first met then Marine Corps Brigadier General Wallace (Chip) Gregson over 25 years ago, when he was working with Kurt Campbell, then a Deputy Assistant Secretary of Defense. Chip later served as Commander of the Marine Division in Okinawa and then as civilian Assistant Secretary of Defense. Chip visited Taiwan several times in his career and fully understands the importance of our close but informal relationship with the island.
So as Director, I went to see my old friend, now A/S Secretary of Defense Gregson, to ensure high-level DOD support for having Marines in Taipei. Chip and I worked closely together to get this into the proper channels. That — and also ensuring that a proper Marine House was part of the design for the NOB from the get-go — were things I sweated over. I know my friends working today in AIT are constrained by the delicacies of the relationship, but as best I understand, it is set for the new building to be properly guarded and defended by America's finest. Who else would inhabit a Marine House in Neihu, if not them?
The American relationship with Taiwan goes back at least seventy years, if not longer. Global politics has changed some of the trappings over the decades, sometimes in ways that one might label demeaning. But the fact is that our commitment to Taiwan's security and stability — enshrined in the Taiwan Relations Act (TRA) and many other Congressional and Executive branch measures undertaken over the years — remains secure today.
Taipei enjoys robust support in the Congress, and with many friends in the Executive Branch as well. Perhaps most important of all, there are millions of successful Taiwan-Americans and their friends throughout the United States, committed to preserving and strengthening our informal but very real ties to the island, its democracy and its 23 million citizens. This new office building will become just the latest living symbol of those ties that bind. I am proud to have played a role in the process.
Stephen Young lived in Kaohsiung as a boy over fifty years ago, and served in AIT four times: as a young consular officer (1981-82), as a language student (1989-90), as Deputy Director (1998-2001) and as Director (2006-9). He has visited often and writes regularly about Taiwan matters. He was also US Ambassador to Kyrgyzstan and Consul General to Hong Kong.
Comments will be moderated. Keep comments relevant to the article. Remarks containing abusive and obscene language, personal attacks of any kind or promotion will be removed and the user banned. Final decision will be at the discretion of the Taipei Times.