New Trump wildlife protection council defends trophy hunting
A US government-funded council largely made up of big-game hunters and celebrity guides has been formed to advise the US government on trophy imports, so it is no surprise that its members favor such imports
Big-game hunters tapped by US President Donald Trump's administration to help rewrite federal rules on importing the heads and hides of African elephants and lions as trophies on Friday last week defended the practice, arguing that threatened and endangered species would go extinct without the anti-poaching programs funded in part by the fees wealthy Americans pay to shoot some of them.
The US International Wildlife Conservation Council had its first meeting.
The Associated Press on Thursday last week reported that the council appointed by US Secretary of the Interior Ryan Zinke is stuffed with celebrity hunting guides, representatives from rifle and bow manufacturers and wealthy sportspeople who boast of bagging the coveted "Big Five" — elephant, rhino, lion, leopard and Cape buffalo.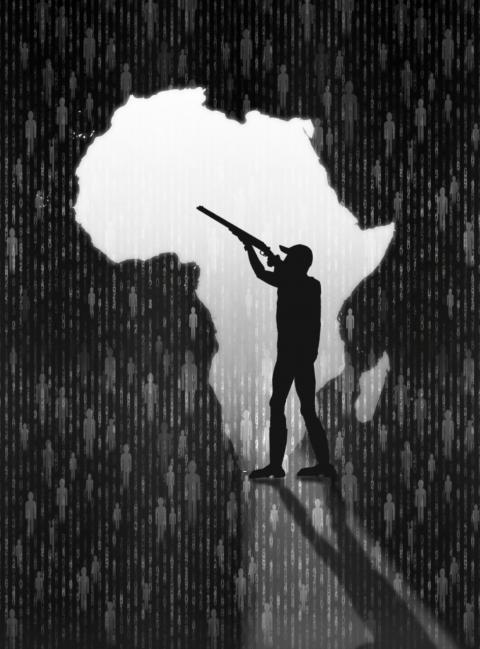 Illustration: Yusha
One appointee also co-owns a private New York hunting preserve with Trump's adult sons. Retired Oklahoma congressman Bill Brewster was unanimously selected as the board's chairman.
Brewster said that the fees and other costs paid by foreign hunters to African countries are essential to funding anti-poaching programs.
"As long as an animal has value, it will exist," Brewster said. "Most of us in this room enjoy hunting, but first has to come conservation and habitat preservation. Without that, there is no hunting."
Brewster is a lobbyist who has also served on the boards of Safari Club International and the US National Rifle Association (NRA), groups that have sued the US Fish and Wildlife Service (FWS) to expand the list of countries from which trophy kills can be legally imported.
An NRA profile lauded Brewster and his wife's five decades of participation and support for hunting, and his purchase of a lifetime NRA membership for his grandson when the boy was three days old.
Also on the board are Safari Club president Paul Babaz, a Morgan Stanley investment adviser from Atlanta, Georgia, and Erica Rhoad, a lobbyist and former Republican congressional staffer who is the NRA's director of hunting policy.
Trump has decried big-game hunting as a "horror show" in tweets, but under Zinke, a former Montana congressman who is an avid hunter, the FWS has quietly moved to reverse restrictions introduced under former US president Barack Obama on bringing trophies from African lions and elephants into the US.
No import permits for importing elephant heads, hides or tusks have been issued since a ban was lifted earlier this month, but FWS spokesman Gavin Shire on Friday last week told a meeting that 37 permits for lion trophies from Zimbabwe and Zambia were issued since October last year, when they were first allowed.
Shire declined to comment on whether any of the 16 members of the council had received any of those permits.
Access to the meeting at Interior Department headquarters in Washington was tightly controlled and a reporter was herded into a roped-off area at the back of the room.
The room was lined with murals of Native American hunting scenes, including men mounted on horseback shooting bison with bows and arrows.
After reporters complained about the roped-off area, the rope was removed following a lunch break.
As the meeting started, officials announced that Zinke was unable to attend the inaugural session of the council.
In a statement last year, Zinke said: "This council will provide important insight into the ways that American sportsmen and women benefit international conservation from boosting economies and creating hundreds of jobs to enhancing wildlife conservation."
Council members are not being paid a salary, although the department has budgeted US$250,000 in taxpayer funds for travel expenses, staff time and other costs.
Among Zinke's appointees is Steven Chancellor, a longtime Republican fundraiser and chairman of American Patriot Group, an Indiana-based conglomerate that supplies Meals Ready to Eat to the US military.
It is illegal poaching that is endangering African wildlife, not hunting, Chancellor said, adding that the council should work urgently to stop people without the proper licenses and permits from killing game.
"Poachers are killing 30,000 elephants and 1,000 rhinos every year," Chancellor said. "We need to be in a hurry."
The Associated Press on Thursday last week reported that Safari Club member hunting records obtained in 2015 by the Humane Society showed that Chancellor has logged almost 500 kills — including at least 18 lions, 13 leopards, six elephants and two rhinos.
In early 2016, records show that Chancellor filed for a federal permit to bring home the skin, skull, teeth and claws from another male lion he intended to kill that year in Zimbabwe, which at the time was subject to an import ban imposed by the Obama administration.
Chancellor declined to comment when asked by reporters at the meeting whether he had been granted any of the permits for lion trophies since the ban was lifted in October.
"This is not a forum for me to talk about me," Chancellor said. "This is a forum to talk about the conservation of wildlife. This is not about me."
In 2016, Chancellor also hosted a private fundraiser for then-candidate Trump and then-Indiana governor Mike Pence at his Evansville, Indiana, mansion, where the large security gates feature a pair of gilded lions.
Chancellor said he had never discussed trophy hunting or wildlife conservation with the president.
Appointees to the board also include professional hunters.
Peter Horn is an ex-vice president of the Safari Club International Conservation Fund and a vice president for high-end gun-maker Beretta.
Horn wrote in his 2014 memoir that he co-owns a hunting property in upstate New York with Donald Trump Jr, who drew the ire of animal rights activists after a 2011 photograph emerged of him holding a bloody knife and the severed tail of an elephant he killed in Zimbabwe.
Eric Trump "put together" a 500-yard range target range at the property, Horn wrote.
The Associated Press last month reported that the Trump sons were behind a limited-liability company that purchased a 69 hectare private hunting range in the bucolic Hudson Valley in 2013, complete with a wooden tower from which owners and their guests shoot at exploding targets.
Donald Trump Jr is also friendly with another member of the advisory council — hunting guide and TV show personality Keith Mark. He helped organize Sportsmen for Trump during the 2016 presidential campaign and recently posted photos on his Twitter page of himself with Donald Trump Jr and Zinke, standing before an array of mounted big-horn sheep and a bear.
"I see the world from a hunting lifestyle," Mark told reporters on Thursday. "It's the most pure form of hands-on conservation that there is. I will approach all decisionmaking with my background."
A coalition of more than 20 environmental and animal-welfare groups has objected that the one-sided makeup of the council could violate the US Federal Advisory Committee Act, which requires government boards to be balanced in terms of points of view and not improperly influenced by special interests.
"It is outrageous that the Department of the Interior is going to spend US$250,000 per year to convene members of the trophy hunting industry to promote their own financial interests by developing methods to decrease protections for species threatened with extinction," Humane Society lawyer Anna Frostic said. "This boondoggle violates federal law and impedes the agency's duty to make wildlife trade decisions based on the best available science."
Interior department spokeswoman Heather Swift said that the council has members "that represent all areas of conservation and varying opinions."
The only people who spoke against trophy hunting at the meeting were members of the public who had signed up to provide comment to the board.
One of them, Bill Kitchen, pointed to the colorful murals on the walls of the meeting room.
"I'm wondering what happened to all the buffalo in this country?" he asked the board. "What kind of twisted logic says: 'Let's kill elephants to save elephants?' What kind of message do we send to the rest of world when you lift the import ban on body parts so that rich Americans can get a so-called trophy?"
Comments will be moderated. Keep comments relevant to the article. Remarks containing abusive and obscene language, personal attacks of any kind or promotion will be removed and the user banned. Final decision will be at the discretion of the Taipei Times.