Israelis share their experiences of living with terror
After decades of suicide bombings, stabbings and vehicular terrorism, Israelis have learned to live in a heightened state of security
For many Israelis, the horrifying images of a truck plowing through crowds for nearly 2km in the French resort town of Nice struck a macabre, familiar chord.
"We had tractors," said Ami Zini, 49, who runs a boutique on the shopping street of the leafy German Colony neighborhood of Jerusalem. "One of them flipped over a bus with its bucket."
He was referring to a 2014 attack by a Palestinian resident of the city that killed an Israeli pedestrian.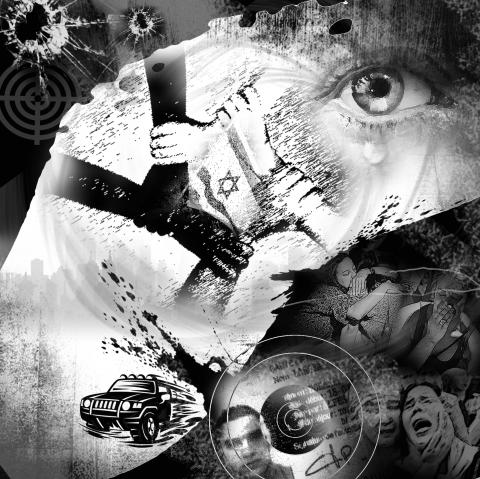 Illustration: Kevin Sheu
Nice was an even more direct, if far deadlier, echo of a 2011 rampage in which an Arab-Israeli man's truck barreled down a Tel Aviv street for more than 1km, killing one and wounding 17.
Those attacks followed a spate of attacks with heavy construction vehicles and cars as weapons in 2008, and, according to the Israeli Security Agency, commonly known as Shin Bet, since October last year at least 32 Palestinians have rammed vehicles into people at bus stops, intersections and military checkpoints.
French Prime Minister Manuel Valls said after the Nice attack, the nation's third mass killing in 18 months, that France "must live with terrorism."
That is what Israelis have been doing for decades, through the airplane hijackings of the 1970s; the suicide bombers of the second intifada, or Palestinian uprising, which began in 2000; and the lone-wolf stabbings and shootings of the past 10 months.
In Israel, ordinary citizens, security officials and experts feel they have seen it all and say they have adapted to a perennial, if ever-changing, threat. They speak of constantly staying alert, exercising caution and growing accustomed to what some might find to be intrusive levels of security, but essentially carrying on.
"There were times when we were afraid to stop our cars at a red light next to a bus," Zini, whose clothing store is named Rendezvous, to lend an air of French chic, said of the years in which buses were a frequent bombing target. "We live with terrorism, but we are not fearful. It is part of our daily routine."
That routine includes opening bags for a check and passing through metal detectors at train or bus stations, shopping malls and movie complexes. At the height of the suicide bombings, customers paid a small surcharge at cafes and restaurants to subsidize the cost of a guard at the door.
Hundreds of armed civilian guards have been deployed to protect public transportation in Jerusalem in recent months amid the wave of attacks, which have been glorified by some Palestinians on social media. The guards stand at bus and light rail stops, and hop on and off buses along main routes, with the same powers to search and arrest as the police.
Israel has also invested hugely in intelligence, its tactics evolving as its enemies change theirs.
Several psychological studies in Israel have found that people habituate quickly to threats, making adjustments to daily life — for example, keeping children at home rather than sending them to summer camp — and adopting dark humor about the randomness of the threat.
"If I don't get blown up, I will meet you at Dizengoff Center in about 45 minutes," a Tel Aviv bus rider told a friend by telephone, in a conversation overheard by Israeli psychologists researching the aftermath of the second intifada.
The survey of 458 people, led by Yechiel Klar of Tel Aviv University, found that 55 percent had changed their behavior — for instance, spending less time outside the house or making fewer long trips by public transportation.
The other 45 percent said they made no changes.
A separate study, at Ben Gurion University, found that residents close to attack sites — in this case, those living in Israeli settlements in the Gaza Strip — reported a lower sense of personal threat and stress than those in two other communities, one in a Tel Aviv suburb and one in a larger settlement near the occupied West Bank city of Hebron. The research suggested that the religious fervor of the Gaza residents might have been a key factor.
Some Israeli politicians have been disparaging about what they view as European negligence in security matters. For example, after the attacks in March in Brussels, Israeli Minister of Intelligence and Atomic Energy Yisrael Katz said Belgium would not be able to fight extremist terrorism "if Belgians continue eating chocolate and enjoying life, and looking like great democrats and liberals."
In a radio interview on Sunday last week, Yaakov Peri, a former head of Shin Bet now in parliament, recommended deeper intelligence supervision of neighborhoods "where Muslims, refugees, DAESH supporters of various sorts live," referring to the Islamic State group by its Arabic acronym.
He also suggested that French police were complacent, referring to news reports that the driver in Nice had told officers he was delivering ice cream.
"If the driver says he has ice cream, open the truck and check if he has ice cream," Peri said.
That the attack occurred at a mass gathering for Bastille Day, France's national holiday, had Israelis shaking their heads.
Micky Rosenfeld, an Israeli police spokesman, said that to secure a major event like Independence Day celebrations, when tens of thousands of people gather along the Tel Aviv seafront to watch an air and naval display, officers would gather intelligence for weeks beforehand and erect a 360° closure of the area, with several layers of security around the perimeter.
Main roads would typically be blocked off with rows of buses and smaller side streets with patrol cars. In addition to a large uniformed and undercover police presence, counterterrorism teams would be strategically placed to provide a rapid response if needed.
For intelligence gathering, Shin Bet has used a "basic coverage" method, which involves homing in on a particular neighborhood or population sector that is considered a potential security risk. The agency then builds an intimate system of surveillance and a network of local informers who can point to any sign of suspicious or unusual activity.
Lior Akerman, a former Shin Bet division head, said that while an attack like the one in Nice could certainly happen in Israel, "it should be emphasized that the French, like the rest of the European countries, do not conduct themselves intelligence-wise in this way at all."
However, several security experts acknowledged that with citizens in a democracy, including Israel's large Arab minority, these methods of intelligence gathering — "neighbors informing on neighbors," as one put it — can be difficult to balance with civil liberties. These measures are also less effective in trying to prevent individual attacks that are not affiliated with any organization and that at times appear to have erupted spontaneously, they said.
"The bad news is that even Israel doesn't have good experience in preventing lone-wolf attacks, or local network attacks, because traditional intelligence is almost nonrelevant in those cases," said Boaz Ganor, who heads the International Institute for Counterterrorism at the Interdisciplinary Center in Herzliya, Israel.
Shaul Shay, a former deputy head of the Israeli National Security Council, said Israelis at home and abroad were generally better prepared for terrorism than citizens of other Western societies.
"Here we are living with it since childhood," Shay said.
Many in Israel said that even if Israel's security apparatus could not have prevented an attack like the one in Nice, they imagine it would have been ended far sooner — and with far fewer casualties.
"It would be impossible here, because there is good security," said Muhammad Anati, 18, a Palestinian resident of the Shuafat refugee camp in East Jerusalem.
Inbal Berner, 37, an Israeli school librarian who was sipping an iced coffee at a nearby bus stop, gave voice to the new normal the French might now face.
"I look around; I don't go to crowded places if I don't have to," Berner said.
It has been that way "forever," she added, or at least since the bus bombings of more than a decade ago.
While people do get used to terrorism to some extent, she said: "Something always remains."
Additional reporting by Ben Carey
Comments will be moderated. Keep comments relevant to the article. Remarks containing abusive and obscene language, personal attacks of any kind or promotion will be removed and the user banned. Final decision will be at the discretion of the Taipei Times.