Tourists shun resorts from Egypt to Turkey in wake of terror attacks
Sun and sand holidays underpinned North African economies, but incidents in Sousse, Tunisia, and Sharm el-Sheikh, Egypt, have led to a severe drop in visitor numbers
By Peter Beaumont, Chris Stephen, Helena Smith and Ruth Michaels / The Guardian, Cairo, Tunis and Athens
Off the windswept headland where the Red Sea's Gulf of Aqaba meets the Gulf of Suez, a dozen divers trail bubbles during their descent toward the famous Shark Reef, one of the world's most popular diving sites.
One year ago, Ras Mohammed National Park would have been crowded with boats above and hundreds of divers below the water, but today's visitors have the blue depths almost to themselves.
After the bombing of a Russian tourist jet shortly after takeoff from nearby Sharm el-Sheikh last year, most flights to the area were canceled and tourists have mostly stayed away.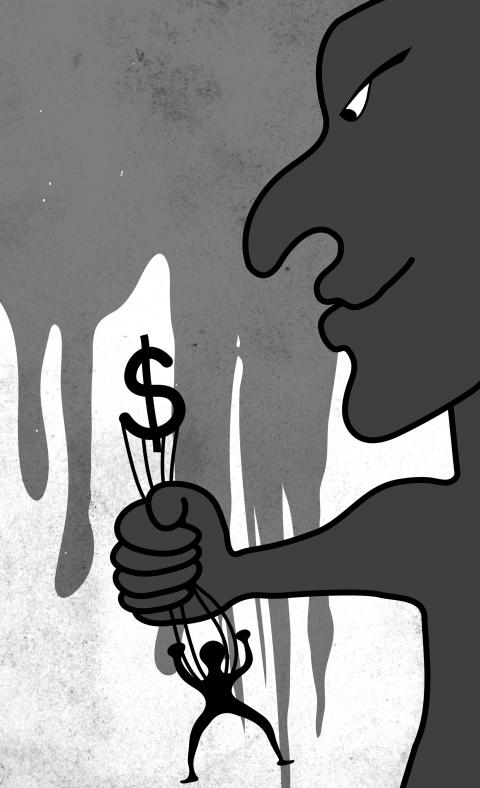 Illustration: Lance Liu
Thousands of kilometers away along the Mediterranean coast, Tunisian security guard Karim Sahloul surveys another idyllic beach at the resort of Sousse, which was emptied by a terrorist attack. After a lone gunman opened fire at a hotel, killing 38 mostly British holidaymakers, few have dared to come back.
"Sousse is not like before; now it is very quiet, very dark," said Sahloul, who was hailed as a beach-front hero last year after risking bullets to administer life-saving first aid to Briton Allison Heathcote. "A lot of people are now without work, restaurants and shopping centers are closed, everyone is feeling it."
His bravery, and that of other tourism workers who raced to protect visitors, earned plaudits, but it was not enough to restore the confidence of visitors or their governments, which have slapped travel warnings on nations across the Middle East and North Africa.
A string of high-profile attacks, fears of more violence and official travel advisories have led to a catastrophic collapse in visitor numbers in a swath of nations across the Middle East and North Africa, which had turned sun-and-sand holidays into a critical pillar of their economies.
Kilometer after kilometer of empty hotels along the Sousse beachfront bear mute testimony to the shattering impact of the attack in June last year and a March last year assault on tourists in the Bardo museum in Tunis, in which 21 were killed.
Sahloul counts himself lucky to still have a job.
"The whole city depends on the tourists. Really life is hard; there are lots of people without work," he said.
The sector, which employs an estimated 400,000 people, has reached a "crisis point" and its collapse risks fueling a vicious circle of extremism, Tunisian Minister of Tourism Salma Lummi said.
"Hotels have to close and this is an important industry. One of the sources of terrorism is lack of hope. It is not the only motor of it, but it is one of the very important origins," she said.
In Egypt, the decline in tourism has been slower, but just as devastating. Annual visitor numbers peaked at 14 million in 2010, but then the nation's revolution began in January 2011, sparking political instability that ate into tourist confidence.
The numbers have never topped 10 million since and are expected to fall slightly to about 9 million for the 2015 fiscal year, with the plane bombing and attacks on tourists adding to concerns about general violence.
Egyptian beaches and diving sites from Dahab to Sharm el-Sheikh and Hurghada are empty or sparsely visited. The beach hotels that are still open have shut down restaurants and wings, and cut back on activities and, although they are a long way from the northern Sinai base of the Islamic State group affiliate that claimed responsibility for the bombing of the Russian plane, Cairo, Alexandria, Aswan and Luxor have also been hit hard.
"Now we have no leisure tourism at all, it is all conferences and business. We are suffering a lot, as we have no groups," said Ahmad Samir, assistant sales groups manager of the Marriott hotel chain in Cairo's upscale Zamalek neighborhood.
At the popular monastery of St Catherine's, beneath Mount Sinai, the Bedouin guides sit disconsolate and barely employed.
Some nationalities, Americans among them, require a police escort to visit.
Along the coast even the rough-and-ready beach camp huts are empty, with even Egyptians only visiting in the smallest of numbers.
"I had my own four-wheel drive to take tourists on excursions," said one driver, now driving for another firm. "I had to sell it to make ends meet."
Efforts by the Egyptian Ministry of Tourism to boost arrivals with campaigns on social media have also fallen flat, with the recent #ThisisEgypt campaign hijacked by Twitter users who lampooned the campaign by using the hashtag alongside examples of Egypt's poor human rights record.
Turkey's tourism sector is bracing for a similar shock after an Islamic State-orchestrated suicide attack killed 10 people in the heart of Istanbul's historic Sultanahmet District, outside the Blue Mosque, this month.
Most of the dead came from Germany, the nation that sends the most visitors to Turkey — 5.2 million last year — and cancellations are expected, worsening an already bleak year.
Up to 4.5 million Russians were already expected to change holiday plans after the Turkish military shot down a Russian jet that strayed into Turkish airspace on a bombing mission over Syria, and military operations against Kurdish insurgents in the southeast have added to a sense of crisis.
"Things are getting worse for Turkey's tourism sector, with crisis after crisis erupting before the last one is resolved," Hurriyet Daily News columnist Gunes Komurculer said. "The situation is so bad that we should simply accept this year as a 'lost year' for tourism."
In Israel, and in the occupied West Bank, too, where numbers were only just beginning to recover from the impact of the 2014 Gaza war, tourism is again in reverse following more than three months of almost daily violence between Israelis and Palestinians.
Despite hopes by Israel to market its own Red Sea coastal resort, Eilat, to Russian tourists avoiding Egypt and Turkey, there is little evidence yet of that succeeding.
"What we see is not connected to [the 2014 Gaza war], but rather an extended, low-intensity conflict without an end," tourism planning, management and marketing lecturer Eran Ketter said. "It wears down the tourists and Israel's ability to launch campaigns, because it is impossible to promise that it will be over soon."
When suicide bombers killed 60 people in three hotels in the Jordanian capital, Amman, tourism for the first six months of 2005 declined by US$1.5 billion in a nation where tourism makes up 15 percent of the economy.
Even those nations least affected by the regional turmoil have not been spared. Morocco has had no major terrorist attack since 2011, but also remains under a shadow.
The British Foreign Office does not advise against traveling to the nation, but has warned the 500,000 Britons expected to visit this year that there is "a high threat from terrorism."
However, necessity is the mother of invention.
While the usual tourists stay away, some nations are attempting to look to different places to fill the gap left by absent Europeans and Americans.
In Egypt, the government this month announced that it would grant Chinese tourist groups visas on arrival as a way to boost visitors.
For its part, Tunisia is trying to attract new tourists from Algeria to stay afloat.
"Visa-free arrival from China could have a positive effect," Signet Institute director and economics analyst Angus Blair said. "There will not be the same numbers as from Russia, but it could make up for some of the fall."
Comments will be moderated. Keep comments relevant to the article. Remarks containing abusive and obscene language, personal attacks of any kind or promotion will be removed and the user banned. Final decision will be at the discretion of the Taipei Times.