Group offers antidote to media scaremongering over Ebola
The team behind Syria Deeply have created a new single-issue Web site on the medical crisis in west Africa
The Ebola crisis has brought out the worst in some elements of Western media outlets, which are prone to exaggeration, scaremongering and shock tactics.
Ebola Deeply, a new single-issue Web site from the team behind Syria Deeply, could help to rectify this situation. As with Syria Deeply, the site offers a mixture of original reporting and aggregation from a team made up of journalists — many of them on the ground in affected countries — technologists and experts in the field.
Lara Setrakian, a former television news correspondent for Bloomberg Television and ABC News who founded parent site News Deeply in 2012, describes the company's model as an "onramp" for news stories.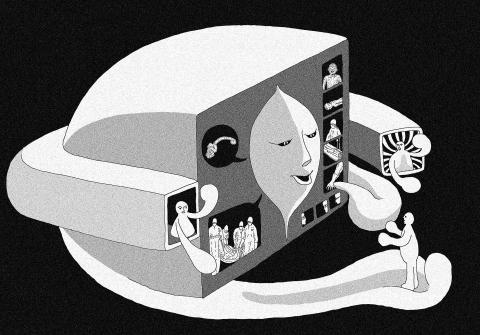 Illustration: Mountain People
"There needs to be something that helps get users — readers, viewers — onboarded to a story, understanding enough of the narrative that they can find the next piece more interesting and engaging," Setrakian said. "When [media outlets] fade in and out of reporting on certain issues, it becomes very hard for our audience to catch up on what happened in the space between."
The sites offer a similar mixture of content, including op-ed pieces from a network of experts, maps, timelines, videos, executive summaries, aggregated news from around the world and the Syria/Ebola Files: collections of text and interactive materials designed to help readers understand the background to the current situation.
"We see ourselves as a supplement, almost like a vitamin — vitamin Syria," Setrakian said. "The notion of a universal story page is very helpful for our readers and it is also just like journalism in the public service, when we were talking about radio or television, except for now it is digital."
This might, on the face of it, sound like a reaction to the failings of mainstream media. However, Setrakian believes the problem is more rudimentary.
"It is not the fault of any one news organization. It is simply the systematic outcome of general-interest news reporting and a very complex world," she said. "Some of the news coverage [of Ebola] has definitely stoked hysterical fears, but it is just the nature of the story that is so frightening. Even the most straightforward news coverage is going to stoke fears."
The origins of News Deeply lie in Setrakian's experience as a Middle East correspondent for ABC News. She loved the job, she said, but became aware of a systemic gap in the linear reporting that mainstream news outlets produce.
"A news piece would come and go and the story, the issue itself, would still be there," she said. "There was still so much unaccounted for. There was only really a limited amount of information you could pack into a two or three or even seven and eight-minute piece."
After discussing her ambitions and frustrations with Azeo Fables, a technologist with a background in startups and project management, the pair launched Syria Deeply in 2012.
"People thought I was crazy — even my mother thought I was nuts. She could not compute that I left TV to start a Web site," Setrakian said. "As a Middle Eastern correspondent, I could not just watch this problem continue without trying a better way of designing our coverage. Syria was too important to leave off the pages for good."
The site quickly found an audience, including "diplomats, Syrians — mostly living abroad — a lot of students of Middle Eastern Studies, professors, think tanks," and scored a number of scoops, including the news that the Islamic State group, formerly known as the Islamic State of Iraq and the Levant, had issued 11 rules for journalists in Deir Ezzor, Syria, a story that was picked up around the world.
Syria Deeply generated interest in the company's single-issue news model, which in turn led to outside suggestions for other issues that the team should cover. One of these was Ebola.
"Syria Deeply was the proof of concept. Ebola Deeply was motivated by people telling us: 'You need to run this model on Ebola,' which had the same information problem," Setrakian said.
Fables added: "The two things that every topic needs are a high need for service and a high opportunity for impact. Ebola Deeply's launch had good timing because there was a lot going on and no kind of coherent narrative."
All this, however, needs money. Setrakian said they run the company as a "social enterprise" rather than having to rely exclusively on philanthropy.
News Deeply does receive grants from a number of public foundations — what Setrakian called "directed support for a single topic" — but it also makes money by creating white-label platforms for editorial projects and plans to raise funds from events and membership services.
"We ruled out a subscription model because we do not believe in putting this work behind a paywall," Setrakian says. "We want it to be for public consumption."
Media analyst Ken Doctor compares News Deeply to the Encyclopaedia Britannica and Wikipedia.
"Ebola Deeply and its sister, Syria Deeply, take the abstract question of what would or could journalists do with a Wikipedia model and answer it," he said.
"Top stories, videos, maps and visuals, appropriate Twitter representations, news and views, all neatly packaged on a single page. It's a reference point that shows you what wide and deep mean — and it is done on shoestring."
The company's next project is Arctic Deeply — a "species-level issue" that is under-reported, according to Setrakian — whose prelaunch incubation period started with a roundtable event on Friday last week. Other topics under consideration include Pakistan, Burma, Congo and the scarcity of accessible fresh water.
"Myanmar has an election next year that is terribly misunderstood," Setrakian said. "We are looking at Libya. We have looked at places where there just isn't a spotlight."
Comments will be moderated. Keep comments relevant to the article. Remarks containing abusive and obscene language, personal attacks of any kind or promotion will be removed and the user banned. Final decision will be at the discretion of the Taipei Times.