A year after Qaddafi's death, Libya struggles to unite
Rebel forces are battling for Bani Walid, the last bastion of Qaddafi's former henchmen, while Libya's inexperienced leaders struggle to assert authority
"Nobody knows where [former Libyan leader Muammar] Qaddafi is buried," said Abubaker Ali, a 29-year-old volunteer with the forces massed at the Sufageen forward base in the Libyan desert.
Squinting toward the horizon where a pall of black smoke rose from the town of Bani Walid, hidden behind a line of barren hills, he said: "He's buried in the desert. But nine-tenths of Libya is desert."
Qaddafi was captured and killed by rebels a year ago on Saturday and buried somewhere under the rust-colored sand. The location of the grave is a closely guarded secret, but in the same stretch of sand the same rebel forces — now wearing government uniforms — prepare a final push into the last of his strongholds. Bani Walid, 144km from Tripoli, was supposed to have fallen a year ago. Instead Qaddafi's former henchmen and officials have turned the town into a bastion.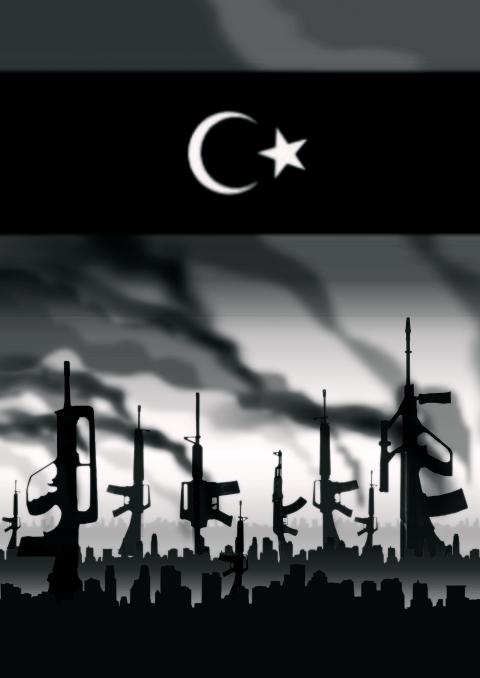 Illustration: Yusha
The Libyan leader's bloody death is one of the images seared in Libya's collective memory. Trapped in Sirte, his birthplace, on the coast, he tried to escape in a convoy that was bombed by NATO on Oct. 20 last year.
Rebel forces found him hiding in a roadside culvert and mobile phone footage of the time shows him being dragged away, kicked and punched, with blood running from a head wound.
Shortly afterward, he was shot dead by an unknown gunman. His body was laid out on public display in Misrata, the hardest-hit of the rebel cities, before being transported south for burial.
The year since his death has been one of chaos and violence. In January, pro-Qaddafi loyalists in Bani Walid rebelled, chasing government forces out of the town. Last month, they kidnapped and killed one of the Misrata militiamen credited with Qaddafi's capture.
The former transitional authorities were unable to stitch together a country riven by mistrust and anger after 40 years of ruthless dictatorship. Savage battles continue to erupt across much of Libya, some score-settling and some the work of jihadists, who last month claimed the life of US ambassador to Libya Chris Stevens.
ELECTIONS
Elections in July for the first truly democratic parliament in Libya's history were a success, but the result has so far been a failure: a parliament so riven with ideological, tribal and regional rivalries that, three months on, it cannot agree on a new government.
Ali was anxious to get back to his studies — a PhD in civil engineering at a university in El Paso, Texas — but said Bani Walid represented unfinished business.
"People are tired," he said with a shake of the head. "They really want an end of all this."
The mood was the same in the impromptu camps set up in a wide elongated ring around Bani Walid. Abdul Fatah worked as an intensive care nurse during last year's revolution and has left his medical studies to serve in a tented field hospital here.
"They want to finish it on 20 October because it's the same time they caught Qaddafi," he said.
Tanks and heavy artillery were being moved up along the few highways around this base, ready for the resumption of battle after a truce to encourage civilians to flee. According to Fatah, Libya's problems rest foremost with the politicians and their failure to put national interests before their own.
"The people in power don't think about Libya, they think about themselves, that is the problem," he said. "The first thing the [Libyan] National Congress did was to appoint themselves high salaries."
The government, to no one's surprise, is divided over Bani Walid: Government-appointed militias are conducting the offensive on their own initiative, with ministers sitting on their hands, in part for fear of civilian casualties.
Bani Walid is only one of a dozen security headaches. The Islamist militia blamed for the killing of Stevens in Benghazi is now holed up in the forested Green Mountains, but army commanders surrounding them say they cannot get orders to move in. Smuggling gangs continue to battle one another along the southern border with Sudan and Niger and the western border with Tunisia.
The mountain town of Zintan, home to one of Libya's most powerful militia armies, continues to hold Qaddafi's son Saif al-Islam, refusing to hand him over either to the government or to the International Criminal Court. The government's own police force, the Supreme Security Committee, is accused of standing aside in August and allowing Salafist extremists to bulldoze a Sufi shrine in downtown Tripoli. Meanwhile, Libya continues to disintegrate. There is no central refuse collection in Tripoli, so mountains of garbage have built up amid the ruins of Qaddafi's former home at Ban Aziza.
On the highway east of the capital, plantations of trees created to halt the encroachment of the Sahara have been systematically cut down by criminal gangs selling the timber. Pensions go unpaid, schools struggle for books and at the Libyan Stock Exchange chains of zeros on the glowing screens show the almost total absence of investor activity. Libya's Facebook generation, the young people who used the Web to spread news of last year's revolution, is struggling with Internet provision recently revealed to be one of the slowest in Africa.
INEXPERIENCE
At the root of the problem is the inexperience of last year's revolutionaries with the levers of power. Qaddafi's dictatorship was so absolute and all-pervasive that the only organization not controlled by the state was, famously, the Boy Scouts. The result is that a year after liberation, Libyans are still blinking in the sunlight, unsure of how to operate after four decades of having decisions made for them.
Qaddafi did not even leave the people he ruled with a parliament building. The national congress is instead forced to sit in a cramped conference center converted to the task. So little faith do ordinary Libyans have in the system that each day small knots of protesters barge through the main gates to make their voices heard, literally at parliament's door.
Hassan el-Amin, an independent MP who returned to Libya after 28 years of political exile in Britain, sat in an anteroom in the conference center, listening to the shouts of a dozen amputees who say this is their last hope to get war pensions the government had promised them. The guards and staff argued back, the protesters persisted for an hour, then went home in dismay.
"The big issue in Libya is security," Amin said. "The political scene, at least you have an elected body, that's not the issue. The issue is security, security, security."
Libya today is not a single state, but a collection of fiefdoms. Some work better than others: Misrata, Libya's third city, is booming, and Tripoli, the capital, has seen regular police take the place of militias. However, Stevens' killing shattered what remained of foreign business, with trade delegations staying away and embassies shedding staff. Palm City, a luxurious seafront complex for diplomats and foreign executives, is half empty.
Benghazi's population was so enraged by that killing and government inaction that protesters took matters into their own hands, storming a series of Islamist militia bases late last month.
"There are some people who want Benghazi to be like Somalia, everyone killing each other," said Hanna el-Galal, a civil rights activist in the city. "Most Benghazians want to work together, men and women, for the common good."
Some voices call for patience.
"It was 42 years of dictatorship, that is a long time," said Mohammed bin Tahar, an electrical engineer serving as a volunteer unloading wounded soldiers from helicopters at Misrata's hospital. "It is not easy to change the way people think in just a year."
Comments will be moderated. Keep comments relevant to the article. Remarks containing abusive and obscene language, personal attacks of any kind or promotion will be removed and the user banned. Final decision will be at the discretion of the Taipei Times.