UN calls emergency meeting on food crisis
Rocketing prices, which have led to riots, are the result of rising demand and supply shortages caused by freak weather and poor harvests — and exacerbated by speculation
Two years after the last food crisis, food inflation is back. Soaring global food prices have prompted London and food industry experts to warn that the cost of the weekly groceries is set to rise by up to 10 percent in the coming months.
As in 2008, rocketing prices are the result of rising demand and supply shortages caused by freak weather and poor harvests. Moreover, these conditions are exacerbated by speculation on commodity markets and changing diets in fast-growing Asian countries.
Last week, the UN's Food and Agriculture Organization (FAO) called an emergency meeting for Sept. 24 to discuss the food crisis. In Mozambique, riots broke out following the government's decision to raise bread prices by 30 percent, leaving seven people dead and hundreds injured. At the same time the Russian government extended its export ban on wheat by another 12 months as it battles drought, shortages and inflation at home, which threatens to push up prices further.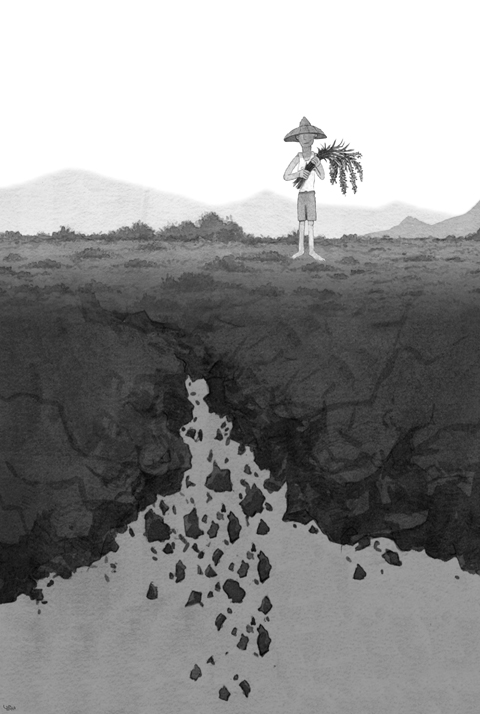 European wheat prices hit more than 231 euros (US$298) a tonne last week, just below last month's two-year high of 236 euros, but still 60 percent higher than a year ago in pound sterling terms. Corn prices are at their highest level since June last year while sugar has been on a rollercoaster ride after hitting a 29-year peak in February.
FAO economist Abdolreza Abbassian raises the prospect of further civil unrest in less developed countries if the price of basic food continues to rise.
"Russia's move is another unfortunate development that will prolong upward pressure on grain prices and contribute to higher price instability in world markets. Rioting may reappear in poor districts around the world if prices of basic foodstuff commodities continue to rise further," Abbassian said.
Surging wheat prices, along with higher sugar and oil-seed costs, drove the FAO's international food price index up 5 percent last month, the biggest rise since November last year. The organization estimates this year's wheat crop at 646 tonnes — down 5 percent from last year — while world barley production, also hit by bad weather in the former Soviet Union and the EU, is forecast to drop by 22 percent to a 30-year low of 129 tonnes. Last month global meat prices hit a 20-year high.
In the UK, Premier Foods, owner of the Hovis bread brand, has warned the global shortage of wheat could push up the cost of bread by at least £0.05 (US$0.08) a loaf.
A leading UK supplier of flour, Rank Hovis,was to increase its prices yesterday. Soaring barley prices mean that the pub price of a pint of beer could top £4 this time next year.
Experts fear that UK food price inflation, which was running at an annual rate of 3.4 percent in July, could now rise to 10 percent — depending on whether costs continue to climb and to what extent food manufacturers absorb the increases.
The Grocer magazine's food and drink editor Alex Beckett said that if prices for commodities, such as wheat, sugar, cocoa and palm oil, remain at current levels, by January the weekly groceries could cost 10 percent more than 12 months previously.
Philip Shaw, chief economist at Investec, said: "If the current rise in prices is sustained, food price inflation might climb to 7 percent [to] 8 percent by mid-2011."
And Philip Rush, at Nomura, sees food prices going higher over the next year, tipping back up to above 5 percent year-on-year growth.
Global meat prices have risen sharply as a drop in production from exporters, such as Argentina and the US, has coincided with rising demand from China, where consumers are eating more meat than they used to. The FAO's index of meat prices last month climbed to its highest level since it started compiling the index in 1990, up 16 percent over the past year. Lamb prices are at a 37-year high, beef prices are at their highest level in two years and pork and poultry have also become dearer.
Mark Topliff at Eblex, which represents the English beef and sheep industry, said that in recent years, falling cattle prices have led to fewer farmers keeping cows in major exporting nations like Argentina, Brazil and the US, the world's biggest beef producer. The removal of EU subsidies under the common agricultural policy for British and European sheep farmers has also led to a decline in sheep numbers.
The European flour milling association has highlighted the role of speculators in driving up wheat prices, although the global shortage appears to be the main factor. The main culprit is the weather — wheat prices have been going up since the summer when crops were hit by a drought and wildfires in Russia and dry weather in Ukraine and Kazakhstan, compounded by unusually wet weather in Canada and the floods in Pakistan.
Russia, the world's fourth-biggest wheat producer, has imposed an export ban on grain amid its worst drought in at least 50 years, and Russian Prime Minister Vladimir Putin warned on Thursday that the ban could stay in place until after next year's harvest, forcing importers in the Middle East and North Africa to turn to Europe and the US for supplies.
"This has completely changed the complexion of the market," said Sudakshina Unnikrishnan, a commodities analyst at Barclays Capital.
"We see further upside for corn and wheat prices. Consuming countries are scrambling to gain access to supplies," she said.
Britain's wheat crop is expected to be close to average this year, but Germany, which had more rain last month, could become reliant on wheat imports for the first time in 10 years. The winter wheat harvest will be 9 percent lower this year than last, according to the German farmers' association, forcing Germany to import grain from France and the US. Bad weather has also affected the quality of the wheat, which suffers when it stands too long in the rain. Lower-quality wheat is used as animal feed.
The premium for high-quality milling wheat used in bread, cereals and biscuits, which now costs about £195 a tonne, has climbed to £30 to £40 from the typical £10 to £15.
"If we don't get a bumper harvest from the southern hemisphere, namely Argentina and Australia [due at Christmas], the wheat price could continue to stay where it is," said Guy Gagen, chief arable adviser at the UK's National Farmers' Union.
The Northern hemisphere — the US, Canada, Russia and northern Europe — produces 80 percent of the world's wheat supply.
Experts note, however, that the market is not in the same position as it was in 2007 and 2008, when global wheat stocks were very low, as there have been two seasons of replenishment. The problem is that many countries will not release their surplus stocks to the market, but are hoarding them, ­director-general of the National Association of British and Irish Millers Alexander Waugh said.
On a brighter note, he added: "High prices tend to encourage farmers to plant more crops. The situation may be uncomfortable, but it's not out of control or unmanageable."
In mid-July, a US commodities trading company, Armajaro, attempted to corner the market in cocoa by taking delivery of 7 percent of the world's supply at a time when prices were at a 32-year high of US$3,200 per tonne — a US$1 billion bet. The fear was Armajaro would squeeze the market, forcing prices even higher. In the event prices have gone into reverse, falling by more than 25 percent as fears have receded that supplies from Ivory Coast, which produces 40 percent of the world's cocoa, would be hit by bad weather.
However, last week Barry Callebaut — the world's biggest chocolate company, which supplies confectioners, such as Nestle — said prices would stay high.
"Retailers do not want to accept higher prices at the moment in spite of higher raw material costs,but pressures will rise, prices will just have to increase," the company's chief executive said.
Sugar prices hit a 29-year high in February, but then fell back sharply. However, last week Brazil — the world's biggest sugar producer — warned crops may be lower than expected as a result of dry weather and the price climbed back to its highest level since March.
Coffee prices are at a 12-year high and global stocks at their lowest level for a decade. Several coffee bars have started to push through price rises, although Starbucks said last week that it would not raise prices.
Comments will be moderated. Keep comments relevant to the article. Remarks containing abusive and obscene language, personal attacks of any kind or promotion will be removed and the user banned. Final decision will be at the discretion of the Taipei Times.