Farmers face off with chemical maker over rice
Consumers are increasingly wary of GM foods after an experimental rice strain made its way into the food chain
Researchers at Ghent University in Belgium set out nearly 20 years ago to do what seemed like a good thing for farmers — create a strain of rice that could withstand a popular herbicide that kills weeds in the fields.
The scientists were so successful that Bayer CropScience, part of the German chemical giant that makes and markets the Liberty herbicide, eventually bought the company that the university scientists formed.
Now lawyers for Bayer CropScience are in an Arkansas courtroom, fighting the latest of several lawsuits claiming the company is hurting rice farmers rather than helping them. Bayer has already lost three suits over the past five months, with more trials to come.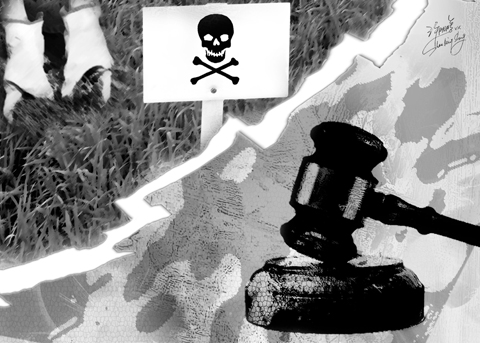 Growers in Arkansas, California, Louisiana, Mississippi, Missouri and Texas filed lawsuits against Bayer for hurting their sales after genetically altered rice escaped a Louisiana test plot. Bayer faces judgments of US$4.5 million so far in the three cases it lost.
Two key things have happened since the early 1990s. Concerns have grown about foods marketed directly to consumers that were raised using genetically altered seeds. And the experimental, Liberty-resistant strain of rice — called Liberty Link — got loose and made its way into the stream of commercially marketed rice.
The announcement by the US Department of Agriculture in August 2006 that traces of Liberty Link rice had been found in the US' rice supply was not welcome news to rice farmers.
No nation has approved genetically modified rice for the marketplace. Rice futures plummeted by US$150 million immediately afterward. European nations quit accepting shipments of rice from the US that hadn't been extensively tested to show they weren't contaminated. Japan banned all US rice.
"In August, you're at the end of the line as far as your options — you're basically 30 days from harvest," said Willie Oxner of Brinkley, Arkansas, recalling what happened that year. "There you are sitting with a crop, if the people who are taking it don't know what they're going to do, you're in a panic."
Oxner, a plaintiff in a separate lawsuit against Bayer over Liberty Link, said his 2006 rice crop brought in about half of what he had been expecting — US$3 to US$4 a bushel (about 20kg) rather than US$6 to US$7 a bushel. Beyond that, he said, was the turmoil of not knowing if he would be able to sell it at all.
"For quite a while, there was no indication that the rice would even be [marketable] — the scare and the unknown, it was like a wildfire," he said. "It built up steam and went from bad to worse."
The effects were felt across the Southern rice belt and even in California, which grows little of the long-grain rice raised in the South, and where no Liberty Link contamination was found.
There was "a really significant amount of confusion" and demands from overseas customers for facilities to be cleaned and for costly testing of export shipments, said Kirk Messick, senior vice president of Farmers Rice Co-op in Sacramento, California. Those testing requirements are still in place.
"Our export customers didn't want [it]," he said. "Immediately we had requirements for ... ­testing for nearly all of our export market. We still today ... have to answer questions. There were a lot of hidden costs."
Those costs come off the top of prices that farmers get.
In addition to compensation for the lower price of their crops in 2006, some farmers are seeking punitive damages. Earlier this month, jurors in Augusta, Arkansas, awarded US$500,000 in punitive damages.
In the Lonoke County case, the dozen plaintiffs are also seeking unspecified punitive damages.
That suit claims Bayer was not only negligent in its handling of Liberty Link rice, but acted with malicious intent by not announcing the contamination as soon as it learned of it. The suit says Bayer knew of the contamination as early as January 2006, before that year's crops were sown.
Bayer attorney Dick Ellis said in court last week that the company acted responsibly in its handling of the experimental rice and if the farmers suffered any damages, they were minimal.
"It had some impact, but it was a small impact and didn't last very long," Ellis said.
He also disputed the effect of the European reaction, saying Europe was not a large market and that exporters quickly found new markets for the rice that would have gone there.
While some other major US food crops, such as soybeans, corn and canola, are grown with genetically altered seeds, Liberty Link rice has never been approved outside of test plots in the US.
Why there was such an outcry over the rice, and why the issue persists, may stem from rice's place on the dinner table, while people don't consume soybeans directly, said Steve Linscombe, director of the rice experimental station in Crowley, Louisiana — where the Liberty Link tests were carried out.
Another factor may be timing. The Liberty Link contamination came amid global economic turmoil that began in 1997 and prompted many countries to be more protective of their agricultural sectors, said Bobby Coats, an economist with the University of Arkansas Extension Service.
"Countries [were] uncertain about their economic future [and] focused on feeding their population," Coats said.
Comments will be moderated. Keep comments relevant to the article. Remarks containing abusive and obscene language, personal attacks of any kind or promotion will be removed and the user banned. Final decision will be at the discretion of the Taipei Times.