International adoptions slow amid tightened rules, scandals
For Americans, adopting a foreign child has become a much more tortuous process amid a recent spate of child trafficking scandals in countries that send large numbers of orphans to the US, tightened international rules and a shift by many countries toward more domestic adoptions
John and Julie Casserly, both lawyers in St. Paul, have been waiting 11 months to complete the adoption of a Guatemalan girl whom they have named Ruby Rosario. But they say they are afraid to check e-mail messages or answer the phone. It's always some update from their adoption agency regarding the latest suspension of the process or some other bad news.
In 2005, when they set out to adopt a Guatemalan baby boy, the couple faced the usual jitters, not to mention mounds of paperwork. But none of that stress, the couple said, compares with what they are going through now.
For the first adoption, "It was a matter of when," said Julie Casserly, 37. "This time, it is a matter of 'if.'"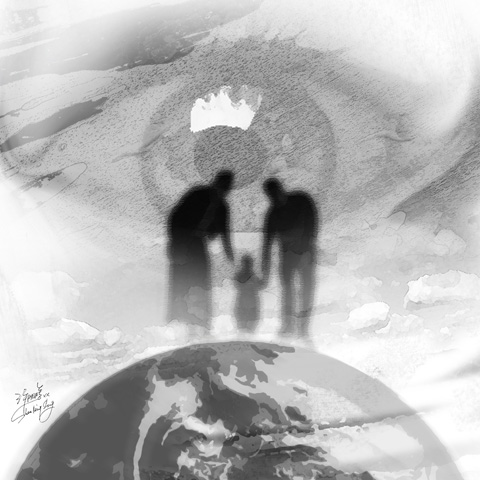 Adoption experts say that international adoptions have become more tortuous to pursue. There have been child trafficking scandals in countries that send large numbers of children to adoptive families in the US, tightened rules under an international treaty that took effect in April in the US, and a shift by many countries, including China, Russia and South Korea, toward more domestic adoptions.
Adoptions, even those already in process like the Casserlys' — have been temporarily shut down in Guatemala as the country tries to clean up a system controlled by private brokers, many of whom had been accused of selling babies.
"It's a consequence of the world paying attention to international adoptions in a way it never did before," Adam Pertman, the executive director of the Evan B. Donaldson Adoption Institute, a research and advocacy organization, said of the situation. "Now it's a highly observed process."
The world began watching as international adoptions more than tripled from early 1990, reaching as many as 22,884 in 2004 in the US, which registers more international adoptions than all other countries combined. But the number of such adoptions has steadily decreased over the last three years, to 19,400 last year, and adoption experts expect the decline to continue for several years.
"The days of China sending 7,000 kids into the United States are long gone," said Chuck Johnson, vice president for training and agency services for the National Council for Adoption in Alexandria, Virginia. "We've had to work so hard to get 19,000, but countries are making it harder to adopt these children."
A major change in the adoption landscape is the Hague Convention on Intercountry Adoption, a treaty involving more than 70 countries and recently signed by the US. It establishes new accreditation requirements for adoption agencies and protections against child trafficking. Many in the adoption field expect the treaty to stop the commercial industry that boomed in many countries as demand for international adoptions rose. Ultimately, the regulations are expected to benefit the children and those wanting to adopt them.
But while the number of adoptions may bounce back up eventually, many prospective parents are caught in the turmoil now, even though they were already far enough along into the adoption process to have purchased bigger homes, swing sets and children's clothes.
Jennifer and Lloyd Komatsu of St. Paul, Minnesota, started their paperwork for an adoption in Vietnam in 2006. They now fear the loss of a child after a two-year, emotionally wrenching process.
Vietnam stopped accepting adoption applications this year after an investigation by the US embassy found many cases in which mostly poor birth parents had been paid or deceived into placing their children in orphanages.
In many cases, an embassy report said, "orphanage officials told them that the child will visit home frequently, will return home after they reach a certain age (often 11 or 12) or will send remittance payments from the United States."
The report included the story of a birth mother who was unable to pay for her Caesarean section. She was told by the hospital that her baby had been transferred to an orphanage for lifelong treatment "for water on the brain." The orphanage had instead placed the healthy baby up for adoption.
The adoption agreement between the two countries, set to expire in September, is not expected to be renewed.
The Komatsus, who run a greyhound dog rescue center out of their home, said they thought an international adoption would be more predictable than adopting domestically. But a process they expected to take nine months has yet to match them with a child. The wait, however, has not stopped them from joining local Vietnamese groups, listening to Vietnamese language tapes and readying a playground with slides and swings, which has been up for over a year. A bedroom is ready for a girl they hope will be between 18 months and four years old.
The allegations of child stealing are "worrisome," said Lloyd Komatsu, 52, who has a 14-year-old son from a previous marriage and who works as a testing coordinator for a school district.
But he said he and his wife feel shielded because they chose a reputable agency, and because in their opinion, a small number of corruption cases have been blown out of proportion.
Nonetheless, they've had some explaining to do.
"Some of my casual acquaintances have asked: 'What's this stuff with Vietnam?'" Lloyd Komatsu said. "It's on people's radars and it's added to our emotional burden."
Other prospective adoptive parents say similar controversies in other countries have created a hostile environment. A white American couple currently seeking to adopt in Africa, where they have temporarily moved to offer foster care to the child they want to adopt, say they have met resistance both from the courts and strangers on the street.
"There's automatic suspicion," said the prospective father, who spoke on condition that his name and the country the child he's adopting is from not be disclosed for fear of derailing the couple's case.
"Many wealthy urban people kind of look at you funny, like, 'What are you doing with this kid?' In some instances they've said, 'Why don't you give that child back to the mother?' when in fact there is no mother or father," he said.
The publicity surrounding celebrities like Madonna, who last month adopted a boy in Malawi, has not helped, some parents said. Critics in Malawi accused her of circumventing the country's adoption laws and receiving the kind of special treatment that raises questions about other adoptions by foreigners.
The Casserlys said they have bonded with the 11-month-old girl through pictures and a letter from the birth mother. Last February, the couple and their son, James Carlos, 3, moved to a bigger house, one with a "pink and frilly" upstairs room for the girl and a framed picture of her in the living room, Julie Casserly said.
But Guatemala, which ranks second to China in the number of children sent to the US (4,728 last year), is in the midst of interviewing birth mothers to confirm that they have voluntarily relinquished their children.
Kjersti Olson, the director of international adoption for Children's Home Society & Family Services, the Casserlys' agency, said unethical cases should be investigated.
But, she added: "It's really important to put an end to corruption without putting an end to a child's right to a family. Children have no place to go right now."
Worse than their sense of powerlessness, the Casserlys said, is wondering what would happen to the girl, who is in foster care, if the adoption doesn't go through.
Comments will be moderated. Keep comments relevant to the article. Remarks containing abusive and obscene language, personal attacks of any kind or promotion will be removed and the user banned. Final decision will be at the discretion of the Taipei Times.