Johnny Neihu's Mailbag
Maybe Johnny is being too hard on ol' Peanut. He wasn't all bad, surely? A reader thinks one good turn deserves another, so brace yourself for the new, improved Chiang Kai-shek statue (and in color!). It's something to treasure.
`Buddy Chiang': a blueprint
Dear Johnny,
You're right to go after people who praise Chiang Kai-shek (蔣介石). Those retarded politicians and "activists" opposing the Chiang "statue relocation" program deserve to be mocked. Some loser recently said that the good things that he did far outweighed the negative things. What? These guys need a serious reality check and a time-out to "seriously reflect."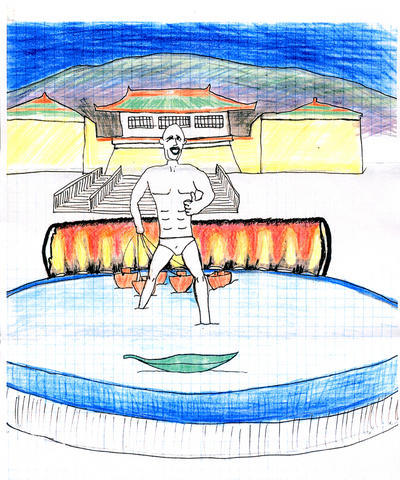 Your points about Chiang being an unforgivable bastard were well taken. But was he really all bad? And shouldn't Taiwan create a monument to celebrate the cool things he did? I say, yes!
Chiang did a few things that were beneficial to the world, and Taiwan in particular, namely:
1. He tried to foster democratic ideals in a hostile environment.
2. He started a campaign against communism and its inherent oppression.
3. His actions kept artistic treasures away from China's Cultural Revolution and safely in our beautiful, free and democratic island paradise of Taiwan.
I'm the last person on Earth who would characterize Chiang as a "humanitarian," but I've gotta admit that he was pretty clever to cop the crown jewels of China, just in time. Ka-ching!
I commemorated his success in a song, We Have Your Treasures, and We're Not Going to Give Them Back, thus:
Chiang Kai-shek and his band of thieves
Said, "We'll keep your treasures safe,"
In the middle of the night, they put them on a boat
And sailed across the Taiwan Strait.
I realize that these "middle of the road" lyrics take a few things for granted. Once Chiang landed on Taiwan, a lot of terrible things happened, some of which may have been under his direct oversight. Everyone agrees that Chiang should be condemned for committing atrocities.
On the other hand, the National Palace Museum has six times more treasure than it has the ability to display at one time. Ka-ching!
In my opinion, some new statues showing the lighter side of Chiang, similar to the "Buddy Christ" statue from the film Dogma, should be erected in prominent places where they are the most relevant.
For example, my suggestion (see picture) of a fact-based, historically accurate monument would pacify public opposition. It would also be a top attraction for Chinese tourists, who may arrive any day now.
Forget the "Wall-to-Wall Memorial Hall" when there's a chance to see the world's most unique museum! Thus, we present the museum's new Chiang Kai-shek statue, which guides you to the intimidating stairs to the main hall.
As you can see:
* Taiwan's free and democratic island is represented by a simple leaf, floating on a reflective pool, surrounded by tile.
* Chiang is in the middle of the pool, walking toward our tiny island, holding strings of five treasure boats behind him.
* Chiang is smiling and making a "thumbs-up" gesture, similar to the "Buddy Christ" statue from the movie Dogma.
* Behind Chiang, at the edge of the pool, is a Cloud Gate Dance Theater-style black silk curtain. The far side of the pool would include yellow lights (with fans to drive the turbulent "curtain," with red lights shining on it from the outside to create a fire-like effect).
Frequently asked questions about the art installation:
Why is Chiang wearing briefs? Can I put some clothes on him?
Sure! Artisans, designers and anyone else who can Velcro a pair of surf shorts can dress the statue, based on democratic principles that don't violate the paramount interest of profiting from public art. The museum could encourage student groups, artists, Aborigines and other interested parties as part of an outreach program. Taiwan is home to intense fashion talent, and we can even dress him as Santa at Christmas.
Why is Chiang blocking Sun Yat-sen's (孫逸仙) statue?
Hey, every now and then there's an eclipse. But there's always a Sun in the sky -- and it's on the flag, too. We should all celebrate the Sun.
Huo Tien-shih
Yonghe, Taipei County
Johnny replies: Thanks for the letter and the drawing; you're an angel. I'd take my hat off to you except I might get a chill -- and actually, it's a baseball cap for a 1996 presidential candidate, so I'm feeling rather chilly anyway. Readers can view this drawing in color on the Taipei Times Web site.
Comments will be moderated. Keep comments relevant to the article. Remarks containing abusive and obscene language, personal attacks of any kind or promotion will be removed and the user banned. Final decision will be at the discretion of the Taipei Times.