Can France learn about culture from the US?
French author Frederic Martel's latest book explores US culture, but aims to spark a debate back home
Since World War II the French have been variously surprised, dismayed, irritated and outraged by the power of US culture and its effect on France and the world. Their only consolation has been the conviction that French culture is superior to anything that Walt Disney or Hollywood can offer.
What France's cultural elites have rarely done, however, is examine how both serious and pop culture actually work in the US. Rather, in the view of Frederic Martel, a Frenchman and author of a recently released book on the topic, they have preferred to hide behind "a certain ideological anti-Americanism."
Now Martel, 39, a former French cultural attache in Boston, has set out to change this. In Culture in America, a 622-page tome weighty with information, he challenges the conventional view here that French culture financed and organized by the government is entirely good and that US culture shaped by market forces is necessarily bad.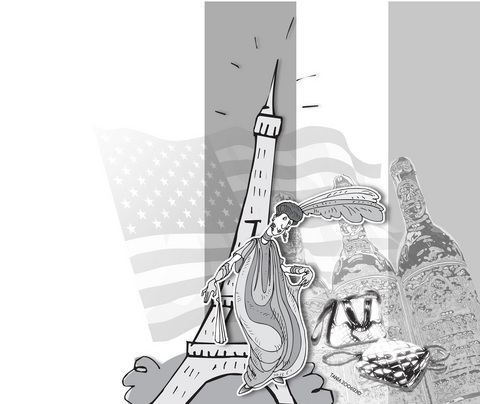 "My first idea was to compare France and the United States," he recalled, "but when I arrived in America, I realized things were much more complicated. The United States is a continent, and you can't compare a continent with a small country or a decentralized country with one that is highly centralized."
As a result this book deals only with creativity and arts financing in the US. But perhaps surprisingly, given the mixture of fear and disdain that US culture stirs among many French intellectuals, his approach is not polemical. He neither defends nor attacks the US. He simply describes the US way of cultural life.
"The idea is to see how a `counter-model' works," he explained over tea in a Paris hotel. "If the aim is to fight American cultural `imperialism,' we need to know it from the inside. If we want to modernize our own system, which needs new resources, it is useful to see how things can function without huge public investment."
The media's response to Culture in America suggests there is room for debate. One weekly, L'Express, said the book offered food for thought. Another, Le Nouvel Observateur, compared it favorably to Bernard-Henri Levy's recent overview, American Vertigo: Traveling America in the Footsteps of Tocqueville, noting that Martel provides facts rather than impressions.
Reviewing the book in Le Monde, Michel Guerrin and Emmanuel de Roux also said its strength lay in its emphasis on investigation over opinion. And another article in Le Monde took the US cultural statistics collected by Martel and compared them with similar figures for France. Its unexpected conclusion was that measured per capita the cultural infrastructures in the two countries were roughly similar.
The first half of Culture in America -- the title echoes Tocqueville's own Democracy in America -- is built around a question that puzzles some French: Why doesn't the US have a Culture Ministry?
One traditional answer is that culture ministries threaten artistic freedom. Yet Martel demonstrates that Washington does in fact have a record of cultural activism: through the Works Progress Administration, with its theater, writers and art projects, under president Franklin Roosevelt; through president John F. Kennedy's embracing of artists; and in the creation of the National Endowment for the Arts in 1965.
Martel then tracks the so-called culture wars, beginning with the cancelation of a Robert Mapplethorpe photography exhibition at the Corcoran Gallery of Art in Washington in 1989 over concerns about its explicit content, which led to Congressional campaigning against the National Endowment for the Arts. Even today the endowment's budget is far below mid-1980s levels and, at just under US$125 million for this year, is roughly what the French government gave the Paris National Opera this year.
Still, what really intrigues Martel is how US culture flourishes despite the indifference or hostility of major government institutions.
And that leads him to the crucial role played by nonprofit foundations, philanthropists, corporate sponsors, universities and community organizations, which in practice do receive indirect government support in the form of tax incentives.
"If the Culture Ministry is nowhere to be found," he writes, "cultural life is everywhere."
He felt reassured by this. He first visited the US in 1999 -- to promote an earlier book, The Pink and the Black: Homosexuals in France Since 1968 -- and he was still very much a neophyte when he arrived in Boston in 2000. After studying the history of US culture in libraries and private archives, he set out to discover US culture as it is being lived today.
"I spent all my vacations traveling," he said. "I counted up over 700 interviews in 110 cities in 35 states. American universities were a revelation: French universities don't play an important cultural role. I reached out to gays, feminists, Latinos, avant-garde, counterculture. I gave priority to visiting black communities in every major city, attending associations, street theater, poetry clubs."
Yet, Martel noted, the same country that embraces this extraordinary cultural diversity is itself accused of imposing cultural uniformity on the world. The US was almost alone last year in voting against a French-sponsored international convention on cultural diversity that was adopted overwhelmingly by the UN Educational, Scientific and Cultural Organization, which is based in Paris.
This apparent contradiction had a simple explanation at UNESCO; Washington was bending to pressure from Hollywood studios, which claimed that the convention threatened their movie and television exports. But Martel also sees inconsistencies -- actually, he prefers the word hypocrisy -- in the French position.
"Americans defend cultural diversity at home and deny it abroad," he said, "while France defends cultural diversity around the world and refuses it at home."
And it is here that he most wants France to learn from the US.
"What really annoys me is the way our cultural elite uses ideology to protect its privileges," he said. "It says that our culture defines a certain idea of France, that the alternative is Americanization. But it's really only defending itself against the popular classes. We cannot have 10 percent of our population stemming from immigration and deny them their culture."
To promote grass-roots culture, then, he wants decision making to be deconcentrated.
"The government will still finance the arts, but we don't need a minister defining culture," he said. "We need thousands of people defining culture. Power should flow bottom-up, not top-down. That's the debate I want to provoke in the new year."
He seemed to be looking forward to a fight.
"That's why my book is about France," he said, "while being about America."
Comments will be moderated. Keep comments relevant to the article. Remarks containing abusive and obscene language, personal attacks of any kind or promotion will be removed and the user banned. Final decision will be at the discretion of the Taipei Times.