Vietnam welcomes its second generation of returnees
These days, it is not just tourists and billions of dollars that flows back into Vietnam from the country's estimated 2.7 million-strong global diaspora.
As the communist country opens and its economy heats up at a frenetic pace, increasing numbers of the sons and daughters of those who left or were stranded abroad are coming back to live.
In the final days before the first soviet-built tank crashed through the gates of the presidential palace in Saigon on April 30, 1975, South Vietnamese, particularly those with close links to the US, tried to get out, any way they could. The US airlifted thousands, as others made runs to the open sea along the Saigon river in cramped sampans and river craft.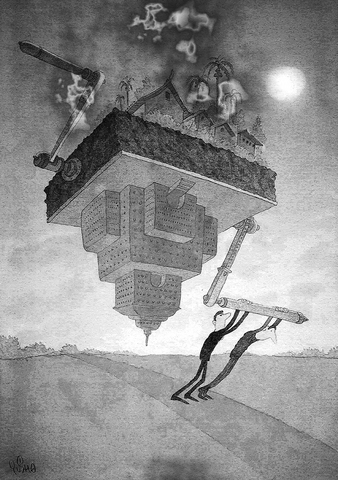 ILLUSTRATION: YU SHA
In the austere years following the war, hundreds of thousands more "boat people" left illegally. If they managed to get off land without being caught by Vietnamese troops, they faced huge dangers on the open sea from pirates, the elements, and lack of supplies.
Thirty years after the end of the war, its an entirely different story. Ho Chi Minh City is booming. Luxurious high-rise hotels dot the skyline, and the city centre is packed with fancy cafes, restaurants and shops.
In the stylish Q Bar, underneath Saigon's wedding-cake Opera house, 25-year-old Anne Nguyen greets the well-heeled customers in English and Vietnamese.
She was two when her father, who had served in the South Vietnamese navy, managed to get himself, his pregnant wife and Anne's two elder sisters onto a boat. Having served three years in harsh reeducation camps, her father thought the risks of fleeing were worth taking.
Born and raised in Canada, Anne was keen to find out more about her parents' homeland, and came on a six-month visit last year.
"I wasn't exposed to much Asian culture other than my parents, being in a suburban area of Canada, it was mostly Western people," she said recently.
Her parents were not that happy about Anne returning to a country they had fled in desperation nearly three decades ago.
"It was hard for them to accept. I had to talk to them a lot about it," she said. "I am basically looking for an experience, to look into my Vietnamese heritage. I am learning stuff every day. Every day I go out and learn something new, which is something I can't do in Canada."
Nguyen Nhan has a different story. He was born in the US in 1970 while his father was studying in Washington DC. and, like Anne, is trying to find out more about his Vietnamese roots.
"My parents' visas ran out in August on 1975, and of course the war ended here in April of 1975 so we ended up kind of stranded in the States," he said recently on the immaculate campus of the university where he has been teaching internet business and marketing principles for the last two years.
As a result of staying on in the states, as opposed to being forced to flee, Nhan's father had a different perspective than many of those who felt forced to leave.
"My father really likens Ho Chi Minh to George Washington. He did not leave the country under a situation where he was a boat person who struggled, stayed in refugee camps so I think he has a much more objective opinion of what was going on over here," he said.
Married now to a Vietnamese woman, and with a small baby, Nhan is here for the long run, he said. From feeling almost totally American since the age of five, living here has changed him.
"Now that I have been here immersed in Vietnamese culture I think there is definitely a side of me that is very Vietnamese. I am probably 60 per cent American 40 Vietnamese, maybe 70-30. Give me a few years and that percentage will change," he said.
Landon Carnie was one of more than 2,000 babies and children evacuated from Saigon in what became known as "Operation Babylift," in the tumultuous weeks preceding the fall of the city to north Vietnamese on April 30, 1975.
His adoptive parents were in Vietnam trying to assist in the mass evacuations by private and government planes.
At the age of one, Landon and his twin sister were on one of the planes that eventually ferried the babies, small children and volunteers out from Saigon.
On the morning of April 4th the plane carrying Landon and his sister crashed shortly after take-off and 158 orphans and 28 adults were killed. Landon and his sister were found unharmed in a paddy field amid the smouldering wreckage of the C5A aircraft.
Raised in rural Washington State by his adoptive parents, Landon had little Vietnamese influence growing up. Every lunar new year, his parents would take him to the home of a family of Vietnamese refugees who lived nearby.
"Around every February we would have this Tet [lunar new year] party, and I didn't have a clue what it was, except we came over and had lots of food, good food. That was really my own exposure to Vietnamese pretty much my whole life growing up," he said recently.
He has been back in Vietnam permanently for the last three years working as an English teacher, on the campus of the Royal Melbourne Institute of Technology University and still enjoys the sense of anonymity that looking Vietnamese affords.
"I felt that when I was on <xe om [motorbike taxi] and even though I was a foreigner, no one even noticed me. And when I was with my mum, everything changed. I still like it today living here because when I am on my motorbike and if I don't speak English, I am just another Vietnamese," he said.
He still struggles with the language and considers himself American but is finding out more every day about himself and his adopted home city.
"Right now I have no desire to leave. This is a very up and growing city. I would love to be here to see these changes. I think it will be really interesting to see how Saigon changes in the next 15 years," he said.
Comments will be moderated. Keep comments relevant to the article. Remarks containing abusive and obscene language, personal attacks of any kind or promotion will be removed and the user banned. Final decision will be at the discretion of the Taipei Times.