DJI's civilian drones could be blocked from the US market
The world's biggest maker of civilian drones could see its products shut out of the US market after a patent infringement complaint was filed by smaller rival.
SZ DJI Technology Co (大疆創新), a Chinese manufacturer of popular hobbyist and commercial drones, including the Phantom and Mavic series, is being challenged by Autel Robotics Co.
The dispute is over unmanned vehicles used for aerial photography and videotaping, as well as for agricultural purposes.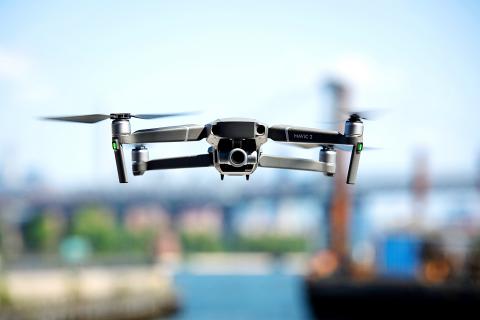 An SZ DJI Technology Co Mavic 2 Zoom drone flies over the Brooklyn Navy Yard in New York on Aug. 23.
Photo: Bloomberg
The world's best-selling drone is the family known as the DJI Phantom, which has a distinctive white plastic exterior and a mount for a camera on its belly.
The US Federal Aviation Administration predicted that 1.6 million civilian drones would be sold in the US this year.
The Teal Group from Fairfax, Virginia, estimated the worldwide civilian unmanned aircraft market would reach US$4.4 billion this year.
DJI is accused of using Autel's patented features for following a flight path while avoiding obstacles, rotor assembly and a way to switch out battery packs to minimize lag time between flights.
Autel wants the US International Trade Commission to ban imports of models of DJI's Phantom, Mavic, Spark and Inspire drones made in China by DJI, a complaint filed in Washington on Thursday last week showed.
"If DJI's big market is the US, then this is a big deal for them," said Paul Brinkman of Kirkland & Ellis in Washington, who specializes in ITC cases, but is not involved in this one.
Autel, which says it designs and makes its drones in the US, contends in the complaint that excluding DJI drones from the US "is likely to improve competitive conditions" in the market by providing opportunities for others, including Autel, Yuneec International Co and Parrot SA.
Even if DJI's products are excluded, "consumers would still have a variety of products from which to choose that would be manufactured by Autel and other companies," Autel said in the complaint.
DJI spokesman Adam Lisberg said the company had no comment on the complaint.
The trade complaint escalates a legal battle that has been simmering between the companies for the past two years, after Autel began selling its X-Star quadcopter in the US and later its EVO models. Each has accused the other of incorporating their respective technology without paying for it.
"It's definitely ramped up the case," Brinkman said. "Anything on a slow track at district court isn't going to matter so much."
By filing a complaint with the US trade agency, Autel has raised the stakes. It is rare for a federal court to block sales, even when it involves competing products. The trade commission, by contrast, often issues import bans if it finds products infringe US patents.
The patents in this case all expire after 2030.
Comments will be moderated. Keep comments relevant to the article. Remarks containing abusive and obscene language, personal attacks of any kind or promotion will be removed and the user banned. Final decision will be at the discretion of the Taipei Times.