HTC to launch first blockchain phone
EXODUS: The smartphone will have a cold storage wallet to keep cryptocurrencies offline and safe from cyberattacks, and support decentralized apps, the company said
HTC Corp (宏達電) yesterday said that it would release the world's first blockchain-powered smartphone to early adopters by September, followed by a wider release toward the end of this year.
The Exodus smartphone will be equipped with a cold storage wallet to keep cryptocurrencies offline and safe from cyberattacks, and support decentralized apps, the company said.
The company has also announced partnerships with blockchain developers to build new ecosystems based on distributed ledger technology.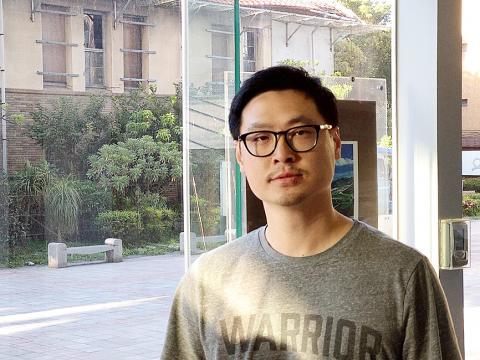 HTC chief decentralized officer Phil Chen, who is in charge of blockchain at the company, poses for a picture in Taipei yesterday.
Photo: Wang Yi-hung, Taipei Times
Given the ubiquitousness of smartphones, the device is ideal for growing the base of dedicated nodes on blockchain networks, HTC chief decentralized officer Phil Chen (陳信生) said.
Apart from supporting cryptocurrencies, the company announced that it would introduce blockchain game CryptoKitties as an exclusive feature for its U12+ smartphone through a partnership with Animoca Brands Corp, a mobile game distributor and publisher.
The game, which involved collecting and trading virtual cats, is an example of non-fungible tokens, an aspect of blockchain technology that provides the basis for creating unique digital assets for collectible games where players compete for rare and scarce items.
Although the U12+ is not a blockchain-specific smartphone, the company would make CryptoKitties available to users of its flagship device via a downloadable app, which would not be available in other major Android app stores, the company said.
CryptoKitties is currently only available on desktop operating systems, and HTC's downloadable app would be the world's first mobile version of the collectible game, a company spokesperson said.
HTC hopes to see more consumers take part in blockchain ecosystems, as the high barriers of entry into blockchain mining and the extreme volatility of cryptocurrencies have left many on the sidelines, Chen said.
Chen also outlined HTC's plans to help build an ecosystem for cryptocurrencies and decentralized applications with an emphasis on ensuring privacy and security for users.
To help users retake control of their personal data and their digital footprint, HTC has partnered with Bitmark Inc, a Taipei-based blockchain start-up that develops tools to preserve records of digital ownership and the transaction history of digital assets through cryptography hashing.
While HTC has given little further details on blockchain applications on the Exodus, the company has taken a first step toward safeguarding privacy and preventing the commodification of personal data, it said.
As the company continues to grapple with a tougher smartphone market, it has shifted its focus to developing leading-edge technologies for artificial intelligence, 5G networking, blockchain, augmented reality and virtual reality as part of its turnaround plan.
Comments will be moderated. Keep comments relevant to the article. Remarks containing abusive and obscene language, personal attacks of any kind or promotion will be removed and the user banned. Final decision will be at the discretion of the Taipei Times.