Duh convinced to mop up KMT Cabinet mess
It is no surprise that the Cabinet has tapped a government official to fill the vacancy left by former National Development Council minister Kuan Chung-ming (管中閔), who quit his job last month, saying: "Now that Premier Mao Chi-kuo's (毛治國) [Cabinet] has stabilized and the council's budget proposal has passed, my mission at this stage has been completed."
However, it is a surprise that former minister of economic affairs Woody Duh (杜紫軍) agreed to take the post.
Duh stepped down from his role at the Ministry of Economic Affairs late last year in circumstances similar to Kuan's, following a Cabinet reshuffle after the Chinese Nationalist Party (KMT) suffered a major defeat in the nine-in-one elections. Duh was one of a few ministers who insisted on vacating their posts at the time.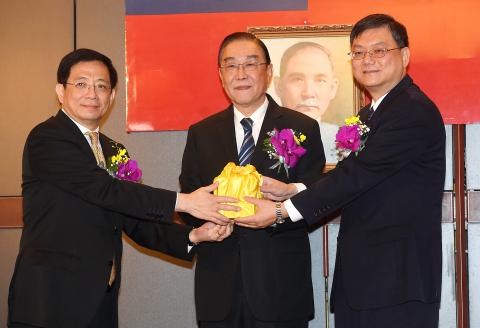 Public Construction Commission Minister Jack Hsu, center, presides at a ceremony in Taipei on Wednesday last week, as outgoing National Development Council minister Kuan Chung-ming, left, hands his seal of office to successor Woody Duh.
Photo: Lo Pei-der, Taipei Times
An official who is close to Duh told the Taipei Times that Duh was frustrated because his efforts to convince the public of the importance of cross-strait free-trade agreements were in vain.
The official said Duh believed the outcome of the elections indicated that the KMT would be unable to push through any major economic policies.
"Moreover, Duh said lawmakers insulted him repeatedly, which he did not deserve it at all," the official said.
"Duh's appointment to the National Development Council shows that the KMT is having difficulty boosting its morale among members after the elections and it is almost impossible to seek potential candidates from the private sector," said an official at the Executive Yuan, who declined to be named.
In fact, until a few hours before the Executive Yuan announced the appointment on Jan. 29, Duh was not even on the shortlist for the council position, the official said, a sign that Mao was having difficulty finding a candidate willing and suitable to take the position.
At a handover ceremony on Wednesday last week, Duh said he declined Mao's offer at first.
"I made myself clear to the premier that I would not take any ministerial positions after leaving the Ministry of Economic Affairs, but he told me that he could not find anyone else suitable to lead the council," Duh said, adding that he was persuaded by Mao to take the position "for the greater good of Taiwan."
This is the second time Duh has served as a "relief pitcher" for President Ma Ying-jeou's (馬英九) administration.
In August last year, Duh was appointed to be the successor of former minister of economic affairs Chang Chia-juch (張家祝), who resigned over the deadly gas pipeline explosions in Kaohsiung, which killed 32 people and injured more than 300 others.
On Wednesday last week, Duh quoted Chinese poet Tao Yuan-ming (陶淵明), saying that he would face the waves of the ocean with no joy and no fear, adding that he would do what he has to do without worrying too much about unknown outcomes.
Duh said he would not give up on the progress of the draft bill on free economic pilot zones, but he would spend more time communicating with the public instead of focusing on the draft bill's legislative progress.
Taiwan Institute of Economic Research (台灣經濟研究院) director Gordon Sun (孫明德) said he would not comment on Duh's appointment, but said that he has confidence in Duh's capability to execute major policies.
"It is still possible for Duh to make a difference, even though the legislature holds control over most policies," Sun said by telephone, adding that Duh is a well-trained professional, who knows the nation's industries and has good communication skills.
Sun said the council's key policies, such as the free economic pilot zones, require legal revisions to improve the nation's economic and trade environment.
The council also needs to set up policies to foster local talents and encourage business innovations, Sun said, adding that he expects Duh to "achieve something" at the council.
Comments will be moderated. Keep comments relevant to the article. Remarks containing abusive and obscene language, personal attacks of any kind or promotion will be removed and the user banned. Final decision will be at the discretion of the Taipei Times.