Spain promises more austerity, further reforms
Spain vowed yesterday to pursue austerity and economic reforms after securing a eurozone rescue for its stricken banks of up to 100 billion euros (US$126 billion).
The treasury stressed that the vast loan would strengthen the solvency of Spanish public debt, and said it was committed to carrying on its program of bond auctions to raise financing.
Madrid share prices soared nearly 6 percent in opening trade yesterday.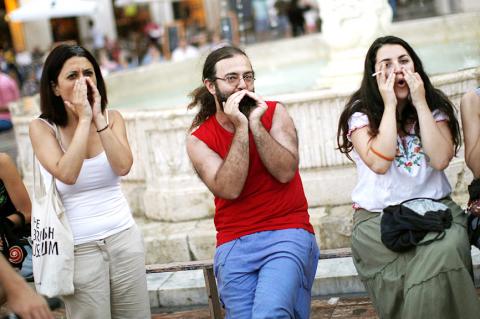 Demonstrators shout slogans during a protest on Sunday against Spain's bailout at La Constitucion square in Malaga, Spain.
Photo: Reuters
In the first minutes of trade, the IBEX-35 index of leading companies shot up 388.3 points or 5.93 percent to a peak 6,940.3. After 15 minutes, the market was still up a healthy 4.6 percent.
Stricken lender Bankia, which has been nationalized by the government, jumped 20.52 percent at one point. It was still up 18.56 percent at 1.22 euros after the first quarter-hour of trade.
Asian markets and the euro also rallied earlier yesterday, with Tokyo surging 1.96 percent, Seoul jumping 1.71 percent, Hong Kong moving up 2.44 percent and Chinese shares closing up 1.07 percent.
On forex markets, the single currency bought US$1.2631 and ¥100.55 against US$1.2514 and ¥99.49 in New York on Friday.
Spain's borrowing costs fell, but remained at levels widely regarded as unsustainable over the longer term. The 10-year government bonds yields tumbled to a low of 6.017 percent from the previous close of 6.08 percent.
Keen to show no let-up in the government's austerity drive and to banish concerns about the loan, which raises Spain's overall public debt, the Economy Ministry and treasury issued a joint statement.
"The Spanish government remains committed to the program of fiscal consolidation and structural reforms that has earned Spain the confidence of its European partners," it said.
See the euro on Page 9
Comments will be moderated. Keep comments relevant to the article. Remarks containing abusive and obscene language, personal attacks of any kind or promotion will be removed and the user banned. Final decision will be at the discretion of the Taipei Times.