Japan considers billions for TEPCO bailout
QUASI-NATIONALIZATION: The fate of Asia's largest utilities operator has been in limbo ever since an earthquake and tsunami crippled its Fukushima Dai-ichi plant
The Japanese government may inject between US$13 billion and US$19 billion into Tokyo Electric Power Co (TEPCO) in a de facto nationalization of the operator of the crippled Fukushima Dai-ichi nuclear power plant, domestic media reported yesterday.
TEPCO's future as an independent firm has been in doubt since a quake and tsunami wrecked the plant in March, triggering the world's worst nuclear crisis in 25 years and leaving the firm with huge compensation payments and clean-up costs.
The full scale of any TEPCO bailout remains unclear, with media carrying differing accounts of what is being considered.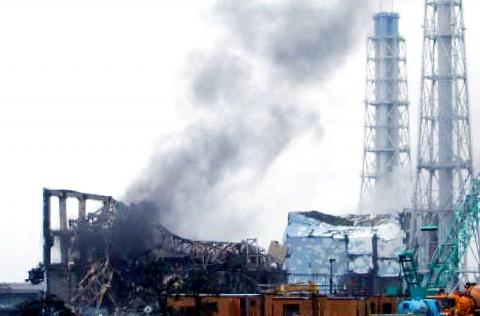 Black smoke rises from reactor three of the Fukushima Dai-ichi nuclear power plant in Fukushima Prefecture, Japan, on March 21.
Photo: AFP/HO/TEPCO VIA JIJI PRESS
Kyodo news agency yesterday said the total bailout could reach US$39 billion, with half coming from private borrowings, while the Mainichi Shimbun said the government planned to inject at least US$13 billion and perhaps as much as US$27 billion, but did not mention other fund raising.
The Mainichi said TEPCO was increasingly likely to see its liabilities exceed its assets in the next financial year, ending in March 2013, and that a government-run bailout fund would buy preferred shares to be issued by the utility.
Shares in TEPCO slid as much as 17 percent before regaining some ground to trade down 11 percent at ¥244.
"TEPCO shares fell on fears that this could lead to [share] dilution, although this could also reduce the risk of bankruptcy," said Hiroaki Kuramochi, general -manager at Mita Securities.
TEPCO would have to get shareholder approval to increase the ceiling on the number of shares it can issue at its next annual meeting in June.
To cover costs, Asia's biggest utility is pushing for hikes in electricity charges and for permission to restart nuclear reactors, particularly its biggest one, Kashiwazaki-Kariwa.
Pushing TEPCO to accept capital would also allow the government to pursue drastic reform of its energy policy, including the separation of power generation and power distribution, it said.
The Mainichi added that a government panel led by Japanese Chief Cabinet Secretary Osamu Fujimura could in the new year announce plans for an injection of public funds, though Fujimura told reporters yesterday that the issue of public funds was currently not on the table.
"The government hasn't been debating this matter recently and at this point we are not scheduled to do so in the future," he said.
Comments will be moderated. Keep comments relevant to the article. Remarks containing abusive and obscene language, personal attacks of any kind or promotion will be removed and the user banned. Final decision will be at the discretion of the Taipei Times.