Bank of Korea buys over US$1bn in gold reserves
SAFE HAVEN: As the greenback and the euro lose clout, South Korea's central bank bought 25 tonnes of gold over the past two months to diversify its foreign holdings
South Korea spent more than US$1 billion in its first gold purchase in more than a decade, as uncertainty about global growth and sovereign debt push central banks around the world to diversify foreign reserves.
A brittle global economic recovery and precarious debt conditions in the US and Europe have boosted the safe-haven appeal of gold, lifting the bullion to a record high on Friday.
The Bank of Korea said in a statement yesterday it bought 25 tonnes of gold over the past two months, raising its gold holdings to 39.4 tonnes, news that helped lift spot gold by about US$6 from late Monday.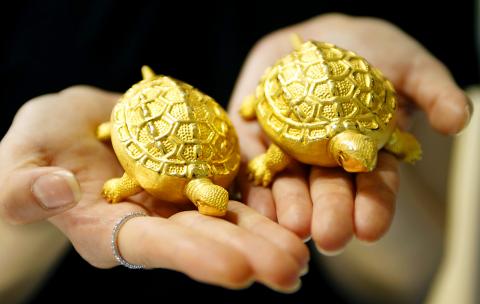 An employee holds turtles made of gold at a jewelry shop in Seoul yesterday.
Photo: Reuters
Reserve currencies, like the US dollar and euro, "have been losing their clout since the recent global financial crisis partly due to abnormal monetary policy adopted in many countries and fiscal deficit problems," said a central bank official who declined to be named because he was not authorized to speak to the media.
Data on 27 major economies from the Bank for International Settlements shows the US dollar's inflation-adjusted real effective value has dropped by 10 percent in the past two years and the euro has lost 6 percent, reflecting the sharp increase in the amount of each currency in circulation.
South Korea's gold holdings remain far smaller than that of other Asian central banks, with China, which ranks sixth globally, the biggest with 1,054.1 tonnes by the end of May, according to World Gold Council data.
Japan, No. 9 globally, has 765.2 tonnes of gold, or 3.3 percent of its total reserves, and 11th-ranked India has 557.7 tonnes, or 8.7 percent.
With prices hovering near historic highs, the central bank of Asia's fourth-largest economy said gold looked less lucrative as an investment, but it was the right time to buy the precious metal because its foreign reserves had risen above US$300 billion.
The news helped boost gold prices, with spot up 0.4 percent at US$1,623.94 an ounce at 5:28am. Gold hit a record high of US$1,632.30 on Friday.
"Any news about central banks buying gold reassures consumers and other major players who are already looking at gold as an investment," said Jeffrey Pritchard, an analyst at California-based commodities futures and options brokerage Altavest Worldwide Trading.
The increased gold holding would put South Korea in 45th position in the World Gold Council's list of central banks holding gold, up from 56th previously, the Bank of Korea said.
The US has the biggest gold holding in its reserves, at 8,133.5 tonnes, or 74.7 percent of total reserves, according to the council's report last month. Germany is a distant second with 3,401 tonnes, or 71.7 percent of its total reserves.
Comments will be moderated. Keep comments relevant to the article. Remarks containing abusive and obscene language, personal attacks of any kind or promotion will be removed and the user banned. Final decision will be at the discretion of the Taipei Times.