EU mulls collateral for more Greek aid
'BORDERLINE CRIMINAL': Greek Prime Minister George Papandreou angrily denied that Greece had threatened to abandon the euro, saying that would be 'catastrophic'
EU officials may require Greece to provide collateral for aid as policy makers struggle to prevent the eurozone's first sovereign debt restructuring, said a person with direct knowledge of the situation.
Expanding the 110 billion euro (US$158 billion) lifeline Greece received last year may mean that assets or revenue from asset sales are used to secure extra funds, the person said. Demanding collateral, an idea floated last year by Finland, may help avoid a political backlash against bailouts.
Greece's debt problems may require further help from euro zone countries, but Britain is not keen to be part of any further rescue, British Chancellor of the Exchequer George Osborne said yesterday.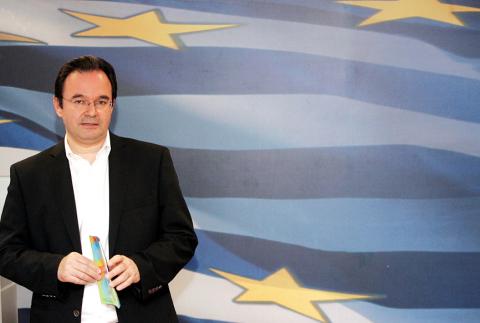 Greek Finance Minister George Papaconstantinou addresses journalists in the Ministry of Finance in Athens on Saturday.
Photo: EPA
"We certainly don't want to be part of any bailout of Greece, a second bailout of Greece," Osborne told the BBC.
Osborne said Greece's lack of access to international debt markets was problematic since last year's international rescue was based on the premise that such borrowing would resume.
"There are some very difficult questions that Greece has to address now because the whole assumption when the euro zone put together a rescue package last year was that Greece could come back into the market next year and borrow," he said.
EU finance officials, who held an unannounced meeting on Friday night in Luxembourg, are preparing the help to ease a debt burden that some investors say will lead to a restructuring. Other steps may include lower interest rates or longer maturities on bailout loans, said Norbert Barthle, budget spokesman for German Chancellor Angela Merkel's ruling party.
"We'll just have to bite the bullet," Barthle said in an interview on Saturday from his district in the state of Baden-Wuerttemberg. "We need to help Greece help itself. What's the alternative? We don't want to be pushed over the edge into restructuring."
Greece has already received an extension on bailout loans this year and policymakers in Athens say another lengthening would help avoid a broader restructuring. However, European finance chiefs and the Greek government denied a report in Germany's Spiegel magazine on Friday that said Greece threatened to withdraw from the euro.
"These scenarios are borderline criminal," Greek Prime Minister George Papandreou told a conference on the Ionian island of Meganisi on Saturday. "No such scenario has been discussed even in our unofficial contacts … I call upon everyone in Greece and abroad, and especially in the EU, to leave Greece alone to do its job in peace."
Abandoning the euro would have "catastrophic" consequences, as public debt would double, consumer spending power would be "shattered" and the country would sink into a "war-like recession," Greek Finance Minister George Papaconstantinou said.
Papaconstantinou attended the Luxembourg talks, the Ministry of Finance said, adding Greece remained committed to repairing its finances and returning to economic growth.
"Markets continue to have doubts and we have scheduled our next steps for 2012," Papaconstantinou told reporters on Saturday when asked about what was discussed at the meeting.
European Central bank Governing Council member Erkki Liikanen on Saturday also shot down reports of Greece exiting the euro and said restructuring its 327 billion euro debt would offer no permanent -solution to its problems.
"No eurozone country wants to leave the euro," Liikanen, who also heads the Bank of Finland, said in an interview with Finnish national broadcaster Yle.
Jean-Claude Juncker, head of the group of eurozone finance ministers who called the late Friday meeting, said there was a broad discussion of Greece and other international economic issues, but said the idea of exiting the euro was stupid.
"We have not been discussing the exit of Greece from the euro area. This is a stupid idea. It is in no way — it is an avenue we would never take," he told reporters after the meeting.
"We don't want to have the euro area exploding without reason. We were excluding the restructuring option, which is discussed heavily in certain quarters of the financial markets," he added.
The Wall Street Journal, citing an unidentified senior eurozone government official, reported on Saturday that Greece has asked its eurozone partners to ease the country's deficit targets.
Comments will be moderated. Keep comments relevant to the article. Remarks containing abusive and obscene language, personal attacks of any kind or promotion will be removed and the user banned. Final decision will be at the discretion of the Taipei Times.