Flat-panel makers report lower sales
ROCKY ROAD: The chairman of AU Optronics said the fast appreciating NT dollar could pose a threat to local panel makers, especially given competition from South Korea
Falling TV panel prices and the strengthening New Taiwan dollar have hit major Taiwanese flat-panel makers, resulting in lower sales last month and the last quarter, according to the latest company figures released last week.
While signs of a pick up in panel demand started to emerge last month, AU Optronics Corp's (友達光電) consolidated sales last month dropped 16.95 percent from November, Chunghwa Picture Tubes Ltd (中華映管) saw its sales fall 8.77 percent and those of HannStar Display Corp (瀚宇彩晶) were 2.29 percent lower than a month earlier.
"The decrease in the December revenue was associated with the lower-than-expected TV panel prices, customer inventory control by the end of the year and the currency influence of NT dollar appreciation," AU Optronics, the nation's second-largest LCD panel maker, said in a statement on Friday.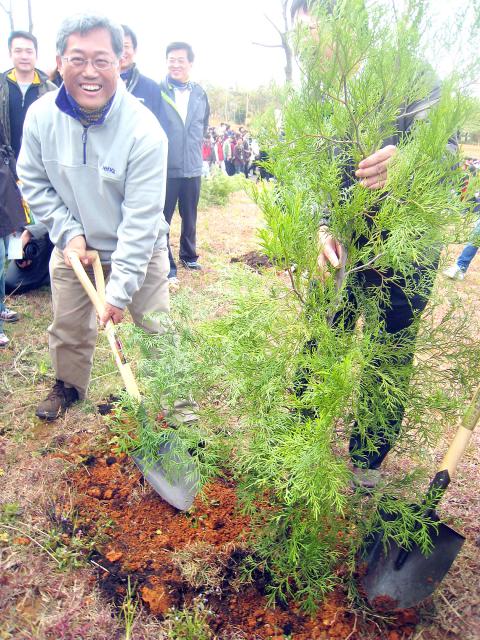 AU Optronics chairman Lee Kun-yao digs a hole for one of the 20,000 trees that he and 4,000 employees planted in Houli, Taichung County, yesterday. Lee said that the fast appreciating NT dollar could pose a threat to local panel makers.
PHOTO: CHEN MEI-YING, TAIPEI TIMES
Speaking to reporters at a tree-planting ceremony on Saturday at the company's Houli plant in Greater Taichung, AU Optronics chairman Lee Kun-yao (李焜耀) said he had seen signs of "pull-in orders" to meet demand for the Lunar New Year, but was less certain about the price outlook, local cable TV network UBN quoted him as saying.
Last week, Citigroup analyst Jonathan Rhee said in a report that IT panel customers might start restocking given limited room for further price drops, but TV panel prices could continue to fall in the short term, although at a slower rate.
"Going forward, we expect recovery in demand ahead of Chinese New Year and rebounding IT panel price shifting capacity away from TV to IT panel production to be positive factors in panel price -stabilization," Rhee said on Thursday.
Taiwanese panel makers also face a critical test in their ability to hedge against foreign exchange losses this year, as the New Taiwan dollar closed at NT$29.80 against the US dollar on Friday, a level not seen since Oct. 20, 1997.
Lee said on Saturday a fast appreciation in the value of the New Taiwan dollar posed a threat to Taiwan's panel makers, especially in the face of strong competition from their South Korean rivals.
Moreover, a sharp depreciation in the South Korean won against the US dollar because of the standoff on the Korea Peninsula has led to an appreciation in the New Taiwan dollar against the South Korean currency, putting more pressure on Taiwanese firms, the Chinese-language Liberty Times (the Taipei Times' sister newspaper) quoted him as saying.
The local currency has risen 4.88 percent against the greenback since October and has appreciated 3.65 percent against the won over the same period, the central bank's data showed.
Last month, AU Optronics posted NT$30.62 billion (US$1.03 billion) in sales, its lowest since June 2008 when it reported NT$30.4 billion in sales. The figure was not only 16.95 percent lower than the previous month, but also 16.87 percent less than a year earlier, the company's data showed.
In the October to December period, the Hsinchu-based company saw its revenue fall 17.51 percent to NT$102.62 billion from the previous three months, 10.66 percent less than a year ago. For the whole of last year, however, revenue expanded 30.01 percent to NT$467.17 billion from 2009.
AU Optronics did not provide a sales forecast for this quarter or this year, but it expects demand to recover gradually.
"As sell-through picked up during the holiday period and the customer inventory adjustments have gradually come to an end, we expect that panel demand will progressively recover," the company said in the statement.
Also on Friday, HannStar Display said its sales dropped 2.24 percent to NT$3.4 billion month-on-month and fell 26.94 percent year-on-year. In the last three months, revenue totaled NT$10.21 billion, down 20.34 percent from the previous three months and 27.39 percent lower than a year ago, the company's data showed.
On Thursday, the nation's No. 3 panel maker Chunghwa Picture posted NT$5.25 billion in sales last month, down 8.77 percent month-on-month and 13.38 percent year-on-year. On a quarterly basis, fourth-quarter revenue of NT$16.6 billion was 14.46 percent lower than the third quarter and fell 3.31 percent from a year earlier.
Like AU Optronics, both Chunghwa Picture and Hannstar Display also registered increases in full-year revenue last year. Chunghwa Picture was up 38.83 percent to NT$81.7 billion and Hannstar Display was up 8.36 percent to NT$54.93 billion.
Chimei Innolux Corp (奇美電子) is expected to release its sales figures for last month and the whole of last year later this week.
Comments will be moderated. Keep comments relevant to the article. Remarks containing abusive and obscene language, personal attacks of any kind or promotion will be removed and the user banned. Final decision will be at the discretion of the Taipei Times.