INTERVIEW: Muslim nations scoff at EU's Greece efforts
Muslim nations are "laughing" at the way the EU is dealing with a debilitating debt crisis in Greece, which has serious ramifications for the world's biggest open market, the head of the World Islamic Economic Forum (WIEF) has said.
Former Malaysian deputy prime minister Tun Musa Hitam spoke to reporters in Brussels as EU plans for a backstop bailout enabling Athens to refinance tens of billions of euros of debt repayments and budget commitments were being thrashed out among eurozone officials.
"Seen from the East, from developing countries, we're laughing because they're not doing what they taught us," Tun Musa said of the EU's decision to protect Greece rather than sending Athens to the IMF.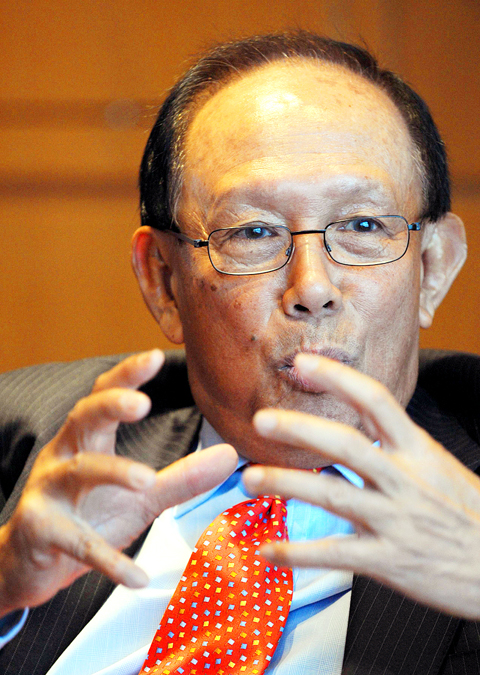 PHOTO: AFP
"You find that a European ­nation has adopted anything but good practice, which has resulted in a disaster [and] now the name and the prestige of the European Union is at stake, but more importantly, its economies," he added.
"The normal way of resolving these issues is to go to the IMF. Developing countries do that, but not the EU. It's yes, no, maybe every day," he said.
Tun Musa was speaking before eurozone finance ministers agreed last Sunday to pump 30 billion euros (US$41 billion) into Greece's coffers this year if necessary — at below-market rates of around 5 percent interest.
But in the aftermath of the accord, doubts have emerged as to the readiness and scale of the financial aid, with a series of political hurdles still to be crossed before these ­monies can be handed over. And within no time, new nationwide strikes had pushed Greek borrowing rates back through the pain barrier.
With parallel EU negotiations with the IMF under way on its involvement, and 15 billion euros of loans anticipated this year from Washington, Tun Musa said that the Western system, where "anything goes in terms of lending and conduct," lay behind the Greek fiscal disaster.
The missing ingredients of "responsibility, transparency and accountability," glaringly absent throughout fraudulent Greek reporting to the EU, were instead to be found in Islamic finance, he said.
"The methodology of Islamic banking will become more acceptable, even without being in Islam," Tun Musa said.
He cited a surge in the numbers of specialist economic religious ulama, who reinterpret Shariah law for expansion throughout non-Islamic territories.
Shariah prohibits interest on money and redistributes added value based on goods, not paper.
Ironically, Moody's Investors Service said earlier this month that the Islamic finance industry had a market potential of at least US$5 trillion — more than five times its actual value last year.
A host of countries, led by Britain, but stretching from Italy to Japan and Russia, are planning joint Islamic finance ventures, seen as filling a perceived vacuum in confidence.
The march of Islamic finance will form a major plank of the WIEF's sixth annual conference in Kuala Lumpur next month.
Tun Musa even blamed default in Dubai on the penchant in the Middle East to "look West." A heavy hit endured by Singapore during the Asian financial crisis of a decade ago, was because of the same problem, he added.
"Malaysia was hit least because we did not put our money in the West," he said.
In November, Iranian President Mahmoud Ahmadinejad argued before the 56 member-state Organization of the Islamic Conference, the WIEF's core backer, that the "world system based on usury has collapsed."
But anticipating criticism that a drive by Islamic finance was just another way to "ram Islam down Western throats," Tun Musa said the onus was on Europe to find the political will to face down anti-immigrant, anti-Islam extremists, otherwise it would be "sunk."
Turkey's long-stalled talks on EU accession represented the perfect test if Western and Islamic financial and economic models were to be successfully fused post-crisis.
Europe was "going to lose a huge stabilizing community that is playing a very important role as a bridge between the Muslim and the Western world," he said of a move, led by German Chancellor Angela Merkel, to pull back from full membership talks.
"There will come a time that the Turks say: 'Enough is enough, we're going our own way,'" and that will be to turn toward Islam, he said.
Comments will be moderated. Keep comments relevant to the article. Remarks containing abusive and obscene language, personal attacks of any kind or promotion will be removed and the user banned. Final decision will be at the discretion of the Taipei Times.