PlayStation 3 launches in Taipei
GAME ON All 300 PS3s were snapped up by fans prepared to queue overnight and brave wet conditions to get their hands on the first machines
Taiwan yesterday saw the debut of the long-awaited Sony Corp PlayStation 3 (PS3), along with the US and Hong Kong, after the game consoles were introduced in Japan last weekend.
All 300 units allocated for the first-sale promotion in Taipei were snapped up a day before the event started.
"I will take a nap after such a long wait, and then play it for at least 24 hours," said a 32-year-old surnamed Liao, who was the first in the queue waiting outside the Sony store at Ximending in Taipei.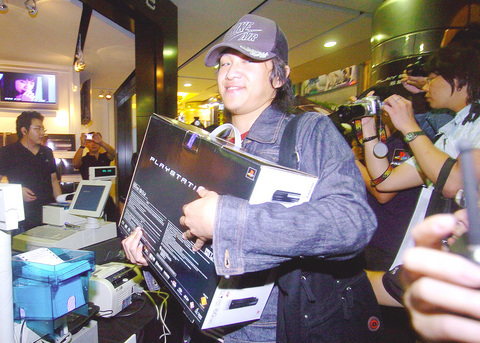 A gamer yesterday smiles to the press as he carries his PlayStation 3 home following its official launch in Taipei yesterday.
PHOTO: LO PEI-DER, TAIPEI TIMES
He called eight other friends to join the line at 5am on Wednesday, some traveling from southern Taiwan to get their hands on the first-batch of machines.
Though queue numbers were intended to be distributed on Thursday, hordes of fans lining up outside the store in the rain prompted Sony to distribute numbers earlier and double the volumes of units to 300.
James Affleck, a 21-year-old Briton currently studying Mandarin in Taipei, attracted attention as one of a handful foreigners lining up for the PS3.
"He he said that he was looking forward to playing the yet-to-be-released Virtual Fighter 5 game.
Tetsuhiko Yasuda, managing director of Sony Computer Entertainment Asia, flew in after the Hong Kong launch earlier yesterday to take part in the Taipei event. He assured local fans that there will be sufficient supplies of the consoles, with the second-batch shipment arriving next Thursday.
"We didn't assign specific volumes for different countries. The amount for Taiwan will be enough as shipments will come in every week," he said, refusing to offer details.
Sony has suffered in meeting its PS3 production and delivery goals due to a component shortage at Nichia Corp, which supplies blue laser diodes for the console's Blu-ray DVD, said researcher iSuppli Corp in a report on Thursday.
There were only 100,000 machines ready in time for the console's debut in Japan last week, with about 400,000 available for the US and 200 for Hong Kong.
Global sales of PS3 will hit two million by the end of next month, and six million by March, Yasuda said.
The 60 gigabyte (GB) PS3 retails at NT$17,980 (US$545) while the 20GB version will be made available next month at NT$14,980.
There are only three game titles for the debut, namely Genji, Ridge Racer 7 and Mobile Suit Gundam.
Microsoft Corp's Xbox 360, which debuted locally in March, sells for US$399 with a 20GB hard drive, while Nintendo Co has not announced a Taiwan launch schedule for its Wii console.
El Segundo, California-based iSuppli believes that as the PS3 uses sophisticated components, it is well worth the price tag as Sony is making a loss on each machine sold which has to be made up with game sales.
"With the PS3, you are getting the performance of a supercomputer at the price of an entry-level PC," the researcher said.
Powered by the new "Cell" computer chip from IBM Corp, and supported by the next-generation Blu-ray video disc format, the console is said to deliver nearly movie-like graphics and a realistic gaming experience.
"While many fret over the high cost and price of the PS3 compared to the competition, we believe the console provides more processing power and capability than any consumer electronics device in history," iSuppli said.
Comments will be moderated. Keep comments relevant to the article. Remarks containing abusive and obscene language, personal attacks of any kind or promotion will be removed and the user banned. Final decision will be at the discretion of the Taipei Times.