Asian markets buoyed by select stocks, US gains
POSITIVE LEAD Continuing purchases by foreign investors supported Taiwanese shares, although the TAIEX met strong resistance around the 5,900-level
Asian stocks closed higher on Friday amid heavy interest in select stocks and another positive lead from Wall Street, where sentiment was buoyed by strong economic data, dealers said.
They said trade remained limited with markets closed for public holidays in Kuala Lumpur, Jakarta, Manila and Mumbai, but elsewhere gains were modest.
Tokyo struck a four year high after strong corporate results while offshore interest drove Taipei up and Samsung Electronics continued to push Seoul further into positive territory.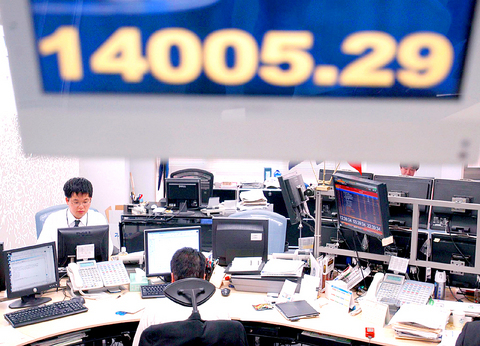 Traders at a brokerage work below a NIKKEI stock market indicator in Tokyo on Friday. Japan's key stock index rose above the 14,000 line for the first time in four years and five months amid expectations that Japan will see a full-fledged economic recovery and move out of deflation sooner than expected.
PHOTO: EPA
However, gains in Bangkok were capped by Thailand's latest inflation figures and Hong Kong was also flat after most local banks raised interest rates to a higher than expected 7.5 percent.
Taiwanese share prices closed 0.92 percent higher, supported by continued gains on Wall Street overnight and further purchases by foreign investors.
Dealers said that despite the upturn, there appeared to be strong resistance around 5,900 points, with the market falling back in late trade as local investors showed themselves reluctant to push prices too far ahead.
"Like [Thursday], 5,900 points proved an insurmountable barrier" psychologically and on technical grounds, First Taisec Securities (一銀證券) fund manager Lee Chien-wei said.
Lee said there was strong resistance around 5,900 points but with continued interest from foreign investors, the technology majors could extend gains.
The TAIEX rose 53.73 points at 5,911.74 on turnover of NT$78.47 billion of Friday.
Japanese share prices closed above the level of 14,000 points for the first time since May 2001, gaining 1.30 percent on an upbeat outlook for the world's second-largest economy.
Dealers said the market was heartened by strong corporate results, gains on Wall Street and by the weak yen, which is at a two-year low against the dollar, benefitting exporters.
Japanese companies posted overall upbeat earnings this week and last, reinforcing the optimism in the twice-yearly Bank of Japan outlook report released last Monday.
"Corporate results have turned out to be stronger than expected, with many companies lifting their full-year earnings forecasts," said Ryuta Otsuka, a strategist at Toyo Securities.
The Tokyo market, which was closed on Thursday for a national holiday, was catching up with events on Wall Street, where US stocks rose for the fourth time in the past five sessions on positive economic and company news.
Japanese stocks have risen sharply this year on a wave of interest among foreign investors betting that the world's number two economy is finally on the mend after a slump stretching back over a decade.
With the US dollar trading above ¥117 on Friday, chip-related shares were big gainers as they rely on business overseas.
The NIKKEI-225 index rose 181.18 points to 14,075.96, the highest level since it hit 14,091.19 on May 22, 2001.
In Seoul share prices closed 0.33 percent higher on Friday, led by Samsung Electronics which continued to enjoy strong foreign investor interest.
Dealers said the market started strong on Wall Street's gains, where sentiment was buoyed by strong economic data, but further gains were capped by heavy profit-taking by retail investors ahead of the weekend.
Samsung Electronics earlier said it expects cut-throat competition in the flat-screen market to intensify in the coming years, with only the top-flight producers surviving.
But investors have been cheered by the company since it said it aims to double sales to around US$110 billion over the next five years, putting it among the world's top three global electronics companies.
The KOSPI index closed up 4.01 points at 1,221.98.
Hong Kong share prices closed 0.11 percent lower on Friday in cautious trade following a fresh rise in crude oil prices and prevailing concerns over higher interest rates.
Dealers said the property sector continued to show weakness in the wake of local banks' decision to hike lending rates.
The Hang Seng Index closed down 15.80 points at 14,585.79.
In Shanghai share prices closed 0.44 percent higher in a very modest technical rebound after losses on Thursday as investors bought back into power generators and automakers.
Dealers said the tone remains cautious and there seems little prospect of any change in the near future, leaving the market with a negative bias that could see a slow steady slide to around 1,000 points on the Shanghai Composite Index.
The Shanghai A-share Index added 5.03 points to 1,156.45, while the Shenzhen A-share Index was up 1.58 points or 0.57 percent at 279.65.
The benchmark Shanghai Composite Index, which covers both A and B-shares, added 4.77 points or 0.44 percent at 1,100.05.
In Sydney share prices edged up 0.13 percent as the market ran out of steam following a week of solid gains.
Dealers said banking and resource stocks remained steady but their gains were limited by steel companies following a warning from BlueScope Steel that its earnings would slide because of lower sales in Asia.
The SP/ASX 200 index closed up 5.8 points at 4,519.5.
Singapore share prices closed 0.49 percent higher, supported by gains in select blue chip stocks although profit-taking limited the advance. The Straits Times Index climbed 10.98 points to 2,266.52.
In Bangkok share prices closed flat amid sustained concerns over the country's inflation rate, which has been fuelled by soaring oil prices to its highest level in seven years.
The Stock Exchange of Thailand (SET) composite index gained 1.44 points to close at 706.23 and the bluechip SET 50 index rose 1.35 points to 496.74.
In Wellington share prices closed little changed with the focus on market leader Telecom after solid first quarter results.
The NZSX-50 gross index rose 2.22 points to 3,325.66.
Comments will be moderated. Keep comments relevant to the article. Remarks containing abusive and obscene language, personal attacks of any kind or promotion will be removed and the user banned. Final decision will be at the discretion of the Taipei Times.