Venezuela offers peek inside Tocoron jail
Venezuela's Tocoron prison was like a town all unto itself, boasting restaurants, a pool, a zoo, a playground for inmates' kids and so much more as a powerful gang ruled the roost, using the facility as a criminal operations center.
"Steak House. Enjoy," read a sign on the wall of one of the restaurants in the prison, which thousands of soldiers and police stormed this week.
Tocoron is empty of the 1,600 prisoners who lived here and have been moved elsewhere. Gone is the gang that controlled it — Tren de Aragua, which has tentacles in various Latin American countries.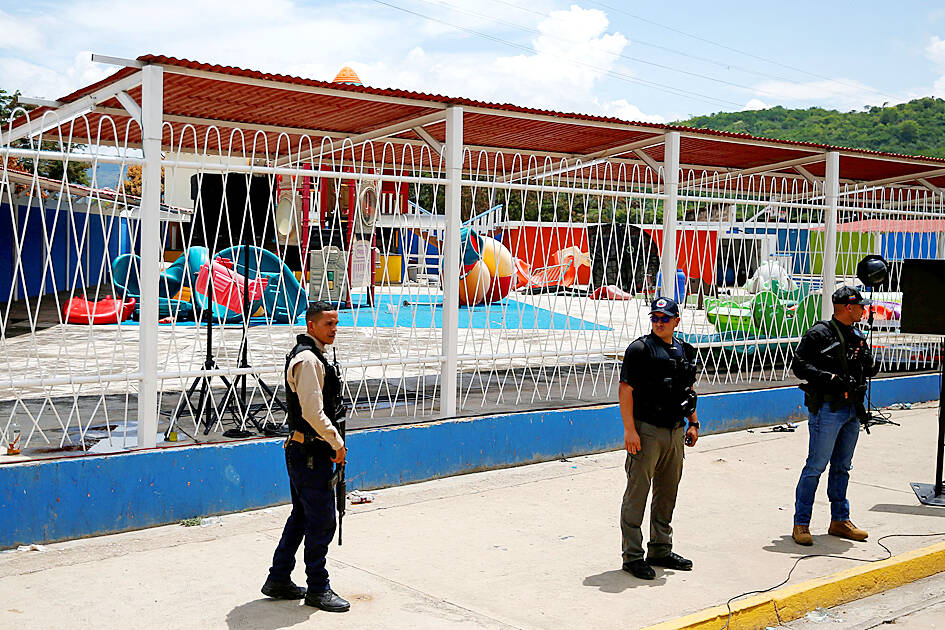 Police stand in front of a playground in the Aragua jail on Saturday, after Venezuela's government announced it had completed the first phase of its plan to take back control of its prison system in Tocoron.
Photo: Reuters
"Life was nicer and safer in prison than out on the street," said the wife of a prisoner transferred elsewhere, declining to give her name.
Venezuelan authorities on Saturday took a group of journalists on a controlled and limited tour of the prison.
The reporters did not get to see the concrete tunnels that the prisoners dug — pictures of them are circulating on social media — or what is left of the zoo with its pink flamingos.
A member of Venezuela's special forces on Saturday watches as structures are razed in the Aragua jail, part of the government's prison system in Tocoron.
Photo: Reuters
On one door is written "GNB: the train has stopped." That is the acronym of the Venezuelan National Guard, and train refers to the gang. That was a message aimed at the visiting journalists, but which the government is also presumably trying to spread nationwide amid the embarrassment of having a gang running a prison and living in relative luxury.
Venezuelan Minister of the Interior Admiral Remigio Ceballos has said that four prison officials had been arrested and charged with complicity with the criminals.
The Tren de Aragua, which reportedly has 5,000 members, emerged in 2014, specializing in kidnapping, robberies, drugs, prostitution and extortion. It has extended its influence to other activities, some legal, but also to illegal gold mining.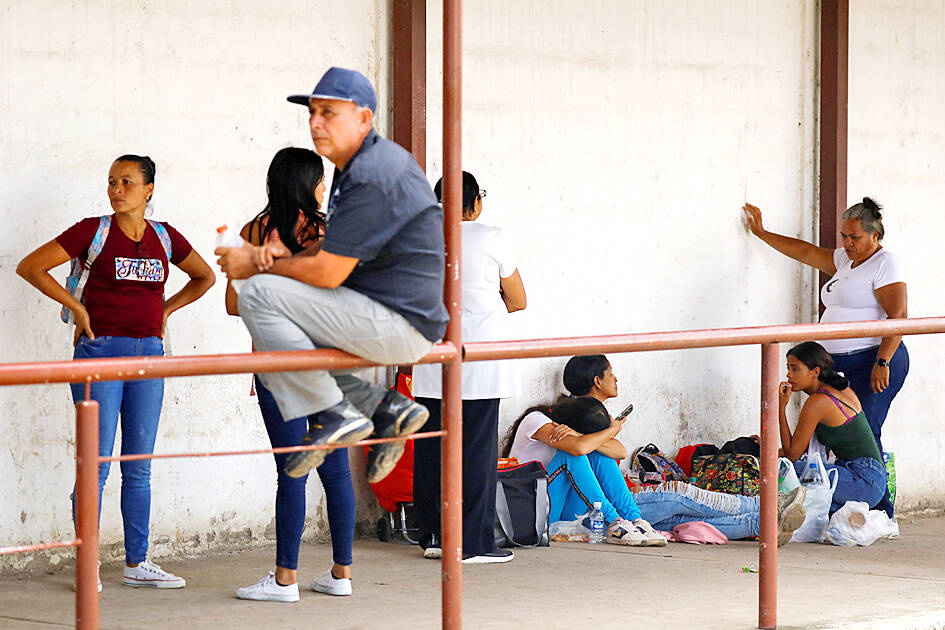 Relatives of inmates wait for news about their family members outside the Aragua jail in Tocoron, Venezuela, on Saturday.
Photo: Reuters
The head of the gang, Hector Guerrero, and other leaders were tipped off before Wednesday's raid, fleeing the prison and the country a week earlier, said the Venezuelan Prison Observatory, a group that follows developments in the country's notoriously dangerous detention centers.
As reporters toured the prison, bulldozers tore down a small settlement of houses made of brick, wood and metal. The authorities gave no explanation as the machines rolled noisily over walls, bed linens, curtains and other housewares.
Rubeles Mejias, aged 25 and the fiancee of an inmate serving a 13-year term for manslaughter, said she lived in the jail for seven months, but left when her four-year-old daughter had to start school.
Her fiance, whom she planned to marry in a few weeks, was one of the "baptized" people in the prison — devout Christians who wore white and were treated as a separate caste within the prison hierarchy. Gang members would leave them alone.
"It was peaceful. There was a swimming pool, a zoo," Mejias, a hairdresser, said on Wednesday after the raid as she stood outside the prison.
She said her partner worked in a prison shop and sent her money so she could survive Venezuela's hyperinflation and shortages of food, medicine and other essentials.
"It was he who helped me," she said.
The few streets that reporters touring the prison were allowed to see were littered with beer bottles, clothing, TVs, appliances and stuffed animals.
Near the pool and a basketball court were abandoned food stands.
On the day of the raid, police took away valuables such as air-conditioning units, TVs and motorcycles as women waiting at the gates of the prison for news of their loves ones called them "thieves."
On Saturday, three prisoners in yellow jail uniforms walked around the grounds, which include a building labeled as being for "the training of new men."
Outside the prison, many people were still waiting, hoping to find out where their loved ones were sent.
Claribel Rojas cried as she looked for her brother.
Nesbelis Mavares was trying to find her partner, who was in for homicide.
"The last message I got from him was a voicemail Wednesday in which he said: 'I love you. God bless you,'" Mavares said.
"They are prisoners, not animals. A guard told us to go look in the morgue," she added.
Comments will be moderated. Keep comments relevant to the article. Remarks containing abusive and obscene language, personal attacks of any kind or promotion will be removed and the user banned. Final decision will be at the discretion of the Taipei Times.