India summons Canadian envoy over Sikh protests
India yesterday summoned Canada's high commissioner in India to "convey strong concern" over Sikh protesters in Canada and how they were allowed to breach the security of India's diplomatic mission and consulates.
Canadian media reported that hundreds of protesters gathered in front of the Indian consulate in Vancouver on Saturday over demands for an independent Sikh state, a simmering issue for decades that was triggered again in the past few weeks.
Canada has the highest population of Sikhs outside their home state of Punjab in India.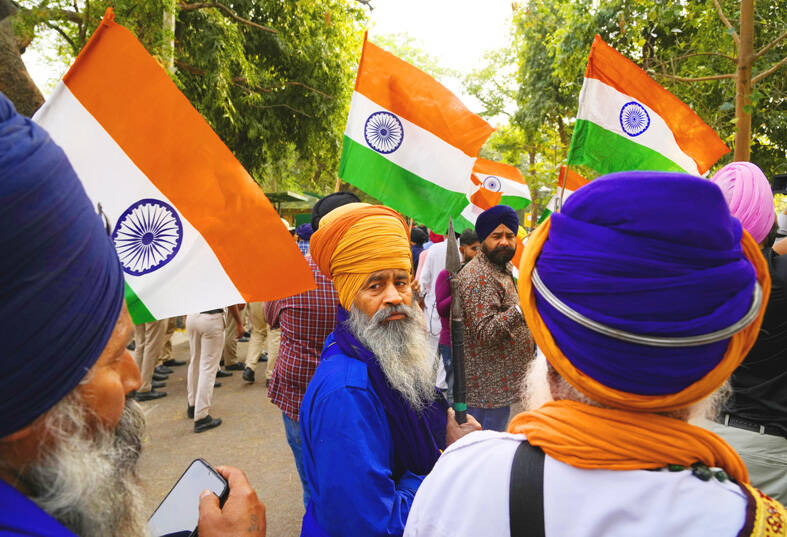 Sikhs opposed to efforts to gain independence from India protest in New Delhi on Monday.
Photo: AP
"It is expected that the Canadian government will take all steps which are required to ensure the safety of our diplomats and security of our diplomatic premises so that they are able to fulfill their normal diplomatic functions," the Indian Ministry of External Affairs said in a statement.
The statement follows Indian police on Tuesday last week launching a hunt for Sikh preacher Amritpal Singh, who has revived talk of an independent Sikh homeland and stoked fears of a return to violence that killed tens of thousands of people in the 1980s and early 1990s.
'ATTEMPTED MURDER'
Police have accused Singh and his supporters of attempted murder, obstruction of law enforcement and creating disharmony, and said that he had been on the run since last week when officers tried to block his motorcade and arrest him.
Indian police last week opened an investigation into a protest at its High Commission in London, where protesters with "Khalistan" banners took an Indian flag down from a first-floor balcony of the commission to denounce recent police action in Punjab.
India summoned the top British diplomat in New Delhi last week to seek an explanation.
Khalistan is the name of an independent Sikh homeland that some members of that community aspire to — in India and other countries where Sikhs have settled.
Comments will be moderated. Keep comments relevant to the article. Remarks containing abusive and obscene language, personal attacks of any kind or promotion will be removed and the user banned. Final decision will be at the discretion of the Taipei Times.