Erdogan flips on Finland's NATO bid
BACKING THE APPLICATION: Ankara's move is expected to enable Helsinki to join the alliance, while the Turkish president is still opposed to backing Sweden's application
Turkish President Recep Tayyip Erdogan on Friday ended months of diplomatically charged delays and asked the Turkish parliament to back Finland's bid to join NATO.
A simultaneous decision by fellow holdout Hungary to schedule a Finnish ratification vote for March 27 means the US-led defense alliance would likely grow to 31 nations within a few months.
NATO's expansion into a country with a 1,340km border with Russia would double the length of the bloc's frontier with its Cold War-era foe.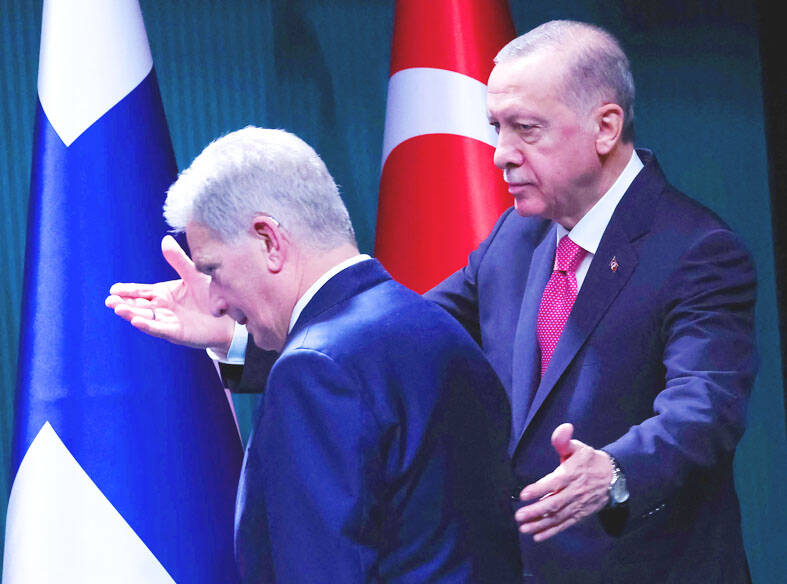 Turkish President Recep Tayyip Erdogan, right, and Finnish President Sauli Niinisto arrive for a joint news conference after bilateral talks in Ankara on Friday.
Photo: AFP
Finland had initially aimed to join together with fellow NATO aspirant Sweden, which is facing a litany of disputes with Turkey that ultimately sunk its chance to join the bloc before an alliance summit in July.
Helsinki and Stockholm ended decades of military nonalignment and applied to join the world's most powerful defense alliance in the wake of Russia's invasion of Ukraine.
Their applications were accepted at a NATO summit in June last year, which signaled the Western world's desire to stand up to Russia in the face of Europe's gravest conflict since World War II.
However, the bids still need to be ratified by all 30 of the alliance members' parliaments — a process that got hung up once it reached Turkey and Hungary.
Friday's breakthrough followed months of tense negotiations between Ankara and the Nordic neighbors that threatened to collapse several times.
Erdogan told Finnish President Sauli Niinisto that Helsinki had shown a strong commitment to addressing his security concerns.
"We decided to start the protocol of Finland's accession to NATO in our parliament," Erdogan told reporters after the talks.
Erdogan added that he "hoped" that it would approve the application before Turkey's crucial general election in May.
The Turkish parliament is expected to end its current session in the middle of next month.
NATO Secretary-General Jens Stoltenberg welcomed Turkey's decision, but stressed the importance of Sweden also joining "as soon as possible."
"The most important thing is that both Finland and Sweden become full members of NATO quickly, not whether they join at exactly the same time," Stoltenberg said.
The White House echoed the NATO head's position.
US National Security Advisor Jake Sullivan said Washington urged Hungary to conclude its ratification process for Sweden and Finland "without delay."
Erdogan had accused the Nordic neighbors of breaking the terms of a separate deal they reached in June last year under which Turkey agreed to approve the bids.
Turkey has sought the extradition of dozens of Kurdish and other suspects it accuses of having ties to outlawed militants and a failed 2016 coup attempt.
Erdogan voiced particular displeasure with Sweden — a country with a larger Kurdish diaspora and a longer history of disputes with Ankara.
Finland and Sweden had initially resisted the idea of breaking up their bids, but Swedish Prime Minister Ulf Kristersson — who made NATO membership a priority after assuming office in October last year — on Tuesday said that the likelihood of Finland joining the bloc on its own had "increased."
Niinisto called Erdogan's decision "very important for the whole of Finland," but added that "Finland's application is not complete without Sweden."
Comments will be moderated. Keep comments relevant to the article. Remarks containing abusive and obscene language, personal attacks of any kind or promotion will be removed and the user banned. Final decision will be at the discretion of the Taipei Times.