Fijian military voices 'concern'
CONSTITUTION CONSTERNATION: The Republic of Fiji Military Forces said it had concern over planned changes, but promised that it would honor the government
Fiji's military chief yesterday warned that reforms under Fijian Prime Minister Sitiveni Rabuka might contravene the constitution, but also pledged to respect the law and "stand with democracy."
Fiji has had four coups in the past 35 years and the possibility of military intervention loomed over a tight general election last month.
Rabuka's victory ended the 16-year rule of former naval commodore Frank Bainimarama, who seized control of the Pacific archipelago through a putsch in 2006. Under Fiji's constitution — adopted in 2013 — the military has wide powers to intervene in politics.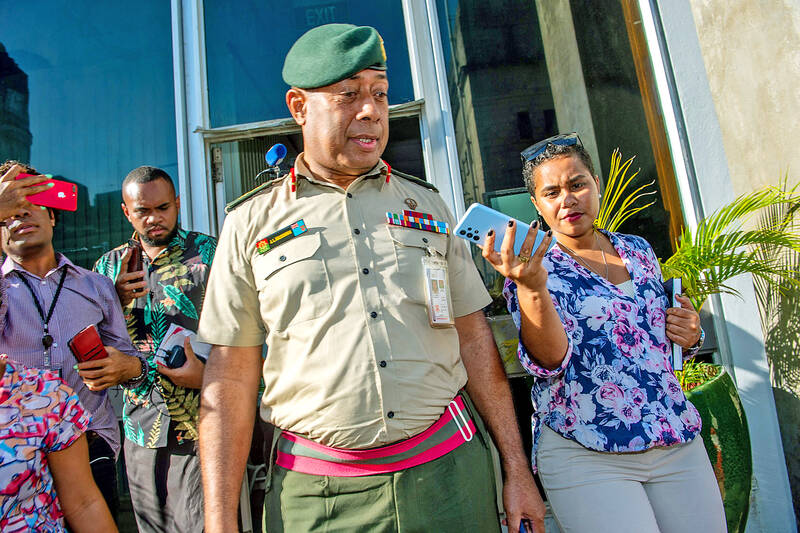 Republic of Fiji Military Forces Major General Jone Kalouniwai speaks to reporters outside the prime minister's office in Suva yesterday.
Photo: AFP
Rabuka's government has said that reviewing the constitution is one of its immediate priorities.
In a statement "authorized" by Major General Jone Kalouniwai, the Republic of Fiji Military Forces (RFMF) said it had "growing concern" over the ambition and speed of the government's "sweeping changes."
The military worries that the changes are being pursued "without full understanding" of procedures or are being "intentionally done to challenge the integrity of the law and the constitution of this land," Kalouniwai said.
However, hours after issuing the statement, he said that the military would continue to "honor the current government that is in place."
"Let me just reassure the public that the RFMF will continue to stand with democracy, we will continue to respect the law," Kalouniwai told news Web site fijivillage.com.
The military chief did not single out any specific government reform for criticism.
Besides the touted constitutional review, Rabuka has said that the government plans to set up a "mercy commission" to decide on possible presidential pardons or reduced sentences for convicts.
The prime minister has rejected media suggestions that the commission is aimed at pardoning George Speight, a bankrupt businessman serving a life sentence after leading a coup in 2000.
Comments will be moderated. Keep comments relevant to the article. Remarks containing abusive and obscene language, personal attacks of any kind or promotion will be removed and the user banned. Final decision will be at the discretion of the Taipei Times.