Captured Russian tanks aid Ukraine's push
Ukraine is now deploying captured Russian tanks to solidify its gains in the northeast amid an ongoing counteroffensive, a Washington-based think tank said yesterday, as Kyiv vowed to push further into territories occupied by Moscow.
The Institute for the Study of War, citing a Russian claim, said that Ukraine had been using left-behind Russian T-72 tanks as it tries to push into the Russian-occupied region of Luhansk.
"The initial panic of the counteroffensive led Russian troops to abandon higher-quality equipment in working order, rather than the more damaged equipment left behind by Russian forces retreating from Kyiv in April, further indicating the severity of the Russian rout," the institute said.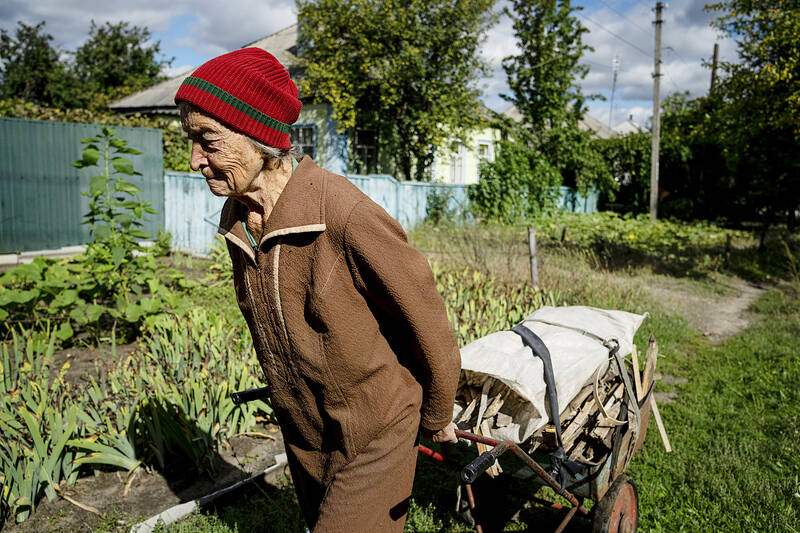 Liudmila Teresenko, 82, hauls a cart of wood for heating from a destroyed school that Russian forces had used as a base in Izium, Ukraine, on Monday.
Photo: AP
Earlier this month, Ukraine launched its counteroffensive, pushing into territory around its second-largest city of Kharkiv. Videos and photos showed Ukrainian troops seizing tanks, ammunition and other weaponry left behind by Moscow in an apparently chaotic withdrawal.
A Ukrainian push continues in the south of the country. The institute, citing the Ukrainian military, said Kyiv had destroyed ammunition depots, two command posts and an electronic warfare system.
Ukraine's southern military command early yesterday said that its troops had sunk a Russian barge carrying troops and weapons across the Dnipro River near the Russian-occupied city of Nova Kakhovka.
It offered no other details on the sinking of the barge in Ukraine's Russian-occupied Kherson region, which has been a major target as part of Kyiv's ongoing counteroffensive in the country.
In other news, former Russian president Dmitry Medvedev yesterday said that if Ukraine's breakaway regions vote to join Russia, it would allow Moscow to utilize its full military capability in the Donbas region.
Medvedev, who is also a former prime minister, said that ballots in the so-called Donetsk and Lugansk republics to integrate into Russia would help protect residents of the east Ukraine region by expanding Moscow's military mandate.
"Encroachment into Russian territory is a crime and if it is committed, that allows you to use all possible force in self-defense," Medvedev, deputy chairman of Russia's security council, said on social media.
He said the votes would correct "historical justice" and be irreversible.
"That is why these referendums are so feared in Kyiv and in the West. That is why they need to be carried out," he added.
Large parts of the industrial Donbas area have been controlled by Moscow-backed separatists since 2014, after nationwide demonstrations ousted Ukraine's Kremlin-friendly president.
Russia at the time annexed the Crimean Peninsula from Ukraine with a vote that was criticized by Kyiv and the West, which imposed sanctions in response.
The leader of the Donetsk rebel group Denis Pushilin yesterday said that a vote on joining Russia was overdue.
"I think that people have long been waiting for a referendum here and it will probably be a political move that will help ensure the safety of civilians," Russian news agencies quoted him telling state television.
Pushilin said he had been in touch with the leader of the Lugansk rebels to coordinate and that since Monday, officials of the separatist administration had begun working out details.
Officials in the Russian-controlled region of Kherson in southern Ukraine yesterday also urged Moscow-installed authorities to hold a vote on joining Russia.
Comments will be moderated. Keep comments relevant to the article. Remarks containing abusive and obscene language, personal attacks of any kind or promotion will be removed and the user banned. Final decision will be at the discretion of the Taipei Times.