Police, protesters clash in Kashmir after boy's killing
A Paralyzed REGION: More than 80 civilians have been killed and thousands injured in the latest protests against Indian rule in the divided Himalayan territory
Indian forces yesterday fired shotgun pellets and tear gas as thousands carried the body of a young boy killed overnight during an anti-India protest in the main city of Indian-controlled Kashmir.
Chanting slogans "Go India, go back" and "We want freedom," thousands of residents marched to the main Martyr's Graveyard in Srinagar for the burial of the 12-year-old boy.
Police and paramilitary soldiers fired warning shots, pellets and tear gas, fearing the procession could become a larger rally seeking an end of Indian rule in the disputed Himalayan region, said a police officer, speaking on condition of anonymity in keeping with department policy.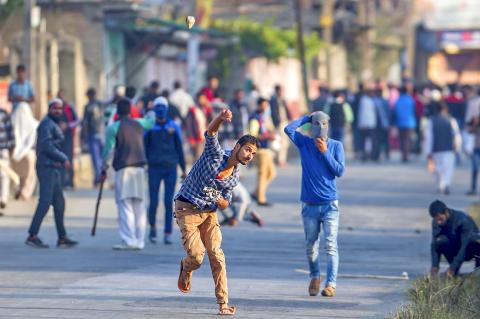 Kashmiri Muslim protesters yesterday throw rocks at government forces after they stopped the funeral procession of Junaid Ahmed, a 12-year-old boy who was killed in protests on Friday night in Srinagar in the Indian state of Jammu and Kashmir.
Photo: AP
Clashes broke out as hundreds of young men hurled rocks at the troops while another group of mourners changed their route to bury the dead.
The boy was critically injured on Friday night after he was hit by shotgun pellets all over his body and died at a hospital early yesterday.
Residents said the young student was hit inside his home compound, about 9m from clashes between protesters and government forces. Police say he was part of the clashes.
On Friday, at least 50 people were injured during dozens of clashes as tens of thousands of Kashmiris protested against Indian rule.
Government forces continued firing shotguns to disperse angry crowds despite repeated warnings from India's Ministry of Home Affairs to minimize their use and widespread outcry against such weapons by local and international rights groups that have sought their ban.
The pellets have killed at least six people and left hundreds of civilians with serious eye injuries, with dozens losing their eyesight.
Meanwhile, a police official was killed after suspected rebels fired at a police post in the region.
Police official Reyaz Ahmed yesterday said that a group of militants appeared on the outskirts of southern Shopian town overnight and tried to snatch weapons from a police bunker.
He said the rebels sprayed gunfire after police resisted, leaving a policeman dead and two others wounded.
The violence came as Kashmir is experiencing its largest protests against Indian rule in recent years, sparked by the killing in July of a popular rebel commander by Indian soldiers.
The protests, and a sweeping military crackdown, have all but paralyzed life in Indian-controlled Kashmir.
More than 80 civilians have been killed and thousands injured, with hundreds among them blinded and maimed, mostly by government forces firing bullets and shotgun pellets at rock-throwing protesters.
Two policemen have also been killed and hundreds of government forces injured in the clashes.
Kashmir is divided between India and Pakistan, but claimed by both in its entirety. Most people in the Indian-controlled portion favor independence or a merger with Pakistan.
A militant uprising and subsequent Indian military crackdown since 1989 have killed more than 68,000 people.
Comments will be moderated. Keep comments relevant to the article. Remarks containing abusive and obscene language, personal attacks of any kind or promotion will be removed and the user banned. Final decision will be at the discretion of the Taipei Times.