Seven killed, 57 hurt in Brazilian church collapse
Firemen in Sao Paulo were working under arc lights into yesterday morning in a search for bodies at a church which collapsed the evening before, killing at least seven worshipers and injuring 57 others.
The streets in front of the evangelical Reborn in Christ Christian Church, in the southern suburb of Cambuci, were filled with fire trucks and ambulances.
Police kept curious residents and bystanders behind cordons as bodies pulled from the building were ferried from the scene. Grieving relatives were being counseled in a nearby shop.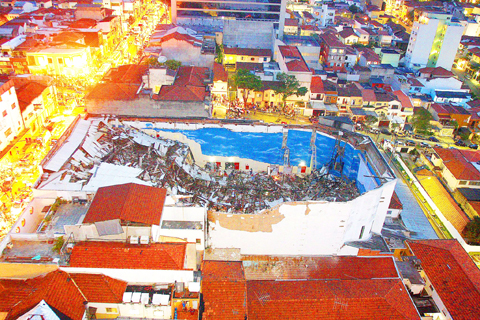 A photograph made available by Agencia O Globo shows the collapsed roof of the evangelic church Reborn in Christ in Sao Paulo, Brazil, on Sunday. The roof caved in shortly after a religious service, killing seven people and injuring dozens more.
PHOTO: EPA
Rescue workers said the toll could rise further. A spokesman for the fire service run by the state's military police told reporters: "We fear there are more bodies" buried under the debris.
According to witnesses, the roof of the big building collapsed around 7pm on Sunday.
"There was a huge noise and then people started running everywhere. I saw a lot of people hurt, a lot of panic, screams and chaos ... then there were various efforts to save the people trapped under the rubble," one man who survived told Brazilian media.
The church, which can hold up to 3,000 people, had scores of worshipers inside for a weekend service at the time.
"We're working with numbers of around 400 people who were inside the church," a Sao Paulo fire service official said.
He added that 150 firemen were scrambling over the debris in the search for casualties.
The reason for the collapse was not immediately known. The church recently underwent superficial renovation work, and in recent days Sao Paulo has been hit by heavy rains. The building previously housed a cinema.
The church was known in Brazil and abroad as the venue where Kaka — the Brazilian soccer star who is currently being wooed to move to Manchester City from AC Milan — married in December 2005.
Comments will be moderated. Keep comments relevant to the article. Remarks containing abusive and obscene language, personal attacks of any kind or promotion will be removed and the user banned. Final decision will be at the discretion of the Taipei Times.