Argentine museum remembers victims of `Dirty War'
Argentine President Nestor Kirchner inaugurated a "Museum of Memory" at a navy base infamous as a torture center on Wednesday to commemorate thousands of people killed under one of Latin America's most brutal dictatorships. \nThe transformation of the whitewashed building of the Navy Mechanical School, ESMA, into a museum is a landmark for rights groups and relatives after two decades of democracy to honor up to 30,000 victims of the 1976-1983 "Dirty War." \n"There is only one name for those responsible for the sinister and macabre acts at concentration camps like ESMA -- murderers repudiated by the Argentine people," Kirchner told thousands of people massed at what has been called "Argentina's Auschwitz." \nAllowed to enter ESMA for the first time since the dictatorship, girls hugged their grandmothers by the main doors and remembered murdered love ones. Men wept while touching the faded black-and-white photographs of victims. \n"I'm overcome with emotion. Years ago I was here, hooded in this concentration camp and condemned to death," said Mario Villani, a torture survivor. \nUp to 5,000 people were interrogated at ESMA -- the most notorious of more than 300 detention centers created by a military junta in a war on suspected leftist opponents. Most were tortured and never heard of again. \n"At least now I have somewhere to place a flower," said Ana Maria Astudillo, 54, who still does not know what happened to her parents and brother-in-law after they disappeared in 1977. \n"Their remains were never found," she added, her voice cracking as she stood by ESMA's railings where families had hung over 1,000 photos of victims. \nHer 18-year-old son looked on at pictures of grandparents he never knew. Her sister cried. \nKirchner, who also symbolically pulled down portraits of junta leaders on the 28th anniversary of the coup that brought the military to power, has angered the armed forces. \nSeveral top generals have said they would resign in protest of the museum's creation, according to local media. \nThe transformation of ESMA was the latest move by Kirchner, who was briefly detained under the dictatorship, to end what he calls a "culture of impunity." \nThe leftist leader has campaigned to lift amnesties protecting military officials involved in rights abuses and annulled a decree that prevented their extradition. \nPolls show most Argentines support Kirchner's rights drive, but wounds are still festering. As relatives hung placards with pictures of disappeared around their necks, a "Long live the Army" banner was briefly strung from a nearby building. \nSome people scrawled anti-military graffiti on ESMA's walls and broke down doors. \nUnder the dictatorship, many government opponents detained at ESMA were drugged and thrown from planes into the Atlantic.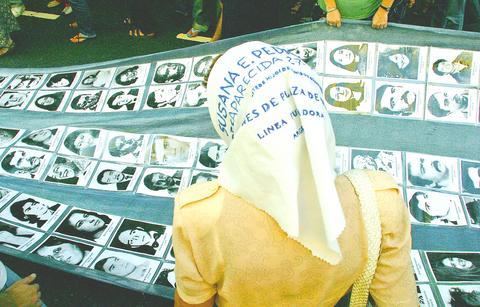 Members of the rights group the Mothers of the Plaza de Mayo and members of other Argentine human rights organizations display a banner with the portraits of people who vanished during the Argentine military dictatorship of 1976 to 1983, in Buenos Aires on Wednesday, the 28th anniversary of the military coup.
PHOTO: EPA
Comments will be moderated. Keep comments relevant to the article. Remarks containing abusive and obscene language, personal attacks of any kind or promotion will be removed and the user banned. Final decision will be at the discretion of the Taipei Times.