Environmental groups protest bottom trawling
BYCATCH: A protest leader asked why fishers could not wait for fish to grow up before catching them as she held up two juvenile fish from a pile of bycatch
Environmental groups yesterday displayed dead fish outside the Executive Yuan in Taipei to protest bottom trawling, which they said results in large amounts of bycatch, or unwanted capture of sea life.
"Bottom trawling is among the most destructive fishing methods, with nets entraining virtually all forms of marine creature, large and small," the Environment and Animal Society of Taiwan (EAST) said in a news release. "It ravages the seabed, wipes out marine biodiversity, and demolishes habitats for many species of fish, crustaceans, sponges and coral."
Led by EAST director Chen Yu-min (陳玉敏), the protesters convened a news conference at its office in Taipei, at which they showed videos of the results of bottom trawling.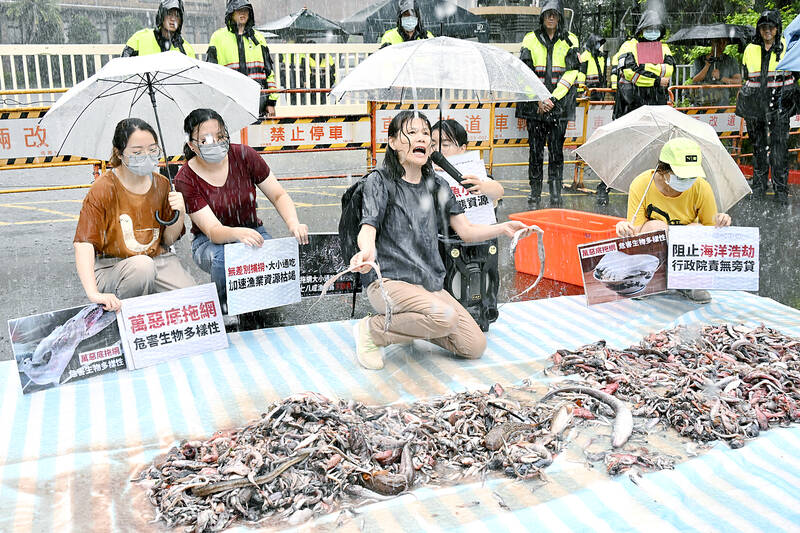 Members of the Environment and Animal Society of Taiwan and others protest alongside dead fish in front of the Executive Yuan in Taipei yesterday.
Photo: George Tsorng, Taipei Times
At 2pm they traveled to the Executive Yuan, where Chen said that public attention had to be focused on bottom trawling after a 600kg goblin shark pregnant with six pups was killed by bottom trawling near Suao Port (蘇澳港) in Yilan County earlier this week.
She also criticized a restaurant in Taipei that served a dish of giant isopod with ramen.
Giant isopods are caught by bottom trawling, she said.
The protesters unveiled the bycatch outside the Council of Agriculture, which has jurisdiction over the Fisheries Agency, they said.
Bottom trawling would wreck the marine environment around Taiwan and deplete fish stocks due to the indiscriminate killing and destruction of marine ecosystems, they said.
The Fisheries Agency must strictly regulate and monitor Taiwanese vessels that use the method and enact measures to phase it out, Chen said.
It should offer benefits and training to promote sustainable fishing, which would help conserve the marine environment and maintain the fishing industry, she said.
"Why not wait until these beltfish grow up, when they would have fetched a higher prices?" she asked, holding up two dead juvenile beltfishes from the pile of bycatch. "Why are we going after everything, large and small, and not thinking about marine regeneration cycles?"
"If this continues, what will happen to our ocean? Will we still have marine creatures?" she asked.
Taiwan has 1,324 ships that bottom trawl, mainly to the northeast and southwest of Taiwan, Fisheries Agency data showed.
More than 200,000 tonnes of catch per year has been recorded using the method, although it has fallen to about 20,000 tonnes per year in the past few years, the data showed.
Bottom trawling accounted for about 13 percent of the nation's overall near-shore catch in the past few years, the data showed.
Democratic Progressive Party Legislator Lin Shu-fen (林淑芬) asked agency officials to convene a meeting to discuss bottom trawling within two months.
Agency officials promised to assess the situation and present a report in two months, and convene a meeting with lawmakers to discuss ways to improve management of trawling and improve sustainable fishery practices.
The officials said they would look into a three-month ban on bottom trawling each summer, along with allocating funds to buy out bottom-trawler boats, and restrict sales or transfers of such ships.
Another step the agency would consider is nullify the bottom-trawling permit if a transfer takes place, they said.
The Regulations for Prohibited Fishing Area Location of Trawlers and the Relevant Restrictions (拖網漁船禁漁區位置及有關限制事宜) prohibits ships from towing, casting or lifting nets within 5km of the coast and bars ships with a gross displacement of 50 tonnes or more from towing, casting or lifting nets within 12km.
Comments will be moderated. Keep comments relevant to the article. Remarks containing abusive and obscene language, personal attacks of any kind or promotion will be removed and the user banned. Final decision will be at the discretion of the Taipei Times.