Exiled Chinese dissident Wang Dan denies sexual harassment allegations
Exiled Chinese democracy advocate Wang Dan (王丹) yesterday denied an accusation by former Taiwanese political worker Lee Yuan-chun (李援軍) that Wang had sexually harassed him in a hotel room in New York nine years ago.
There was a huge gap between Lee's accusation and his own understanding and memory, Wang wrote on Facebook, adding it was hard for him to respond further regarding a "unilateral description" made by someone else.
Wang made the remarks after his initial response on Facebook was met with criticism, with people saying he did not directly address the allegation.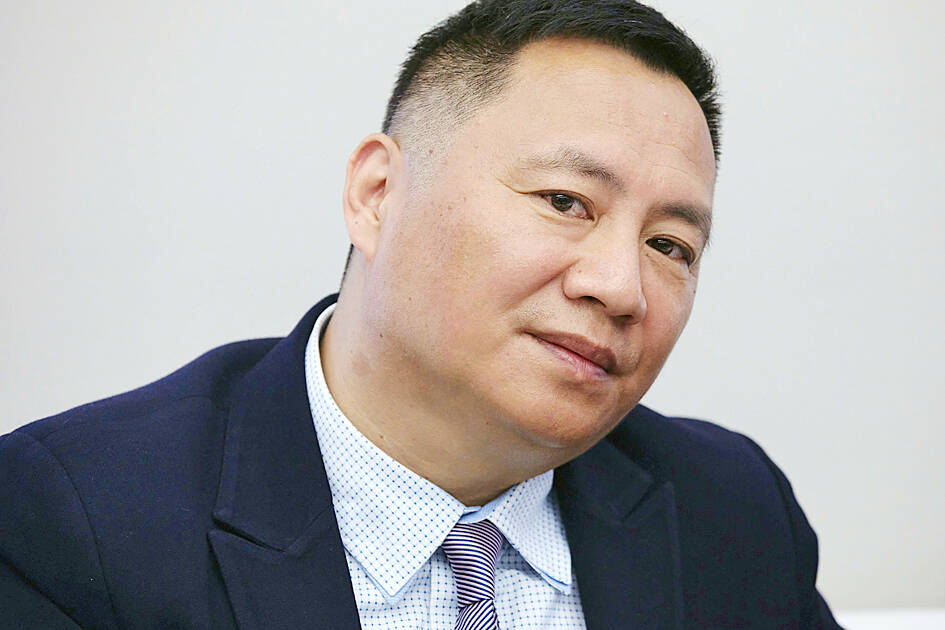 Exiled Chinese dissident Wang Dan listens to a question during a news conference at the "June 4th Memorial Exhibit" in New York on Thursday.
Photo: AP
Lee on Friday wrote on Facebook that he had decided to publicize the incident after seeing many political workers in Taiwan share their experience of being sexually harassed at work.
In his first response on Friday, Wang said that the accusation was completely unfounded.
Wang, one of the leaders of the 1989 Tiananmen Square student demonstrations, said Lee was simply using the anniversary of the protests, which unsurprisingly indicated his political intentions.
"The sexual harassment mentioned by the author [Lee] did not exist," Wang wrote on Facebook on Friday. "I have a lot of things to do now and will not make any additional response [to the accusation]. My political activities will not be affected by the accusation and will proceed as scheduled."
Lee, a former aide of independent Taipei City Councilor Lin Liang-chun (林亮君), wrote that he had met Wang and Wang's aide for the first time in Taichung nine years ago.
He wrote that when Wang invited him to the US, he was about to turn 20 and had started participating in social movements in Taiwan, adding that he had been happy to accept the invitation, thinking it would be good to travel with the famous Chinese democracy movement leader.
Lee said that on the night of June 6, 2014, Wang's aide left Lee and Wang in a hotel room in New York' Flushing neighborhood.
Wang approached him while he was working on his notebook computer and told him not to focus so much on the computer, but to rather to go to the window and take a look at the scenery, Lee said.
He said he was not interested in the scenery, but out of respect for Wang, he walked to the window, which was when Wang allegedly held him from behind and kissed him without his permission.
Wang pushed him onto the bed, while continuing to kiss him, Lee said.
He said that Wang started to take off his own pants and tried to have sex with him, but he pushed him away, saying he had undergone anal fistula surgery just before he had left for the US and asking him to stop.
Lee said that Wang stopped, but over the following week, cracked jokes with sexual implications and hinted that he wanted to sleep with him.
Comments will be moderated. Keep comments relevant to the article. Remarks containing abusive and obscene language, personal attacks of any kind or promotion will be removed and the user banned. Final decision will be at the discretion of the Taipei Times.